Philips faces campus questions as presidential search nears end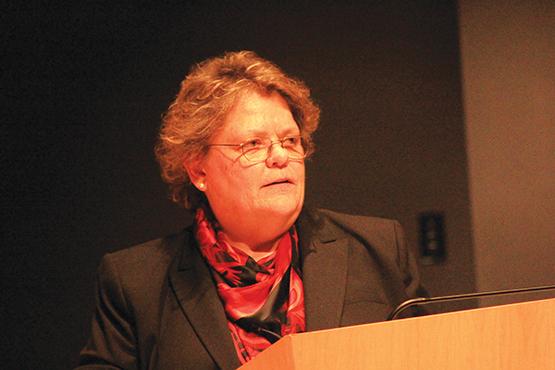 Whoever SUNY Buffalo State chooses as its ninth president will face considerable questions about the future of a divided campus.
That much was evident Monday when students and staff filed into Burchfield Penney Art Center throughout the day to meet Susan Phillips, the first of five finalists who will tour Buffalo State over the next month as the selection committee narrows its search for the next president.
Phillips presented to a full auditorium during the first of several open sessions that took place throughout the afternoon Monday, fielding questions covering a number of campus issues.
During one question, a member of the audience cited a recent College Senate meeting when those in attendance were asked what they thought of the direction of Buffalo State. The Senate was split in half, 50 percent saying they feared the campus was heading downhill while the others were pleased with the direction.
Despite the division, Phillips vowed to see each problem through as she spoke of using collaboration and community to solve the campus' pressing issues.
"It's great to be here to be able to see what people are thinking and concerned about," said Phillips, current provost and vice president of academic affairs at the University at Albany. "So far … I've met with a variety of people. My question for each of them is, 'What do you love about the place and what worries you?' So I've been learning. I've been collecting information."
Since 2008, Phillips has been provost at UAlbany, where she started as an assistant professor in 1979 and worked her way through the ranks, serving as chair of the Department of Counseling Psychology and dean of the School of Education.
She earned her bachelor's degree in human biology from Stanford University and then attended Columbia University, where she received a master's in psychology her Ph.D. in counseling psychology.
Phillips announced in February that she planned to step down as provost before the beginning of the upcoming academic year.
When Buffalo State was in search of an interim president after Aaron Podolefsky passed away in August, Phillips said she was approached for the position but declined.
The college eventually appointed Howard Cohen interim president, but he is not seeking the position permanently.
Now, a year later and with a new president in place in Albany, Phillips says she is at a period in her life to "try new things."
"I considered (the interim presidency), but it wasn't the right time for me or for my campus," Phillips said following the open forum. "But this year I thought I would go back and look again. … This is me exploring news places."
Phillips said she is drawn to Buffalo State because of its size and programmatic strength similar to that of UAlbany, which, she said, features high-profile professional schools and social science programs.
Over her years working at Albany, Phillips has also established a familiarity with New York state and its politics.
"Buffalo State isn't just any comprehensive college," Phillips said. "It's in a state that I am very familiar with. … It's the biggest in the comprehensives and has a profile of programs that are very familiar to me. It's small enough to be able to make a difference for a student but big enough to create opportunity."
Phillips met with a number of students and staff during her stay Monday and Tuesday, which also included a tour of Buffalo and open forums specific to faculty and undergraduate and graduate students.
During her first presentation, Phillips was also asked to address growing concerns of declining enrollment, student retention, and, of course, budgetary concerns.
Emily Leminger, current AVP for academic affairs for the United Students Government, said the student body is especially concerned that they are not receiving proper guidance and resources to finish undergraduate degrees in the standard four years, resulting in increased loan debt and unnecessary time wasted.
"The No. 1 reason for students leaving early is financial aid," Leminger said during the discussion. "Here, we have the problem where we're graduating a semester late. We're short three credits, six credits, and that's something, as a student body, we're concerned about."
Email: [email protected]
Leave a Comment