Consultants continue to investigate as firm holds open forums for students and faculty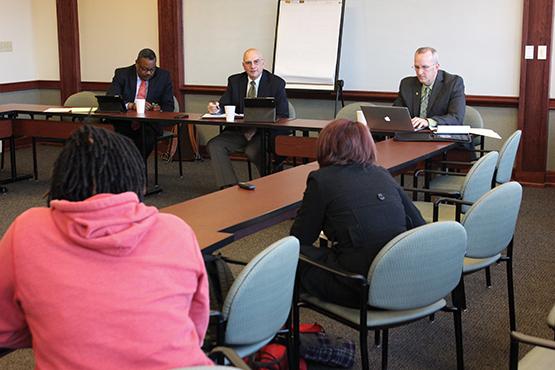 Consultants from the professional service firm Margolis Healy & Associates directed a forum to obtain student feedback about the quality of services received by UPD Wednesday.
A series of questions were asked in order for the consultants to "to dig down and get information so the assessment made will be based on facts," Senior Consulting Associate Aaron Graves said.
Margolis Healy Director of Organizational Assessment Services, Paul Verrecchia, and Manager of Organizational Assessment for K-12 Services, Rob Evans, also asked questions about student's observations and opinions on UPD services, making suggestions of interaction between UPD and student organizations.
Two students and a photographer for the event attended the forum to provide their perception of UPD and their services to the consultants.
Individualized studies major and USG Senator Shalisia Jackson said that there is a separation between UPD and the community that "makes it hard for people to trust UPD."
Jackson said that there should be more opportunities for UPD to interact with the student body, which would foster a stronger relationship and build trust between the two forces.
Jackson also shared her encounters with UPD, labeling them as negative and awkward.
Maddie Mpinga, Criminal Justice and Sociology major with a minor in Legal Studies described her experience with UPD as "always educational."
"From what I understand, it is a lot of people trying to get away with things and when they don't, they become upset," Mpinga said.
According to Mpinga, all the complaints she heard from students about UPD don't register as racial profiling but as students getting themselves into trouble.
"When I heard UPD was being investigated, I asked them why and they told me it was because of complaints of racial profiling. I was shocked," Mpinga said, adding that the investigation is unnecessary and that the firm will find there is no such thing as racial profiling taking place on campus.
According to Interim President Howard Cohen, the consultants were brought to campus to "assess our police operations against best practices for campus policing, they are not here to investigate racial profiling."
Cohen could not partake in any interviews related to the consultants visit because their work is confidential and there is still research to complete as well as a draft report to be submitted.
Through Margolis Healy & Associates policy, the consultants were unable to partake in any interviews as well.
A closed-door meeting was held last Friday to assess the findings through the investigation.
Email: [email protected]
Leave a Comment