Top Bengals rest with SUNYACs fast approaching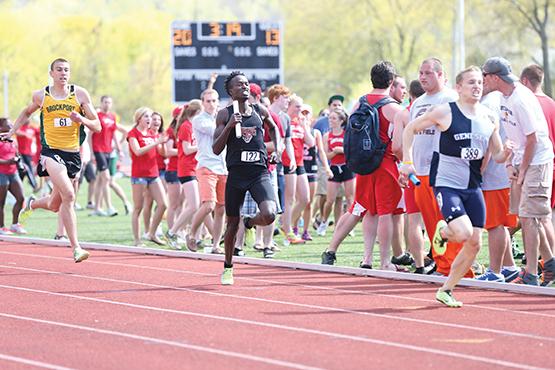 The Buffalo State men's and women's outdoor track and field team looked to build on its season on the road to the SUNYACs. The team traveled this past weekend for a meet at Baldwin and Wallace in Berea, Ohio.
For the women, senior pole-vaulter Heather Becker matched her previous school record at 3.20 meters, placing second.
The 4×100-meter relay team consisting of sophomore Shuntone Pritcher, freshman Jazmine Herbert, freshman Niasha Houpe and sophomore Nia Holmes broke past the finish line in first place with a time of 1:48.93. Pritcher added a third-place finish in the 100-meter dash with a time of 12.30, which ranks twenty-second nationally.
Freshman Sharae Smith finished third in the 3,000-meter steeplechase with a time of 12:10.01. Sophomore Seland Chaplin placed second in the high jump with a jump of 1.55 meters and placed third in the triple jump recording a distance of 10.35 meters.
For the men, junior Alex Ngabo helped the team in a big way by placing first in two different events. He recorded a time of 1:58.58 in the 800-meter run and a time of 9:51.52 in the 3,000-meter steeplechase.
With the Bengals' top three jumpers taking the week off to rest up for the SUNYAC championship meet in two weeks, sophomore Hamza Abdush-Shahid won the triple jump after recording a jump of 13.65 meters. Sophomore Bumkoth Jiak finished second in the 1,500-meter run with a time of 4:03.00 and sophomore Austin Becker finished third in the 400-meter dash with a time of 51.78 seconds.
Coach Dustin Dimit said he is pleased with his team's progress going into SUNYACs.
"We are happy with our team's progress," he said. "We are where we want to be at this point in the season. The key going into SUNYACs will be to stay healthy."
Staying healthy will be a matter of mind and body according to senior mid-distance runner Tara Murphy.
"We want to bring a positive attitude every day and believe we can win because if you don't bring that attitude how will you be successful? It's physical and mental," she said.
With only one meet to go before SUNYACs, the coaching staff used Baldwin and Wallace as a chance to give younger members of the team some experience.
Junior sprinter and jumper Cory Cox has been a key component to the team all season and is fresh and ready to go. He was one of the three jumpers to be given the week off to rest up. Cox believes he can make a difference for the Bengals at SUNYACs.
"I always show up at big meets and I do whatever it takes for my team to win," Cox said. "My consistency will help me get the advantage in SUNYACs this season."
Dimit said he is looking for his athletes to compete for the program's first individual SUNYC title in outdoor.
"We will need a team effort," Dimit said. "Everyone will need to step up, we haven't won any individual events at SUNYACs in outdoor so we are looking for that. As long as we stay healthy, hydrated and get faster each meet, we will be successful."
The Bengals will compete in one more meet at Hillsdale College next weekend before the SUNYAC championship meet at Geneseo the weekend of May 2.
Tony Callens can be reached by e-mail at [email protected]
Leave a Comment