Earth science professor talks resources, scaling mountains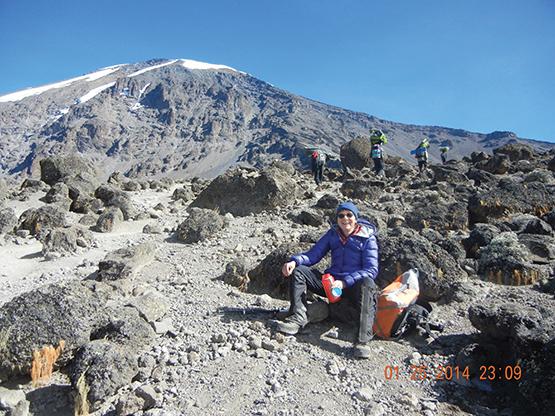 She travels around researching the world, though she isn't exactly "one with nature."
Instead, Jill Singer, a professor in the earth sciences and science education department, is "one of many with nature," as she shares her findings and adventures with her students and colleagues. I asked the adventurous professor questions about her worldly career. Here is an edited version of our conversation:
CY: As a professor in earth sciences and science education, what inspired you to pursue that field?
JS: For as long as I can remember, I have had an interest in geology and the landscape. That has never diminished, and in fact my interest in Earth's dynamic processes has expanded to include environmental problems related to human impacts and global change.
CY: You work with environmental issues, both local and global. What are the main issues our area is facing? 
JS: We share many of the problems other parts of the world face, including water quality, resource demand, sustainability, and global change. We do not have a lack of access to water living next to one of the Great Lakes, but we cannot afford to take this valuable resource for granted. Our lake shorelines are vulnerable to erosion just as shorelines around the world. Our erosion is mostly due to storms with higher lake levels due to lake seiches and also large waves, rather than from hurricanes, storm surges, and sea level rise, although the erosional processes are similar.
CY: You also work with sediment dynamics, oceanography and coastal processes. Where have your studies taken you? 
JS: To Antarctica, Iceland, and across the U.S. but mostly California and the Great Lakes region. Most of my research is focused right here in Western New York. My license plate is "Bflo Rvr" because of my ongoing research in the Buffalo River that spans more than 25 years.
CY: Congratulations on being selected to give the faculty address at the 2014 Buffalo State Honors Convocation. What is some of the advice that you shared with the students?
JS: To use their education and passion to make a difference and to leave things better than they found them. That they are uniquely positioned to explore the world, to apply their knowledge in order to improve the environment, and to help people gain access to healthcare, education, and security. I wanted to share with them that they should be inspired by others and to recognize that they have an inner strength they can tap into and can emerge from difficult situations stronger than ever. Also, that their perspective will change as they go through life as a result of the people they encounter and the places they will travel. Lastly, they should not worry about temporarily losing their equilibrium when encountering challenges and new situations. I urged them to be bold, curious, generous, and to always seek adventure.
CY: At the ceremony, you spoke about your trip to Africa. What did you do there and what did you learn? 
JS: I went to Africa to climb Mount Kilimanjaro. I expected it to be a challenging hike to its summit at 19,334 feet and it was. I learned that the Tanzanian people are warm and generous and that the Serengeti Plain is an incredible landscape. And I got to cross through the East African Rift Zone–an active tectonic plate boundary.
CY: How do your experiences (like your trips) in your field help you to teach your students in the classroom? 
JS: By providing them with stories and real-world examples to illustrate what we are covering in class. I just returned from visiting the Wind Tunnel Centre at Audi Headquarters in Ingolstadt, Germany. I will use this to help my students appreciate that the aerodynamic forces that act on sedimentary particles are the same forces that act on your car (for example, lift and drag forces). But seeing cars in wind tunnels is very cool and getting inside the Audi Wind Tunnel Centre required special permission because of trade secrets and that is where Audi (and other European auto makers) investigate and evaluate their prototype vehicles. It also is where some of the top European Alpine skiers and ski jumpers go to see how their position and sports gear can be optimized for maximum speed.
CY: You conduct on-going research. What are you currently researching and why is that beneficial for undergraduate study? 
JS: I am working with colleagues from Middlebury College to better understand the interaction between the flow in the Buffalo River and the movement of Lake Erie water into the river and reversing its flow. We deploy current meters (the same type used in the marine environment) in the river and leave them out year round–even under the winter ice. We have found a very interesting 2-hour oscillation pattern in the river. Right now I have three undergraduates and one graduate student looking at different aspects of the river oscillation, current patterns, and elevation changes in the Buffalo Rivers; one of the students is conducting a comparative investigation in Green Bay's Fox River. The students are applying things they learned in physics, mathematics, and geology to explain some very interesting river phenomena. They are breaking new ground and contributing to deepening our understanding of how a river behaves and how it responds to changes in its cross-sectional area as a result of environmental dredging that deepens and widens the channel. The environmental dredging is taking place as part of a multi-year project intended to remove some of the most contaminated sediment in the river and restore habitat areas within the river and along the shoreline.
Email: [email protected]
Twitter: @LivewithColly
Leave a Comment