Delaware Park: a piece of nature nestled in a busy city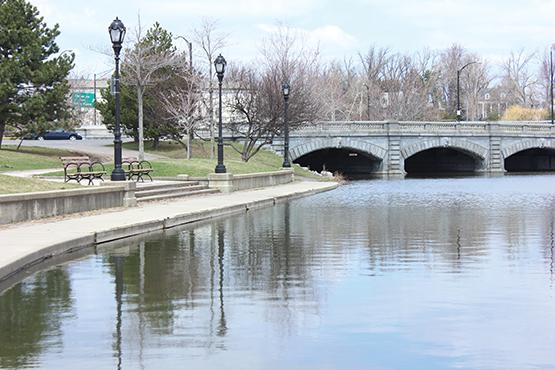 Just a five minute walk down the road from SUNY Buffalo State, community members and students venture over to Delaware Park to christen the new spring season and welcome back a friend they haven't seen in a while: the sun.
Indeed, spring has sprung here in Buffalo, which means that another summer filled with enjoying outdoor activities at one of Buffalo's most prominent landmarks is well on its way.
Originally known as "The Park," Delaware Park was created and designed by Frederick Law Olmsted in 1868.
Thomas Herrera-Mishler, the CEO and president of Buffalo Olmsted Parks Conservancy, said Olmsted wanted to create not just one central park, but a whole series of central parks, and proposed that they all be connected with parkways and avenues. And he did just that.
According to the Conservancy's website, more than one million people use Buffalo's award-winning park system for recreation, relaxation and rejuvenation. The park system is made up of Olmsted's five parks including Cazenovia Park, Front Park, South Park, Martin Luther King Jr. Park and Delaware Park.
Herrera-Mishler added that Olmsted is responsible for designing Central Park in New York City (NYC) and said that in a lot of ways, Delaware Park has become Buffalo's Central Park.
Olmsted has created parks in every part of the country, however, Buffalo, which is home to the first park and parkway system designed and built in the U.S, is considered his very best. Herrera-Mishler said the idea of a park system was completely inspiring and unlike anything ever proposed before in that time period.
"Today, it seems like a pretty good idea," he said. "But back then, it was completely revolutionary. There were no parks in cities in America back then, except Central Park."
The idea was one Herrera-Mishler called "radical and wonderful." The creation of Olmsted Parks brought new life to Buffalo and without them, this city would be a very different place.
"Could you imagine Buffalo without all of these parks and green spaces?" Herrera-Mishler said.  "It would be a much more desolate place."
From behind his desk at Parkside Lodge, home to the office of Buffalo Olmsted Parks Conservancy, he listed all of the day to day activities for people to enjoy on this unique piece of land.
"
There all sorts of things for all people. It's truly a very beautiful place. It's actually a masterpiece of art and landscape.
— Thomas Herrera-Mishler, CEO and president of Buffalo Olmsted Parks Conservancy
Head to Delaware Park on a sunny morning, and you will find an abundance of joggers, dog walkers, parents pushing their children in strollers, the sounds of basketballs hitting the black top, or the skid marks of sneakers on the tennis courts. Pass by soccer games or rugby matches, boat on the waters of Hoyt Lake, or take a look at the architecture and landscaping of the Japanese Rose Garden – all are signature places in Delaware Park that have helped make Buffalo a more unique place.
Herrera-Mishler also mentioned the abundant number of people that use the park to raise money for their favorite causes. About 100,000 people a year host fundraisers at the park to raise awareness and money for their organizations, the Corporate Challenge is one of the many institutions being one of them.
The park is also home to the Buffalo Zoo and Marcy Casino, among other attractions.
Also, each winter, Delaware park host its event "Flurious," which features the international Quidditch tournament that draws players from all over the east coast.
Winter activities are big in Delaware Park as well, including snow golf, snow tennis, cross country skiing, snow kickball and so much more.
"There all sorts of things for all people," Herrera- Mishler said. "It's truly a very beautiful place. It's actually a masterpiece of art and landscape."
The cleanliness of the park was also a topic for Herrera-Mishler.
"I'm very biased," Herrera-Mishler said when it comes to commenting on the park's sanitation, but noted that last year, the former parks commissioner of NYC, Adrian Benipe, was given a tour of the park and had some thoughts on the subject.
"He said he had been to every major park system in the nation in the previous 12 months, and this was without a doubt the best maintained park system in the country," Herrera-Mishler said.
Delaware Park is a free park and is open to the public.
"This is everyone's park," Herrera-Mishler said. "It's a regional asset."
With regard to safety, he said the park follows a model developed by Central Park called "zone management." They divide the park into 56 zones, each zone designated with a gardener who spends the day gardening, keeping an eye on things, greeting visitors and taking on the role of being a "park ambassador" and looking out for things. According to Herrera-Mishler, having this level of maintenance is a huge preventive factor in crime. He said it makes the park feel and look safer.
The park also relies heavily on volunteers. Park architect Anthony James said all you have to do is call the park's volunteer number and you can be assigned to many of the volunteer activities going on in the park.
"There's lots of volunteer opportunities," James said. "There are tree plantings, as well as helping to take care of other landscapes in the park."
Along with being a part time architect for the conservancy, James helps maintain the buildings and, like Herrera-Mishler, enjoys the beauty of some of the features Delaware Park has to offer.
"I really like Hoyt Lake and the roomy wood section because of the rolling landscapes there," James said. "The Ivy Bridge is one of the earliest structures in the park built in the 1880s and it's really beautiful."
On the other side of the park is the Buffalo History Museum, and inside, Ellen Smith, a museum employee, reminisced about some of the time she spent at the historic park.
As she held up a black-and-white photograph of ice-skaters on Hoyt Lake, she recalled her trips there as a child.
"We used to be able to skate on the rink there," Smith said. "Of course this was before the Scajaquada was put in."
Flipping through books about the history of the park, seeing the beautifully captured snap shots of Hoyt Lake, the bicycle path, Marcy Casino or the statue of Lincoln, she simply stated, "Oh, it's gorgeous."
Smith believes that the fact that Buffalo is home to Olmsted parks is a very big deal.
She added that the Japanese Rose Garden will be hosting its first Cherry Blossom Festival to celebrate the beginning of spring starting April 23. Smith said it's all happening through the Japanese Garden Group and there's going to be a traditional Japanese tea ceremony too.
Ultimately, the park holds a special place in the heart of Buffalo and is something that means a lot to the residents and workers in the area.
"The people who take care of this park are really dedicated individuals that work for a non-profit organization," Herrera-Mishler said. "And they pour their hearts into the care of these parks. It's more than just a job for us."
Email: [email protected]
Leave a Comment