Students celebrate Earth Day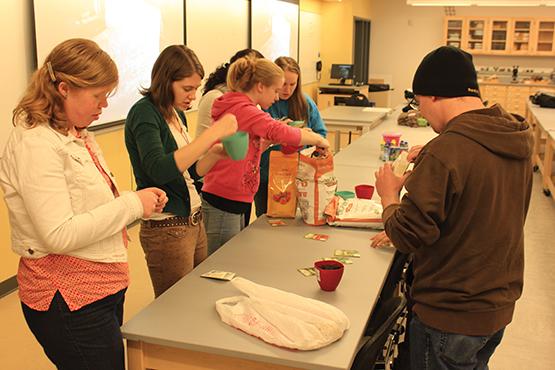 We've got the whole world in our hands, and on our campus.
The student community came together Tuesday to observe Earth Day. Buffalo State's Geology Club invited any interested students to attend an event in the Science and Math Complex (SAMC) 106 during Bengal Pause. They celebrated, discussed controversial environmental topics and enjoyed refreshments.
"We decided to have a campus-wide scavenger hunt to bring awareness to the environmental aspects on campus," Chelsea Herbold, geology club treasurer, said. "For example, you can find one of the oldest trees on campus. For those would have rather stayed inside on Earth Day, we [held] a trivia contest where all of the questions are earth science or science related."
The club, made up mostly of either geology or earth science majors, hosted an arts and crafts section where birdfeeders could be made out of bagels, peanut butter and birdseed. Students also had the chance to create their own little planter of herbs and other vegetables.
In addition to the celebratory activities, the group hosted open discussions and watched videos about environmental issues that have been surfacing. One of the videos shown targeted the Keystone XL Pipeline.
"While we may not all study the complexities of the planet we call home, we as a community have a responsibility to creating and sustaining a home for the future, and Earth Day allows us a day of national awareness, which we simply cannot allow to pass in silence with so much to be shared," Erik Pieken, president of Geology Club, said.
Earth Day originated in 1970 and is now celebrated globally to support protection of the environment.
For example, Disney launched Disney Nature in 2008 and has produced eight documentary films bringing awareness to different areas of the world. Six of the movies came out on Earth Day and donations were made to a charity associated with the film's purpose.
This year, Disney Nature's film is called Bears. A portion of ticket sales from April 18-24 will go to the National Park Foundation.
There is a movie called Monkey Kingdom projected to come out on Earth Day 2015.
Katelin Kostek, president of biology club, mentioned that they will attend a special exotic animal show at Hawk Creek Wildlife Center in East Aurora on April 26.
The event will be held at Hawk Creek Wildlife Center and is called "Wild Safari." It is going to showcase their resident hawks, owls, falcons, eagles and wild cats. There will be a live flying bird show called the "Walk With the Eagles" TM tour. Tickets are $10 for adults.
"As the scope of Earth Day is very vast and does not in particular focus just on geology, we have decided to use this year's Earth Day as a platform for awareness," Pieken said. "With this in mind, we [planned] to have information available showing the effects of mankind on the natural environment, and in contrast, the effects the natural environment has on mankind."
Many environmental issues go under the radar until the public gets directly affected. As students, there is an opportunity for one's voice and be heard.
And for those of you who are regulars at Barnes and Noble Café, they are celebrating Earth Day and offering $1 off of any hot or iced beverage for anyone who brings in their own mug or tumbler until Friday, April 25.
Email: [email protected]
Leave a Comment