Campus highlights need for mental health awareness
Students events emphasize celebration of life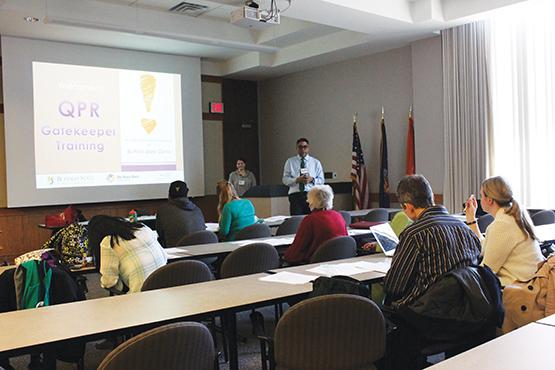 SUNY Buffalo State learned life lessons on suicide prevention and how to care for others and the community during last week's fifth annual Mental Health Awareness Week.
Various workshops and events were held around campus during the five-day program.
These events included a mental health fair, QPR Gatekeeper Training for Suicide Prevention and several panel presentations and guest speakers.
Joan McCool, Counseling Center director, said that the importance of Mental Health Awareness Week is in educating the students and reassuring them that it's alright to ask for help.
"We do it to reduce stigma about mental health issues and to encourage help-seeking," McCool said.
Wednesday was Symposium Day on suicide prevention was about how students and the community can do their part to become an up-stander, not a bystander.
Students were able to attend Question, Persuade and Refer Suicide Prevention Training, which is designed to teach others about what they could do to prevent suicide.
Suicide is the second leading cause of death among college and university students and the most preventable. This program encourages students to "ask a question, save a life."
"Our research shows that students who take the online course about depression and suicide prevention and those who take the QPR gatekeeper training have an increase in confidence about knowing signs and knowing how to give hope and how to persuade someone to get help," McCool said. "They are also more confident about knowing how to refer people to help."
The theater department also played their part on Symposium Day in the original production titled "Dear Me," where Reggie, the main character, had to face the reality that his childhood friend committed suicide after coming out of the closet. Reggie discovers himself through writing letters, and turned his loss into a learning experience.
Christina Metauro, who acted in the play and is a senior at Buffalo State majoring in theater, said this play was developed after a group of students went to Rwanda in Africa.
"We spent a semester collaborating to create a piece of devised theater based on our experiences. What really stuck with us was our interaction with a Rwandan artist," Metauro said.
The artist had Rwandans write letters to those died in the 1994 genocide with the intention of celebrating lives rather than mourning deaths.
The main theme of the play was that "you can always connect."
"We want our audiences to know that everybody has a story that should be heard and that there are ways to reach out to someone," Metauro said.
On Thursday in Butler 210 motivational speaker and owner of KC's Fitness, Kevin Cunningham, spoke to students and faculty on being mindful and how to care for others.
Cunningham said that in order to help someone you need to know what was said and focus. He said as individuals, we never live in the moment and are constantly multitasking.
"When that happens we're not able to care for others. The present moment gets pushed out by the past and future and most of the time we run on automatic polite," Cunningham said. "Being mindful is really about caring."
Even though mental health week happens once a year, McCool wants students to know that you can ask for help all year round. Whether it's for yourself or on the steps you can take to become an up-stander, students can call 1-800-273-TALK.
Email: [email protected]
Leave a Comment