Jumpers Cox, Pete pace men's track in Baltimore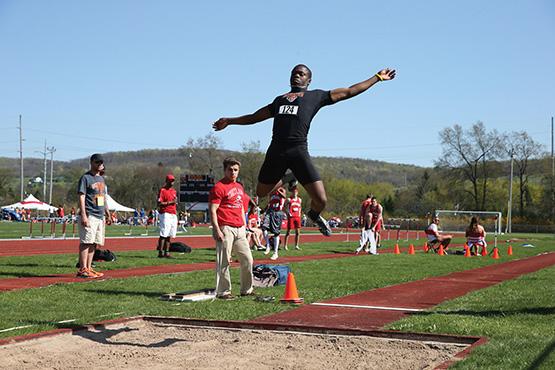 Performing against better competition is a great way to bring the best out of an athlete; that is just what was done this past weekend when the Buffalo State men's and women's outdoor track and field teams took the turf at the John Hopkins/Loyola Invitational in Baltimore, Maryland.
The invitational featured twenty men's teams and seventeen women's teams from NCAA divisions one, two and three.
The men's and the women's teams each took third place, leaving assistant coach Dustin Dimit pleased with his team's effort.
"As a group we were really happy," Dimit said. "To have national qualifying times and school records fall during the season is always a great thing to see."
It was a record-setting effort for the women's team this past weekend, with teammates Sasa Vann and Heather Becker each breaking school records. Vann set a new school mark in the 400m dash (57.62 seconds), placing third overall and finishing highest among Division III competitors. Becker also added to her own school record in the pole vault event clearing 3.20m and finishing sixth overall.
"My coach definitely seems to think that every week I go a few inches higher so I can say I broke another school record," Becker said. "I don't know about that, but all I know is that I worked pretty hard for it. I had my school record in high school and it was my goal to have it in college, too. It's crazy for me to think that I am considered the best (pole-vaulter) Buffalo State has ever had."
Another high point scoring event was the 4x400m relay team of Jazlyn Porter, Niasha Hope, Tara Murphy and Sasa Vann, who ended up placing first (3.53.53).
The men finished out a weekend of solid performances themselves. Paving the way for them was Rich Pete, who swept both the long jump and the triple jump for the Bengals. His long jump of 7.20m is good for first nationally, while his triple jump of 14.53m is good for fifth.
Also for the men, Cory Cox won the 200m dash (21.79) and finished just behind Pete in second place in the long jump (6.82m).
This one-two finish is an example of the rivalry between two great jumpers, Pete and Cox, who are both teammates and fierce competitors.
"You know, Rich (Pete) felt great about it, and as long as we went one-two I was okay with losing this time," Cox admitted. "During bigger meets though it will get more intense, we usually don't speak to each other during national events and SUNYACs, but it is all in competitiveness, no ill feelings after the event is over."
Getting better each and every day seems to be the motto of the Buffalo State track and field team.
"To get performances like these is great to see," Dimit said. "I think we are on the right track for sure"
Buffalo State will hit the road again next weekend to participate in the Baldwin-Wallace Invitational as they continue on their path towards SUNYACS and Nationals.
Leave a Comment