Voter turnouts this year lowest since 2010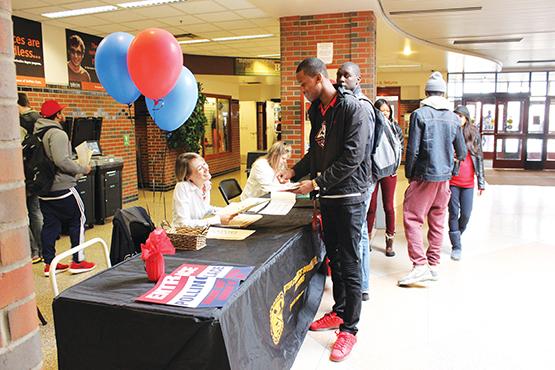 Voter turnout for this year's United Students Government elections was the lowest it has been since 2010, excluding 2012 when the ballots were cast exclusively online.
Of the approximately 12,000 students attending SUNY Buffalo State, 609 cast their ballots last week. The number is slightly higher than half of last year's votes.
What led to the dramatic drop-off?
According to Emily Leminger, the USG associate vice president for academic affairs and new executive vice president elect, the fact that this was not a referendum year probably contributed to the low turnout. She said more people participate when the Mandatory Student Activity Fee is up for a vote.
But the numbers this year weren't unexpected, according to Leminger.
"It's different every year," Leminger said. "Based on referendum, not every year is high, not every year is low."
Students say they have their own reasons for not participating in the election.
Phil Munson, a communications senior, said that he didn't vote because it wouldn't affect him.
"I'm a senior," Munson said. "I'm not going to vote for someone; I'm not here next semester."
Sara Matthews, a media production senior, said she knew about the elections from following Buffalo State on Instagram, but that she did not vote.
"I never have," Matthews said. "It's not something I'm really interested in."
The students who did vote had their own reasons, as well.
Cheyenne DeJesus, a biology freshman, said that she voted because a friend of hers was running. However, she said that the voter turnout might have been better if USG had announced the elections sooner.
"They should make it [USG] less exclusive," DeJesus said. "It's too closed. You have to have information – it's like a secret, almost."
Leminger said she thought USG handled promotion of the election well. She said that they printed flyers and posters and sent out emails, but that it ultimately depended on the students' desire to vote.
Alexis Burnett, a journalism sophomore, said the promotion of the elections could have been better. She said that playing candidates' speeches on a small television in the middle of the union was ineffective, and that they should have used one or two of the larger screens that usually play MTV.
She said they also could have done more promotion during Bengal Pause.
In the meantime, however, Burnett said she did vote last week, and shared why she thought it was important for students to get involved.
"I just know how every vote counts," she said.
Email: [email protected]
Leave a Comment