Nationally-ranked track teams start outdoor season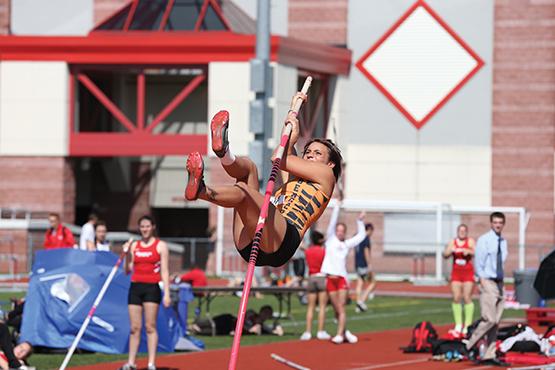 The opening weekend of the outdoor track and field season started off cold for the Bengals. Snow made it so the Buffalo State men's and women's track and field teams had to wait until Sunday to kick their season off.
The meet, held at the University of Rochester, was meant to be a tune up meet for the Bengals, who gave a lot of athletes the meet off in preparation for the remainder of the season.
Assistant coach Dustin Dimit had no complaints about his team's first meet of the season.
"This meet, since it is so early in the season was more about giving the other athletes who have worked hard a chance to show what they have," Dimit said. "That is why we decided to give a few of our athletes the weekend off."
The men's 4X800m relay team, composed of Austin Becker, Alex Ngabo, Felipe Yanez and Bumkoth Jiak, highlighted the weekend for the Bengals, winning the event and setting a new school mark (7.52.22).
The women were anchored by senior pole-vaulter Heather Becker, who took third place overall in the event and added to her own school record, clearing 3.13m.
This meet provided the Bengals a glimpse of what is to come. Both teams came into the meet nationally ranked and they believe that with the right performances at the right time they can make a push into the NCAA meet.
Junior sprinter and jumper Cory Cox, who participated in the NCAA indoor national meet, returns to the outdoor team and feels the future is bright for both the men's and women's teams.
"We want to just come into this season and work hard, we have been in the weight room preparing," Cox said. "The goal is just to go out there, do our best and run our best times and hopefully end up at nationals at the end of the year."
After coming off top-three finishes at the NCAA meet last year, the pressure to get better is on for the Bengals. The athletes from the men's and women's teams are looking to raise the bar just a little bit higher to be champions.
Becker recognizes the importance of goal-setting, and given that this is her last year she is ready to give it everything she has got.
"In the locker room the girls have their team goals written on a board," Becker said. "We are working hard to win the SUNYAC championships as well as place higher than we did last year in nationals."
"We are just looking to build on the success that we had last year," Dimit said
The Bengals hit the road this coming weekend to participate in an invitational held at the University of Tennessee Sea Ray Relays held in Knoxville, Tennessee.
Email: [email protected]
Leave a Comment