The best of Buffalo as voted by students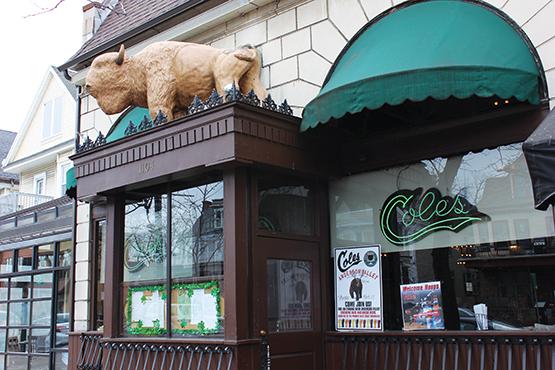 Living in Buffalo be a drag sometimes. We can have a polar vortex one day and a heat wave the next. Even when there isn't snow on the ground, our roads aren't the best. We love our sports teams, but they don't always seem to love us back. And we love complaining about it. But amidst all the gripes Buffalonians have about life in the 716, there are at least nine places that make Buffalo life – and especially life at Buffalo State — a little more enjoyable. Here they are, as decided by your classmates.
Best Bar
Being in college can bring out the best money saving tactics in anyone.  That being said, everyone needs to have a little fun every once in a while.  Our voters said Cole's on Elmwood was the best place for cheap drinks and good times with friends.  Cole's provides patrons with over 35 different draft beers, accompanied by above-average bar food, including Ahi Tuna burgers, Sicilian Chicken Wings and steak sandwiches.
Best Burger at 1 A.M.
After a long night of dancing, drinking, and partying, you have spent all your money.  All the cheap drinks have burned a hole of hunger in your stomach.  Where do you go?  Our voters answered McDonald's for a Big Mac.  The food isn't terrible, and gets served up to you fast.  Also, the food is affordable after spending a little too much at the bar.
Best Frozen Yogurt
With the recent surge in frozen yogurt locations, it can be hard to decide which one to try.  We asked, and our voters responded.  FroYo Culture on Transit Road in Williamsville was the clear winner.  This yogurt bar serves up 12 different flavors daily that can be mixed, topped, and made ready to go.  The yogurt is self serve, and then weighed to determine the cost.  Toppings include granola, cereal, fresh fruit, candy and hot fudge, to name a few.
Best Smartphone
While the number of smartphones on the market is growing daily, choosing one to get you through four years of college can be tough.  Each has their own qualities that make them unique, and different than the rest.  Voters responded that the iPhone was the best choice for Buffalo State students.  While the phone is a little more expensive than others, the phone provides access to the large App Store, which contains numerous college centric apps such as Blackboard.  The software that keeps the phone running is reliable and the durability of the phone can handle a few drops.
Best Chicken Wing
More often than not, chicken wings are the first things that come to mind when people think of Buffalo – which is no surprise, since they were invented here. But with all the wing locations, which is the best?
To no surprise, students responded with Duff's Famous Wings.  Since 1969, Duff's has been serving traditional Buffalo wings to loyal patrons.  Sauces range from medium, which is actually hot, to death sauce, which is a step above the suicide sauce. Leaving Buffalo without tasting a Duff's wing is almost impossible.  Duff's has locations in Amherst, Orchard Park, Depew, Niagara Falls and Williamsville.
Best Cup of Coffee
Coffee is the morning elixir that gets everyone moving, and the better it tastes, the happier we are. While it was a close competition, Tim Hortons took the title of Best Cup of Coffee amongst Buffalo State students.  It's hard to not pass a Tim Hortons on your daily drive to work or school.  The coffee is cheap, but that doesn't hinder the taste.  Despite the somewhat endless morning drive-through rush, your cup of caffeine will have you awake and ready to work. And there's one right on campus, in the Ice Arena, so you won't have to walk too far!
Best Tattoo Parlor
If you're feeling a little adventurous and want some ink on your skin, look no further than Cowpok Piercing Gallery. Voters applauded the team of five piercers and tattoo artist and chose them as the Best Tattoo Parlor. Located right on Elmwood Avenue, Cowpok touts their services as both professional and hygienic. Appointments can be made daily for a piercing or a tattoo.
Best Sushi
The title of Best Sushi was a tie between Fuji Grill and the local supermarket Wegmans. Each has a wide array of sushi selections that can appease any palate. Both locations offer freshly rolled, handcrafted sushi. Wegmans sushi is packaged for on-the-go dining, while Fuji is a sit-down restaurant. At Fuji, you not only get quality ingredients in your sushi, but also an encompassing Japanese experience. Fuji can be found in Williamsville, and Wegmans has a location right around the corner on Amherst Street.
Best Gym
To work off the burgers, sushi and yogurt, head to LA Fitness, voted as the best gym to work out at by Buffalo State students.  The closest fitness center is only a short distance away from campus, on Elmwood Avenue. No long term contracts are required.  Workout classes, varying amenities, and guest passes are available for gym members.
While our winters are long, and it might seem as though chicken wings are all there is to eat, there is more to Buffalo than what is made out to be. Dig deep and you might find some diamonds in the rough in The Queen City.
Email: [email protected]
Leave a Comment