Forgotten time capsule passes through conservation department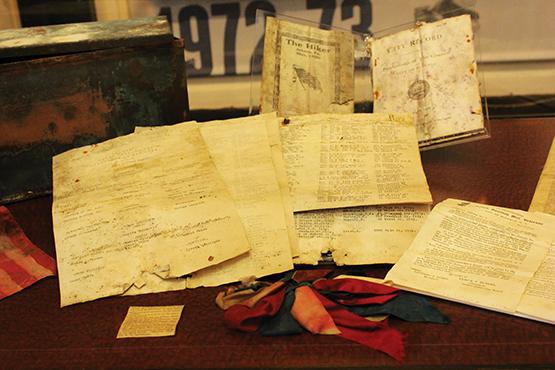 A time capsule recently found beneath "The Hiker" statue during renovations on Main Street passed through SUNY Buffalo State's Art Conservation Department before finding a permanent home.
The time capsule, held in a copper box, was dated back to the 1920's, with newspapers dated from May 15, 1920 as an identifier. It was found at the corner of Huron and Main Streets, where renovations are being done to return vehicle traffic to Main Street along with the Metro Rail system.
Most of the objects brought to Buffalo State were limp, damp papers, Laura Schell said, an interim paper conservationist with the Art Conservation Department who advised City Hall on how to next proceed with the objects.
"The time capsule box containing the objects was sealed properly at the time and started out in great condition," Schell said. "However, it appeared that the bottom of the metal box corroded and left most of the items stewing in moisture for over 70 years."
Also included in the box was a very tattered 48 star, silk American flag, a roll of papers tied together with ribbon, a bound book with still clear text but damaged adhesive binding and a block of four objects lumped together by moisture.
The roll of papers tied together with red, white and blue ribbon was later revealed to be a list of names from the statue's dedication ceremony.
The Buffalo Historical Association took the items from the Art Conservation Department to keep them contained in a clear display case so the mold doesn't spread.
"It's really cool when they find these things by surprise, it's kind of like a memo from the past," Buffalo State history major Rob DeGuehery said. "They don't want us to forget them so they create them, bury them and hope and wonder if anyone will ever even find them."
This time capsule was found by surprise. Most time capsules are marked with an opening date labeled on it for the public, such as the one of the corner of Allen and Main Streets or the one at the Buffalo History Museum.
After it was found, it was immediately moved to DiDonato Associates, an engineering office on Main Street for safekeeping, Steve Stepniak said, the City of Buffalo's commissioner of public works.
"The Hiker" statue, created by sculptor Allen G. Newman, was named after the newspaper delivered to veterans of the Spanish-American war, where infantrymen casually addressed each other as "hikers." A copy of that publication was also found in the box.
Most of the contents of the box are already in the collection at the Buffalo History Museum and are currently accessible through the museum's research library for the next few weeks, at least until April 18, according to the museum's director, Melissa Brown.
The time capsule made it into national news as a blurb in USA Today.
Email: [email protected]
Leave a Comment