Conference of Conservators to meet at Rockwell Hall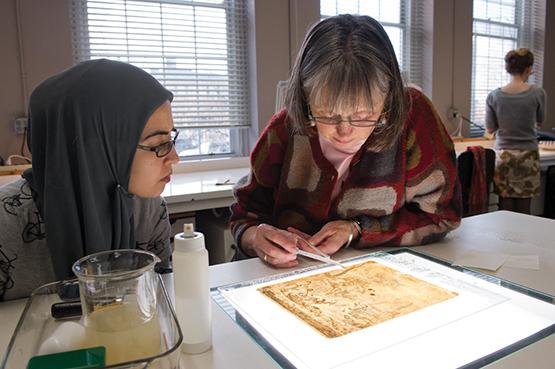 SUNY Buffalo State will welcome faculty and students involved in art conservation programs across the nation April 10–12 for the 40th annual conference of the Association of North American Graduate Programs in Conservation.
The ANAGPIC holds yearly conferences in a variety of venues for aspiring art conservators to showcase their research, learn from professionals in the field and network with future colleagues.
Colleges attending the conference include the University of Delaware, New York University, Harvard University, Queen's University, UCLA Getty Conservation Program, Columbia University, and the University of Pennsylvania.
Meredeth Lavelle, program manager of the art conservation department, is one of the organizers for the conference along with director Patrick Ravines and Lucy Skinner.
"We are honored to be hosting this year and we always strive to show conference participants the best of Buffalo and what we have to offer here," Lavelle said.
The theme for this year's conference is "extreme conservation."
Lavelle said that this field will cause conservators to work on objects and in places that are at the extreme side of the conservation profession.
"It is often assumed that conservators only work in a controlled lab setting rather then in a museum or in a private practice," Lavelle said. "However, often the profession takes conservators to remote locations such as Antarctica, or they could be asked to conserve an object that is far from ordinary such as a NASA space shuttle or the wedding cake of Grover Cleveland."
This Thursday, during the conference, faculty and staff will have a chance to tour various Buffalo historic sites followed by a welcome reception at the Darwin Martin House. Friday there will be graduate student talks and then a banquet at the Pierce-Arrow Museum. On the last day there will be three guest speakers which include Lizzie Meek, program manager for artifacts at the Antarctic Heritage Trust, Alan Phenix, scientist with the Getty Conservation Institute, and Malcolm Collum, chief conservator at the Smithsonian National Air and Space Museum.
James Hamm, professor in the art and conservation department, mentions the importance of this campus event.
"This conference is all about students and the faculty who've guided these students and have gotten them to where they are," James Hamm said, professor in the art and conservation department.
Hamm said this field of work is valuable for history and for individuals.
"It's a small world, the world of art conservation, but extremely important. Almost everyone owns something that they value, " Hamm said.
This profession deals with conserving some of history's most important artifacts such as the Declaration of Independence and Betsy Ross' creation of the American Flag. The field also helps restore family possessions and certificates that may have worn away over the years.
"These are physical things that don't take care of themselves and they need somebody to understand and carefully nurture and extend their future life," Hamm said.
Patrick Ravines, Director & Associate Professor for art conservation, encourages faculty and students to go to the art conservation website for more information on the art conservation program and the conference.
Email: [email protected]
Leave a Comment