Campus reps work towards a better Buff State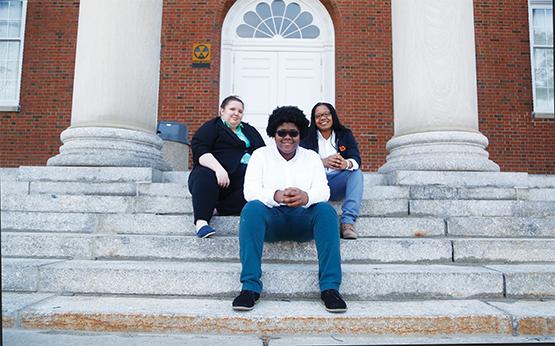 Ashleigh-Ann Sutherland waited two years for the moment.
Thursday, it came at last.
Sutherland was elected president of United Students Government last week, winning majority vote over Kevin Murray by a 331-193 count in this year's student elections for 2013-14 academic year office.
Emily Leminger defeated Felipe Lopez, 261-237, to become the next executive vice president and Diaisha Richards was elected treasurer, 241 votes to 127, over Aaron Santiago after Thomas Nelson dropped out of the running prior to voting.
With 609 voters, this year's elections featured the lowest turnout for in-person balloting in four years.
Sutherland, who was runner-up to current president Eric Sauerzopf in last year's student elections, was beaming with excitement when she learned the results in the moment that, for her, was a long time coming.
"We kept pressing reload, reload, reload, and as soon as we saw the results it was a beautiful feeling. As soon as it happened it was so surreal," Sutherland said. "It didn't hit me at first and then a friend came up to me and said 'I'm so proud of you' and I started crying.
"I'm really excited to have been elected president."
Sutherland, a junior science major, will begin her one-year term as president June 1 along with the other students elected into office for the 2013-14 academic year.
A native of New York City, Sutherland is currently the speaker pro-tempore of USG. She said it was important to her to give the presidency another shot after finishing second last year.
Her persistence paid off.
After the polls closed, Sutherland was sitting at her office with other USG members and friends waiting for the results to be posted online.
"It's crazy to have wanted something so bad for two years and you finally get it," Sutherland said.
Moving forward, Sutherland said that she itends to improve the communication in USG both internally between the members and externally among the student body.
"There are a lot of offices between USG and we need to learn how to work better," Sutherland said. "And also I want to change the reputation that USG has on this campus right now."
Leminger, a sophomore music education major from Buffalo, will work hand-in-hand with Sutherland as executive vice president. Leminger is currently the administrative vice president for academic affairs.
As the new EVP, Leminger will oversee the administrative vice president positions.
Leminger said that as EVP she will work towards aiding the AVP's into doing the best they could to improve USG and its influence on the student community.
"Are we listening to what kind of programming students want? What's successful and what's not successful?" Leminger said.
Leminger encourages students to feel comfortable coming up to her with any questions or concerns.
A fresh new face to USG is Bangali Doumbia, a junior political science student who was elected as the AVP for campus affairs and government relations.
"I bring to the table a lot of enthusiasm, the ability to work in teams and get involved," Doumbia said.
Doumbia said that he wants to focus on how to get students out to the different programs offered on campus, and how to make Buffalo State the best school in western and upstate New York.
Doumbia expressed his concern about the fact that there are often too many programs being offered at the same time on campus, which causes attendance to decrease.
"There should be less competition and more friendly competition where we are willing to work together," Doumbia said. "Two or three programs running at the same time is fine, but not four or five."
He added that because he has been highly active in USG funded student organizations he is pretty familiar with USG and what it is that they do.
He has also shadowed Serenity Smith, the current AVP for campus affairs and said that it is where his interest in the position sparked.
"It (the position) has a lot to do with dealing with organizations on campus and I'm all about bringing orgs together and just staying positive with student life," Doumbia said. "When orgs are together the unity is better and people get united they start to have fun and get involved on campus."
"I want to make sure that people don't see USG as the cops," Doumbia said. "That they [students] are not afraid of USG, because USG is supposed to be a friendly environment where people can come and express their feelings and we understand what they need and we are here to supply it."
Email: [email protected]
View Comments(1)