Do-it-all Mitchell overcomes adversity to climb men's basketball all-time scoring chart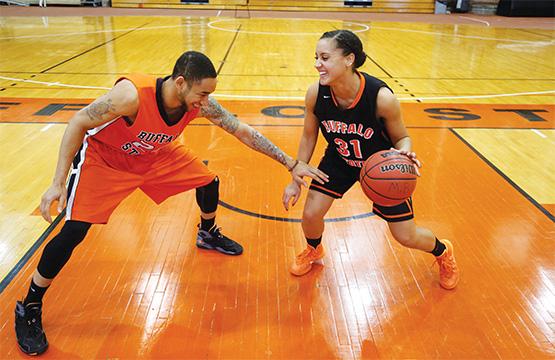 When word got around that Justin Mitchell was going to play the four and five positions for Buffalo State men's basketball, it was no surprise how people reacted. Opposing teams thought he couldn't do it. The barbershop chatter suggested that the 6-foot-5 Mitchell would struggle in the post.
"Everyone doubted me," Mitchell said. "They thought I couldn't do it."
Instead of pouting about it, Mitchell did something that he's been doing his whole life:
Prove everyone wrong.
Mitchell went on to finish third in the SUNYAC in scoring (20.5 points per game), fifth in rebounding (8.8 per game), first in field goal percentage (64.6 percent), and second in blocked shots (38) on way to being named first-team All-SUNYAC.
Justin Mitchell can do it all.
He's a slender who opposing coaches dread. He's a matchup nightmare.
Taller defenders can't guard him – he's too quick.
Smaller defenders can't guard him – he's too tall and physical.
He scores from the inside and the outside. He grabs rebounds, blocks shots, and gets his teammates involved.
It all looks so easy for Mitchell.
"He was pretty much unguardable in the league," Bengals head coach Fajri Ansari said. "He led us in a lot of different categories. He was consistent. He didn't really have a bad game. He had some bad moments here or there, but that was rare."
But, that's now.
When Mitchell was growing up, baseball drew his interest. It wasn't until seventh grade that he began to play organized basketball. When it was time to move on to high school basketball, he was rejected. Upon entering his freshman year at Performing Arts, Mitchell was told that he couldn't play by their coach.
"I wanted to try out for the team and the coach told me 'Don't even try out, I already have my team set,'" Mitchell remebered.
Mitchell would move in a different direction and attend Bishop Timon St. Jude after a summer league coach referred him to coach at Timon. His freshman year at Timon, he was cut from the varsity team. Then, he was even cut by the junior varsity team.
Mitchell was a skinny freshman at 5-foot-8. He was a basketball player who wasn't playing basketball. Not really the roots you would expect from a future All-SUNYAC selection, someone who sprouted into one of the best players in Buffalo State history.
He tried out for the junior varsity team the following winter and made the team. Soon after, his game started to grow, and so did his height.
He grew to 5-foot-10 in his sophomore year … 6-2 his junior year … 6-3 his senior year.
He averaged 20 points and 13 rebounds a game on way to earning First Team All-Catholic honors as a senior.
Centenary College, a Division I school at the time, was the only D-I school to show interest, but the Cyclones only won 12 games in five years and were on the brink of dropping their Division-1 program to move to D-III.
Roberts Wesleyan College (D-II) expressed major interest but Mitchell didn't want to attend a catholic school like he did at Timon. His focus then centered around Division-III schools Fredonia, Cortland, and Buffalo State.
Cortland emerged as favorite. Mitchell was all set on becoming a Red Dragon — until his visit to campus, when Mitchell talked to Cortland assistant coach Kharmen Wingard.
"The coach asked me what I wanted to do after basketball ended," Mitchell remembered. "I told him I wanted to develop my game and hopefully play overseas or somewhere."
The response Wingard gave ruined Cortland's chance of recruiting Mitchell, one of the top players in Western New York at the time.
"He told me 'I'm going to be honest with you, at a D-III level, that's not going to happen. Just give that up.'"
Mitchell never spoke to Cortland again.
Instead, Mitchell turned his focus to Buffalo State. Mitchell has always known Ansari since Ansari's days coaching at Turner Carroll High School. Mitchell is cousins with Julius Page, who played under Ansari and went on to star at Pittsburgh—one of many scholarship athletes Ansari produced at Turner Carroll.
"I knew that he was going to put me in the right path to be good," Mitchell said. "I knew all about him and I knew what he was capable of. All of those players at Turner Carroll had talent, he just had to guide them the right way. I knew it was a family thing here."
Mitchell made an immediate impact for the Bengals as a freshman. He played in all 25 games and averaged 7.1 points coming off the bench. In his sophomore season, he began to develop as a difference-maker for the Bengals. He averaged 14.4 points per game and led Buffalo State in rebounding (8 rebounds per game) and blocked shots (1.6 per game). He was named SUNYAC Tournament MVP and helped Buffalo State reach the "Sweet Sixteen" of the NCAA Tournament.
•••
January 14, 2012
Buffalo State was 11-3 and in first place in the SUNYAC standings. Mitchell was developing into one of the best players in the league. In a SUNYAC tilt with Geneseo, Mitchell's young and promising career came crashing down.
Norman Simmons inbounds the ball. Justin sprints to run down the errant pass. Jake Simmons tips it to Justin and a Geneseo player pushes him from behind. Mitchell falls on his hand. The next morning, he finds out his wrist is broken and his season is over.
"Once I broke my hand, I just said forget everything," he said. "I wanted nothing to do with anything. I was just so depressed. I wasn't going to class or anything."
Mitchell failed a class and was suspended from basketball for the following season, which should have been his senior year. People doubted that he'd ever play. The barber shop talk swirled around a young man that wasn't supposed to play again.
But Mitchell started going to school part-time so he could be eligible to play again.  Despite missing basketball for a year and a half, Mitchell returned to the court to finish out his college career this season. Along with All-SUNYAC honors, Mitchell was named to the All-District second team, voted on by the National Association of Basketball Coaches.
"I don't like being told I can't do things," Mitchell said. "Everyone should want to prove people wrong. You don't want to sit back and let them think that they're right. I'm going to miss it. I loved college. I loved Buff State. I loved basketball."
Email: [email protected]
View Comments (2)