Spelling bee brings back alumni, offers audience interaction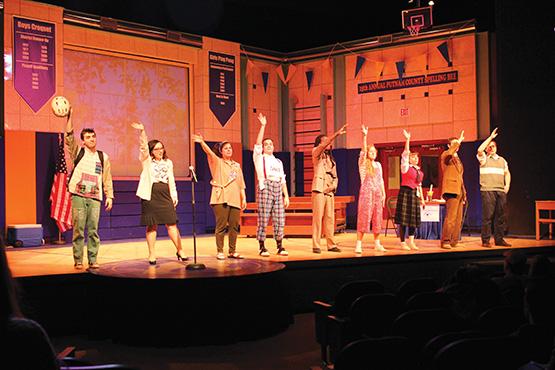 The kids of Casting Hall Productions are reliving puberty all over again, taking their acting skills back to the days of braces and awkwardness.
Over the past two weekends in early March, the Buffalo State theater department showcased their newest spring production and Tony Award winning play, the 25th Annual Putnam County Spelling Bee, leaving audience members in a fit of laughter in Warren Enters Theatre.
The play chronicles the lives of six young overachievers, stuck in the midst of adolescence, who compete to win the spelling bee prize of a lifetime.
This is director Jennifer Toohey's first production at SUNY Buffalo State, and she said she picked the play because of its comedic appeal. All of the characters are quirky and have their own personalities that students will be able to understand as they watch.
"I think students can relate to these characters because everyone has been the odd ball at one time or another," Toohey said. "These characters struggle with the same problems we all do, like with how to make friends and how to fit in."
The cast has been rehearsing since January, and it has been familiarizing itself with the music since before winter break.
Toohey said the performances have gone great and have been really well received.
"Students that typically don't pay attention seemed to be pretty riveted," she said.
Toohey admits the play will provide you with a night full of belly laughs, but there's more to the play than meets the eye.
"There's some really touching moments too," she said. "You're watching kids struggle with pressure from their parents, peers, and trying to figure it (growing up) out."
Another interesting factor with this spring musical was the inclusion of two alumni, Brandon Machajewski,'13, and Mike Zito, '11, to play spellers in the competition.
Toohey said she opened auditions to alumni because the turnout for the male role auditions wasn't as high as for the females, and some of the male roles were on the more difficult side to execute. She added that the boys have been wonderful, and everyone is learning and growing with one another.
Stage manager Frances Hughes agreed with Toohey, and thinks the alumni are a fantastic addition to the cast, especially Mike Zito, who's been out in postgrad life for a few years now.
"We've all learned a lot from him," Hughes said. "He's very professional. He knows a lot about theatre and helped the other actors with music.
"It's definitely benefitted us in the department to have alumni come back and teach us what they've learned since when they were in school and from post grad stuff."
Hughes is enjoying her time as stage manager and said the show has been technically challenging, but it's still really fun to work on. She said the cast and crew melts nicely together and thinks the camaraderie on stage is just amazing.
"They're fantastic," Hughes said. "They really own their characters. And their characters are super well defined, which makes the show entertaining every night because they're all so connected to each other, which plays very well on stage."
Another unique element to this play was the audience interaction. The play structure traditionally calls for four members from the audience to come up on stage and participate as spellers.
"It's interesting to see," Hughes said. "We have different audience volunteers every night, so every night is different. It's really exciting because you never know what you're going to get."
Allison Monaco, a senior theater major, plays Logainne Schwartzandgrubenierre. She is the youngest character and a politically aware daughter of two gay fathers who expect her to win and be the best.
According to Monaco, performances have been going smoothly, and she is very grateful to work beside her closest friends.
"We have a great cast that can think on its feet and improv when things go askew," Monaco said. "I love this cast and crew."
Monaco admits this is her first time on stage at Buffalo State. She said she is a director at heart, and has been involved as a stage manager, assistant director, and director, but never an actor.
"I love to sing," Monaco said. "So my favorite part is getting to sing on a stage every evening. I was so fortunate to be involved in this production and I am just trying to live in the moment as the show comes to a close."
Sam Crystal, a junior theater major, plays Marcy Park, a religious, hardworking young lady. She always seeks approval from her superiors, including Jesus Christ. She starts off as focused and driven and under a lot of pressure, but by the end of the show she is free to be herself and very happy, which she has never been before.
Crystal said everyone in the cast puts in 100 percent and gives their all in each performance.
"There are so many good things about being a part of this production, honestly I could not name them all," Crystal said. "The cast is so talented, so being a part of it and watching and working with them is such an honor."
According to Crystal, Toohey has made this experience really fun for herself and the cast.
"She's an amazing director and a wonderful contribution to the Buffalo State Theater faculty," Crystal said. "I really couldn't be any more blessed that my new friends and I can go out there and make people laugh and do what we all love."
To say the cast left some professors on campus impressed by their hard work and presentation these last few weeks, would be an understatement upon talking to music professor Charles Mancuso.
"I was just blown away," said Mancuso. "It was terrific."
He wasn't expecting them to do so well with the musical aspect of the show, but thought they harmonized perfectly.
"I thought, 'They're theater, so they are going to be okay,'" Mancuso said. "But they didn't miss a beat. They had it all down, and it was fabulous."
Mancuso gave a kudos to Toohey and thought there wasn't one false move by the actors. He couldn't stop laughing throughout the night.
"I laughed so loud that I was getting kind of embarrassed," Mancuso said. "They were all spectacular. I told all three classes in my upper levels, 'you've got to see this before it ends.'"
Email: [email protected]
Leave a Comment