"Pay what you want" for local theatre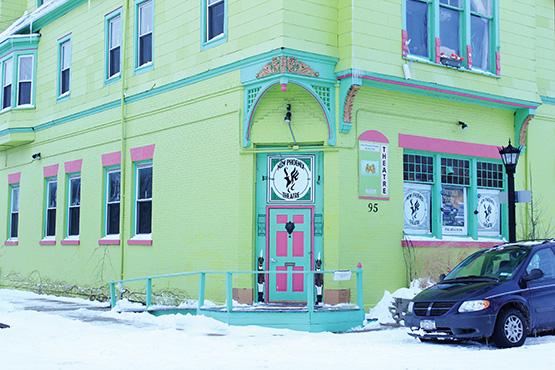 The prototypical college student is one who wants to see the world – but has just a few bucks to do it with. Fortunately for them, there are ways around a double-digit bank account statement as far as getting to see a bit of the arts.
For students who want to see a cheap and interesting play or musical, there are a lot of options in Buffalo. The New Phoenix Theatre, the Alt Theatre and Shea's Performing Arts Center are among the most popular for college students in the area. Each offer student discounts and house productions that are more interesting for younger people.
The New Phoenix Theatre, at 95 Johnson Pk., is open Thursday-Saturday with six shows a year, each show playing for four to five weeks. The theater has been open since 1995 and is the only company that owns its own theater.
Tickets are normally $20 for adults and $15 for students; however, every Thursday, the New Phoenix Theatre offers "what you can pay" nights, where people can pay whatever they want in order to see a show. Anyone viewing a production can pay anywhere from $0-1,000- the money is basically a donation.
New Phoenix executive director Richard Lambert said that their company is lucky enough to receive a yearly grant from M&T Bank to underwrite the cost of the of the Thursday productions.
Because of the "what you can pay" Thursdays, "neighborhood people, the older population, and college students get to see a show they normally wouldn't be able to," Lambert said.
The New Phoenix Theatre shows less conventional shows such as "Blue Moon," which is a production involving puppets. By "regularly using interdisciplinary programming" the theatre thrives as one of the only local places that offer such rare plays.
"We'll always be a funky and alternative theater on the beaten path," Lambert said.
The Alt Theatre, on the third floor of the Great Arrow industrial building, is a cheap and college-friendly theater.
The theater is an "intimate black box…fostering the creation of new work by both local and visiting dancers, choreographers, playwrights, actors, composers, musicians and filmmakers," reads the theatre's website.
The Alt Theatre is located between two bus lines, has free parking, and is less than a mile from SUNY Buffalo State. For students, the productions are usually only $10.
The theater shows often-racy productions that draw in younger people and are fun and easy to understand, such as the comedy "Dog Sees God." Yelp reviews suggest the Alt offers much more than the price suggests.
Shea's Performing Arts Center on Main Street is open Monday through Friday, with shows on the weekends. Ticket prices vary depending on the company they are with, but most productions seem to be within a reasonable price range.
According to Doris Collins, the restoration consultant of Shea's, the theater offers a variety of show types, including main Broadway functions. The theatre also offers shows that appeal to a wide assortment of age groups, from "Porky and Bess" to "Sesame Street."
Shea's has a variety of venues, including rock operas and ballet. "There's always something new every season," Collins said.
The historic performing arts center has been restored to look exactly as it did when it first opened in 1926. Recently an exact replica of the original carpet was laid down, keeping everything clean and fresh while staying true to the originality of the theater.
For Valentine's Day, freshman finance major Sivan Bokobza went to see the play "Cyreno" with her boyfriend and was thrilled with the experience.
"[We] bought the tickets online and when we got there everyone was super friendly," she said. "It's a really cozy place and definitely a good date spot- even if you're not a theater lover."
New Phoenix, the Alt and Shea's are just three of the many options afforded students when it comes to theater. Whether out with friends or on a date, the student on a budget can breathe easy knowing their ventures won't break the bank.
Email: [email protected]
Leave a Comment