Buffalo radio has a voice and it is McCray's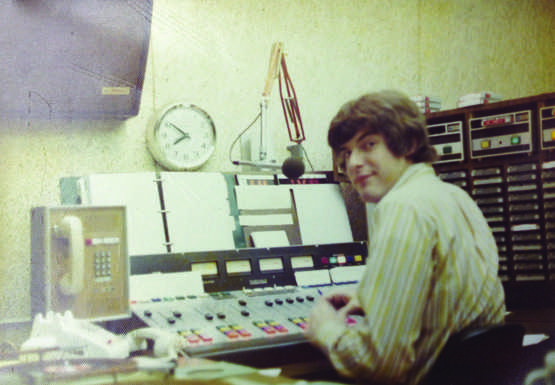 There's a booming voice heard all across the region.
Associate communication professor Tom McCray, better known to Buffalonians as the morning radio personality "Tom Donahue" on Timeless WECK radio, has been a familiar local radio personality since 1972.
His love for radio began as a teen, and after finishing his undergrad at Utica College of Syracuse University in 1972, he knew he wanted to go into the profession. He then began working at several Buffalo area radio stations.
During that time, McCray was in contact with Dr. Jim Seward, who suggested he started consider working at SUNY Buffalo State.
"One thing led to another," McCray said, and he began to walk the halls of Buffalo State as a full time professor in the fall of 1981.
Though his career has varied, McCray said all along, he has been able to keep his hand in the radio business.
"It's been nice," McCray said.
For the past 13 years, he's been doing morning radio and then coming to campus to teach courses in media performance, audio production, media programming and management, basic public speaking and writing. Throughout his time both on air and in the classroom, he's noticed that the business has changed a great deal, though he feels traditional broadcasting is still out there.
McCray tells his students that communications is a tight market and it's tough to break into.
"If you're good and talented at what you do, there will be jobs," McCray said.
He said it isn't easy, and tells students to ask themselves "Do I really truly love this business?"
McCray lets his students know that they won't get rich overnight, but he loves it.
"It's an always-changing business," he said. "Each day is different, and you never know what to expect."
As a radio host, he gets a feeling of satisfaction thinking, "I know something you don't know, and I can't wait to tell you about it," whether it's news or facts.
He said the impact of technology has changed the industry because listeners can now tune in on their laptops and phones. Otherwise, he said the basics of the industry haven't changed.
"I still teach students how to be professional in the field," McCray said.
Additionally, he teaches students about ethics, recognizing how their message is being delivered to the consumer and how the storage method of recordings has changed. McCray said all storage is now done on computers.
After his students graduate, he hopes they'll realize "Yeah, Professor McCray did know what he was doing," adding that he takes pride in that.
He currently works in the field, both on air and doing voice-over work for commercials and more. He also sings, which he says he enjoys immensely, and not to the surprise of any of his listeners, he's a baritone.
He shares what he's learned in the field with his students.
"I hope a little bit of me goes with them," McCray said.
For some of his former students, he really will be going with them. Since his first day of teaching at Buffalo State, McCray has been working hand in hand with his graduates, and some have even been his competition in the field.
He said that in this market, any station will have some of his former students. He said it's been a running joke among his coworkers at many of his workplaces, "This whole building is your former students."
Pretty soon, McCray will only have former students. He hopes to retire in the next year, giving him more time to spend with his wife of almost 39 years, their two children and his four grandchildren.
If the opportunity presents itself, he says he would love to still do radio.
"I love it so much," McCray said. "I've been very fortunate to spend my entire radio career in Buffalo.
"I'll die behind the microphone."
Email: [email protected]
Twitter: @LiveWithColly
View Comments (1)