Nap pod to aid in creative research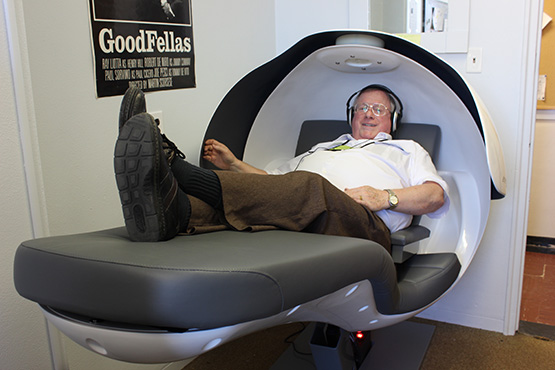 A luxury nap pod was installed this month at SUNY Buffalo State after a faculty member won a sweepstakes sponsored by Dove Men+Care.
Mike Fox, a senior lecturer in the creative studies department, said he entered the sweepstakes on a whim, not expecting much. He got the news that he had won in February.
"It was a serendipity," Fox said. "A happy, delightful accident."
The creative studies department celebrated the official unveiling of the nap pod March 3.
"I think it's fantastic that we have the opportunity to have such a hi-tech device in our space," said Cyndi Burnett, an assistant professor in the department.
The nap pod could be a boon to the department, according to Fox. He said that in a past job, he was able to double profits and create new job positions by utilizing breaks.
Companies like Google and Nike also use nap pods for their employees.
"A nap is not only a nice thing, it's an essential thing," Fox said. "The whole person comes to work."
When in use, the nap pod uses a seat warmer, leg rest and plays what Fox described as new age-type music. Its default setting is a 20-minute nap.
"It's almost like getting a full night's sleep," Fox said.
As part of his entry for the contest, Fox submitted an essay about possible links between napping and creativity.
He plans on using the pod for research on creativity. Fox said that the Harvard Sleep Center has done studies that show a correlation between napping and higher productivity, but no studies have done the same for creativity.
First, he would have to decide how to measure creativity. Then, he would have to find research subjects and find the amount of rest that works best for each person.
Fox said that laying out research should begin in a few months. He expects that the department will have enough information to publish their findings in two years.
"This gift turns into a serious research opportunity," Fox said. "To me, that's the real story."
The nap pod is only available to faculty in the Creative Studies Department. Fox said that was because it was breakable. However, he said that once research begins, students may be selected as subjects and have the opportunity to use it.
The nap pod was a prize in Dove's Irritation-Free Mondays contest, which asked contestants to describe how one of the prizes would make their Mondays less irritating.
Other prizes included a home gym and personal trainer, $5,000 to start a business and a helicopter ride to and from work.
Email: [email protected]
Leave a Comment