USG meeting addresses high parking fees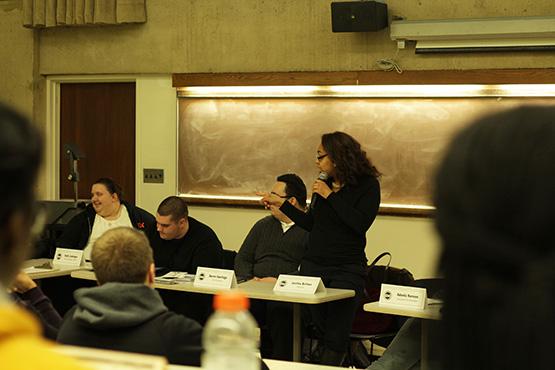 SUNY Buffalo State's United Student Government held its weekly meeting in Bulger West March 4.
At the meeting, USG members discussed meter parking, the academic survey, and upcoming events on campus. USG also added two new members to the senate.
USG President Eric Sauerzopf started the meeting by addressing a student parking concern. Several parking lots on campus require users to pay a meter. It's a dollar for every hour parked before 7p.m. These include B-1 lot located next to the Burchfield Penny, C lot located near Moot Hall, L-2 lot located near Houston Gym, and X lot located near Rockwell.
Sauerzopf brought this up after he noticed students parking in those areas often.
"Every time I go up and see someone paying at that time I ask if they're students or faculty and staff, and they always seem to be students," Sauerzopf said. "I don't understand why the school is charging students to park there when they're already paying for parking."
Student passes cost $70 each year.
Parking in areas not designated for students or failing to pay the meters results in a $25 to $35 fine.
"I think it's a little ridiculous that students are paying $70 for a parking fee and then they're also getting charged additional fees to park elsewhere on campus," Sauerzopf said.
Vice treasurer Aaron Santiago understands why those parking lots require meter-parking versus just having a student-parking pass.
"There are places like Moot Hall and the Burchfield Penny where there are a lot of visitors. If you were to open that completely to students at 7 in the morning then visitors might not find parking in those lots," Santiago said.
Sauerzopf plans on speaking to the administration to see if some changes can be made for students parking in those areas.
Emily Leminger, administrative vice president for academic affairs, mentioned that the academic survey is now out.
The survey is open to all students and asks for their opinions on book prices, costumer service at the bookstore, resources on campus, tutoring on campus and career and development.
"It's about five questions, so it's really short," Leminger said.
USG members also discussed some upcoming events on campus.
The MTV show Girl Code/Guy Code will present a live on-stage version at 7:30 p.m. April 1 at Rockwell Hall. It will be featuring Nessa, Jordan Carlos and Damien Lemon. Students on campus can purchase a ticket for $10 with a student ID. Each additional ticket will be $25.
Another event happening on campus regards ice-skating.
On April 10 between 7 and 9 p.m., the first 100 people at the rink will get free ice skates and after that rentals will cost students $2.
"We'll be having giveaways, music and hot chocolate," Noah Puukila, associate vice president for student life, said.
Two seats in the Senate were filled as the meeting came to a close.
Jennifer Rodriguez, a sophomore early childhood education major, and Anna Jesus, a sophomore history major, are now senators.
Email: [email protected]
Twitter: @saraminks
Leave a Comment