Day named in recognition of Hal D. Payne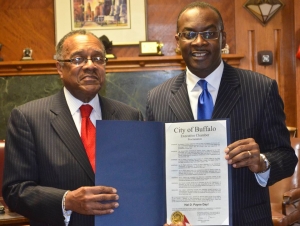 Mayor Byron Brown dubbed Feb. 26 as "Hal D. Payne Day" in the City of Buffalo to honor the Buffalo State vice president for his contributions to education in Buffalo and across the country.
"I named a day after Hal Payne because of his extensive involvement with higher education and his many contributions to assisting young people in Buffalo and different parts of the country to receive a higher education," Brown said.
Brown said Payne has been a leader in higher education and was recognized in 2013 by the U.S. House of Representatives as someone who has directly affected the sake of our country's education policy.
"To me, he is a real inspirational person and someone that I look up to in the community," Brown said. "Not only does he encourage students, but younger professionals in the community."
After working with students whom other people did not think could become successful and watching them grow to be extraordinarily successful, Payne became more passionate to promote higher education.
"I've been able to see that if you motivate people to achieve and give them assistance, they can achieve what ever they believe they can achieve," Payne said. "I've seen it happen so many times."
According to Payne, Brown recognized his contributions during Black History Month to recognize the work Payne has done as the first President of the Council for Opportunity in Education, a Washington base education association that continues to be very active in promoting and extending higher education programs since its founding in 1981.
"I think Mayor Brown wanted to recognize the work SUNY Buffalo does to access to higher education in this region, in this city, and in this country," Payne said.
Payne has been vice president of student affairs since 1990 and works as a consultant for the U.S. Department of Education.
Brown also recognized Payne for his contributions to the Buffalo community through his service as a commissioner on the Buffalo Municipal Housing Authority Board, as a board member on the Board of Directors for Read To Succeed Buffalo, and his service as a member of the advisory board of the Hillside Work-Scholarship Connection.
Brown also mentioned Payne's service to New York State through Governor Cuomo's appointment of Payne to the NYS Council on the Arts.
"Recently, the Buffalo State Upward Bound Program created two new awards in Payne's honor," Brown said.
According to Brown, the Upward Bound Program created the Hal D. Payne Upward Bound Scholarship Award of Excellence and the Hal D. Payne Educational Opportunity Lifetime Service award.
"We're trying to add a scholarship to assist students who are graduating high school and entering their first year of college," Payne said.
In April, Payne will be speaking to a gathering of representatives from Upward Bound Talent Search and Student Support Services to inform them of the program and to make this scholarship known to participants of the Say Yes program.
Email: [email protected]
Leave a Comment