Carr, Zannella sign professional contracts with SPHL clubs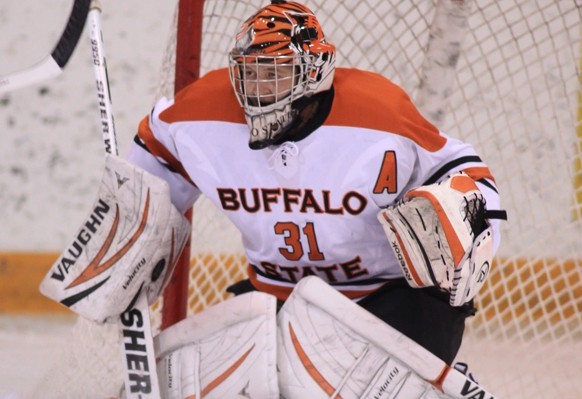 While National Hockey League clubs finalized their blockbusters Wednesday afternoon, Buffalo State senior goaltender Kevin Carr was boarding a plane to begin a professional hockey career of his own.
Carr announced on his Twitter account (@carrsy31) around 3 p.m. that he has signed a professional contract with the Peoria Rivermen, the Southern Professional Hockey League affiliate of the NHL's Chicago Blackhawks.
"Can't believe this day is here! So thankful for my family, teammates and all that have helped me along the way!" he wrote.
Carr is Buffalo State's all-time leader in wins (45), save percentage (.921) and shutouts (9). His career with the Bengals came to an end Saturday when the team lost to Geneseo in the SUNYAC semifinals.
Carr confirmed the contract, which runs week-by-week, via text message with The Record before boarding a flight to join his new team in Peoria. He expects to dress for the Rivermen on Friday.
Peoria is in fifth place (24-17-6) in the 10-team league with nine games remaining in the 2013-14 season.
UPDATE:
Bengals captain and fellow senior Mike Zannella became the second Bengal this week to announce he has signed a professional contract, joining Carr in the SPHL with the Fayetteville FireAntz.
Like Carr, Zannella broke the news on his Twitter account (@VanillaFace19) Saturday afternoon. He will join the ninth-place FireAntz this weekend.
Carr made his professional debut Saturday, leading the Rivermen to a 4-1 win. He stopped 26 of 27 shots to earn his first win.
Zannella and Carr will likely square off on March 21-22 when their respective teams face one another in the teams' final two games of the season.
Email: [email protected]
Leave a Comment