Student voices can bring focus on Ukraine through Twitter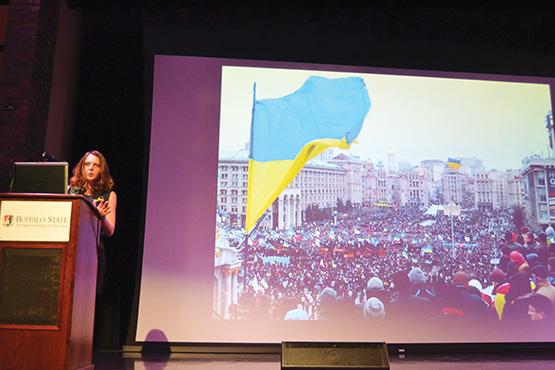 Slavka Kutsay, a Ukrainian student activist and journalist, shared stories of protest in her homeland with the SUNY Buffalo State community on Monday in the Campbell Student Union Social Hall.
Kutsay presented images and videos showing how dangerous protests have become in Kyiv where police have reacted to dissent with violence.
"Those people who [protested], they showed that they don't feel secure in their country, and this is a basic need for each person," Kutsay said.
This is a list of the protesters' main demands that Kutsay presented:
• Immediate recognition of all members of government
• Release of the activists arrested in Maidan Nezalezhnosti
• Prosecution of the officials who commanded forced dispersal of people in EuroMaidan
• Off-year parliamentary and presidential elections
• Renewel of the process of signing Ukraine's European Union Association Agreement
Kutsay said she and other activists in Ukraine believe that this is a time for concrete good deeds, not for a simulation funded by Western philanthropy. She said many great things happened during the time of unrest.
"Many people came and offered their own contributions to EuroMaidan doing just what they like," Kutsay said.
Kutsay talked about one man who came to EuroMaidan and contributed by cooking soup for the protesters.
"He's a good cook, and he just decided that he should come and feed people," Kutsay said. "A simple thing that was really significant."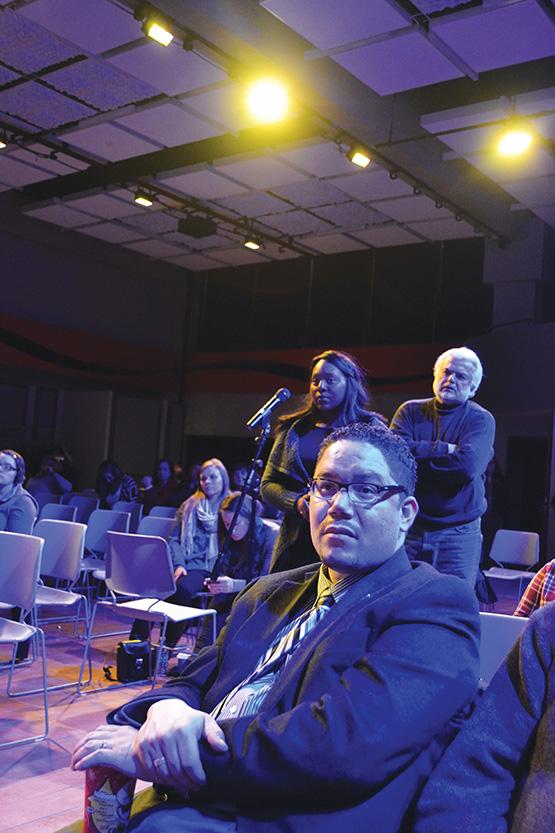 Kutsay said active discussions of social issues within Ukraine are important, but it is also important for Ukraine to be a relevant topic globally. She urged attendees to have conversations on Twitter and Facebook and to hashtag Ukraine and EuroMaidan.
"Even if you just post a Tweet, it will make a difference," Kutsay said. "It will be like a drop in the ocean."
Kutsay said having online conversations with friends and relatives increases support of the issue. She said the bigger the presence online, the more evident it will become to the world that there are people in Ukraine who are struggling for their independence and are willing to become a democratic society.
Kimberly Kline, chair and associate professor in the higher education department, taught Kutsay in a journalism ethics class at Kyiv-Mohyla Academy.
"Slavka Kutsay has been an activist since before her undergraduate years as a young feminist that she was nationally recognized for her work," Kline said. "In college she was an activist because they were really pushing for higher education reform, because they were almost regressing back to a pro-Russian model."
Kline said that when she interviewed students in Ukraine about being activists, or being ethical as journalists, the students always responded as "we," and spoke as the people of Ukraine as a whole. She said that she found that interested when compared to some other countries where students refer to themselves as "I."
"For them it's a very selfless act," Kline said. "It's very dangerous. They're living in a democracy, but it was really more of an oligarchy, where Yanukovych was a dictator of sorts."
Kline said one half of one percent of the population of Ukraine have all the wealth.  She said the median income in Kyiv is around $7,000, and for those outside of major cities, it's about $3,000 per year.
Interim President Howard Cohen was in attendance for the event. He welcomed Kutsay to the Buffalo State community, and said he has ancestors from Ukraine.
"We live in a world that is globally interconnected," Cohen said. "I'm sure that what happens around the world is going to have an impact on all of us in one way or another."
Kutsay said there are new challenges ahead for Ukraine.
"This is definitely a new page for Ukrainian history, and a new page for Kyiv-Mohyla Academy, thanks to the civil resistance of Euromaidan grabbing the attention of the whole world," Kutsay said.
Email: [email protected]
Leave a Comment