Women's hockey lets slim lead slip late in SUNYAC quarterfinals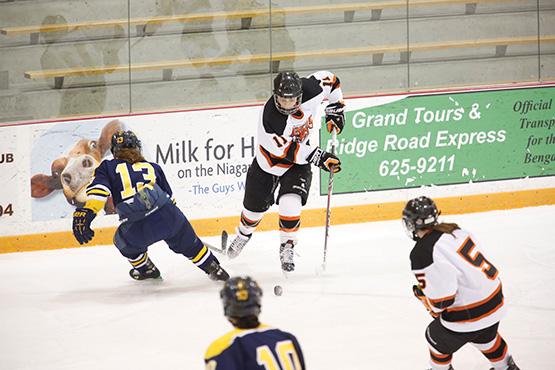 Three third-period Oswego goals buried any hope of an upset for the Buffalo State women's hockey team, as the Bengals lost 3-1 in the ECAC West quarterfinals.
Kara Goodwin put Buffalo State on the board first on a quick transition play, taking advantage of a slow defender and beating the goalie block side on a pass from Nikki Kirchberger on a 2-on-1. They took that lead into the final 20 minutes, but an offensive onslaught by the Lakers and some missed opportunities to clear the zone caught up with the Bengals.
Upon entering the playoffs, goaltender Jordan Lee had said she expected her team to "put up a fight," and they did, withstanding a tremendous number of shots on net against. Especially Lee, who finished the final game of her Bengals career with a 37-save performance, as Buffalo State was outshot, 40-9.
But head coach Candice Moxley knew almost right away that her team was not where it needed to be.
"I feel we struggled in our 'D' zone, getting pucks out, so we were… emptying the tank early," she said. "So we knew the third period was going to be a struggle because we were expending so much energy (there)."
Goodwin described the moments in which the Bengals allowed the Lakers to get momentum as "panic" moments.
"I think we lost track of how much time we actually had to come back," she said. "The only thing we could've done differently was not let them get those moments of momentum, but unfortunately it happened."
Those moments allowed Oswego's Emma Smetaniuk to tie it early in the third period, and goals by Melissa Seamont and Mady Paul left the Bengals reeling.
"After the first goal, we were still okay on the bench," Moxley said. "The second goal, we kind of took a hit, but after that third goal, the wind kind of came out of the sails."
Losing aside, the experience gained from this brief playoff run will prove invaluable for the younger Bengals on the roster, who will be looked at as leaders for the wealth of new recruits coming in next semester.
"After saying thank you to our seniors in the locker room… I was quick to jump on all of our underclassmen and just mention, 'Hey, we've gotten this far with this many people in our locker room, but know that we could've done more,'" Moxley said. "So I just think we can only go up from here."
Goodwin in particular has come into her own as a leader, not just on the score sheet, but in the locker room, too. She ended her season as an all-ECAC West honorable mention, tallying 21 points in 25 games for Buffalo State.
"I'm honored, of course," she said of the accolades. "As a player, of course I want to represent the team and school as best as possible, so it's cool to get an award like that."
Moxley, pleased with her alternate captain's growth as a player and person, said Goodwin has only scratched the surface.
"The more confidence she gains, the more of a threat she will be," she said. "I think this year was a good year for her, but I think without the slow start at the beginning of the season, I would expect her to get more than honorable mention, and I'll be helping her push toward those goals."
Email: [email protected]
Twitter: @A_Rodriguez39
Leave a Comment