Men's track takes SUNYAC title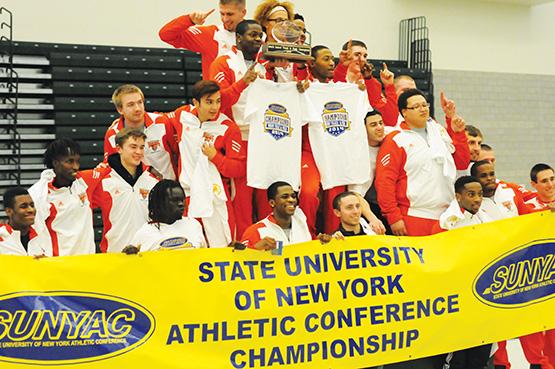 After dust had cleared and the teams that took the track at the SUNYAC track and field championships in Brockport this past weekend were on their way home, the long trip back to Buffalo felt that much better for the Bengals' men's team that was picked to finish third but, against the odds, came away with a SUNYAC title instead.
This is the second SUNYAC title for the men's team, the last coming just three years ago. According to head coach Dustin Dimit, this one had a dramatic finish.
"When we got to the final two relay events we were down by two (points)," Dimit said. "We needed to win in both events, which we got and we had to have Oneonta place behind us."
Oneonta placed thirdandfifth in the final two relay events.
The men were anchored by a five-event performance from junior Cory Cox. Cox was the champion in the long jump, ripping off the second-longest jump in the nation this year (7.27 meters).
He also placed second in the 60 meter dash (6.95 seconds) and the 200 meter dash (21.98 seconds) while finishing fifth in the triple jump and running lead leg in the championship-clinching 4x400m relay team composed of Cox, Alex Ngabo, Austin Becker and Dallas Taylor, setting a meet record time (3:21.61).
"Honestly it feels great, we weren't projected to win, the shocker was crazy," Cox said. "The guys were talking, we knew that if one person messed up from an opposing team we would have a chance, and fortunately for us it all fell into place."
Among other top performances for the men this weekend were Felipe Yanez capturing the SUNYAC title in the 800 meter run (1:54.31) and the distance medley relay team of Yanez, Bumkoth Jiak, Todd Colas and Kevin Murray finishing first (10:29.40).
Head coach Dustin Dimit said he is proud of his team.
"Honestly this title feels great, the way we design our training is meant for this time of year, we are always ready to perform our best when it counts," he said.
The women's team, which was projected to finish second this weekend, did in fact finish second.
"Our ladies were a bit disheartened by the second place finish, but we are all very proud of them, they fought very hard," Dimit said.
Sophomore Jazlyn Porter won a SUNYAC title and set a school record in the long jump (5.57 meters).
"I think we definitely could have come in first overall," Porter said. "We gave away a few to many little points. I go into each meet with a new mindset. You can't allow what happened last week (to) effect your performance this week, so I think we will be just fine."
Other top performers for the women's team were Sasa Vann, who captured a 400-meter title (58.36), Shuntone Pricher, who won the 60-meter dash (7.79 seconds) and Treasure Glymph, who won the triple jump (11.31 meters).
The next meet is the ECAC championships in Boston, Mass. this weekend.
With a few of the Bengals' athletes sitting out this weekend, those who are trying to make nationals have another chance.
"I think that we are going to use this meet as a bit of a tune up for the big nationals meet two weekends from now," said Dimit. "We have some people who we want to squeeze in, as well as some we want to bump up in the standings."
Email: [email protected]
Leave a Comment