Fleet tops regionals to earn spot at national championships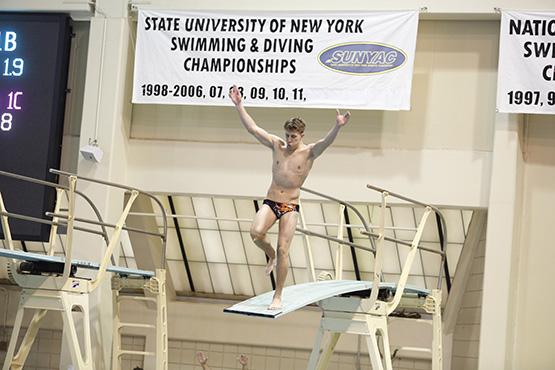 One week after capturing Buffalo State's first SUNYAC swimming and diving championship in almost 15 years, freshman diver Alec Fleet continued his hot streak at the NCAA DIII Regionals, becoming the first swimmer in Buffalo State history to earn a trip to Nationals.
Fleet captured first place in the 1-meter dive, beating out last year's regional champion Matt Morrison of Ithaca.
Fleet said he executed his front one and half double twist the best he has ever done it in his swimming career. All of his other dives were very consistent, which proved to be enough to give him the top spot.
Fleet expressed that he came into the meet trying to remain as relaxed as possible but knew having to deal with his nerves was inevitable.
"I was pretty nervous in the beginning," he said. "At least on the first board, and then after I was done with the first board my nerves went away."
For Fleet, it was all about getting comfortable and shaking off the rust—which was made easier by the fact that he had his parents, his girlfriend and the majority of the swimming and diving team there to support him.
As a freshman, Fleet has already accomplished so much and exceeded his own expectations.
"I didn't expect to go to Nationals my first year but I'm glad it happened." Fleet said.
Fleet's success has also made head coach Dan Allen extremely proud of him.
"I was kind of overcome with emotion when he won," Allen said. "Because he's put in a lot of hard work this year."
Allen said he believes Fleet's success could continue for years to come.
"I think he has a lot of potential," he said. "To be honest with you I think he's just starting to reach some of that potential."
Allen is grateful for Fleet and knows how huge his success is for the Buffalo State swimming and diving program.
"It's a good recruiting tool and I think its really going to help our program a lot in the future," Allen said.
Fleet will have two weeks off before he heads to Indianapolis for the National championships March 19-22. He said his goal there is to finish at least in the top five, but that he knows becoming the first national champion in Buffalo State history is well within his reach.
"If I'm really consistent and hit all my dives it's very possible to win it," Fleet said.
Email: [email protected]
Leave a Comment