Frosh teammates ring in new chapter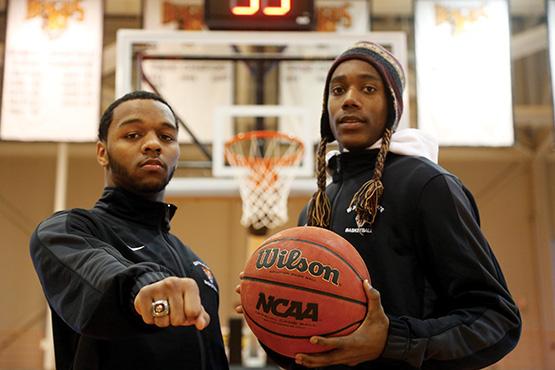 "History book. History book. History book."
Rey Jordan yelled repeatedly toward the camera lens set off to the sideline. Jordan and his McKinley Macks could finally call themselves something they've always dreamt of:
State champions.
Jordan and McKinley High School teammate Lovell Smith now attend Buffalo State and just finished up their freshman seasons on the men's basketball team.
But a year ago this month, they were two senior standouts on a team that strung together 14-straight victories to win their school's first-ever state championship, the first by a Buffalo Public School since 1984 when Bennett High School won the Class B championship.
Before making their trip to Glens Falls, the Macks had a visit from a coach. The coach wore orange and black — McKinley's colors — but he wasn't from McKinley. He's been around to block and he's gone to Glens Falls, winning back-to-back state titles as a former coach at Turner Carroll High School. That visit marked the first time that Jordan and Smith would hear from Buffalo State head coach Fajri Ansari, but it wouldn't be the last.
"Having coached at the high school level and having made a few trips to Glens Falls, I just tried to describe the atmosphere to them," Ansari said. "I told them to not get overwhelmed and just rely on (and) stay with the game plan."
***
March 17, 2013. Glens Falls.
McKinley trails Orange County power Burke Catholic, 60-57 with 47.8 seconds left and a state championship on the line. Burke Catholic is rolling on a 12-0 spurt. McKinley is reeling with leading-scorer Marcus Morris in foul trouble. Morris checks in and drills a three to tie the game at 60-60.
Burke Catholic answers with a pair of free throws. 62-60, Burke Catholic. 14 seconds left. Jordan has the ball in his hands, the hope of a state title on his shoulders. The 5-foot-10 guard drives to the hoop, finds teammate Samuel Smith open and makes the pass through a tight window. Smith's fouled with 5.8 seconds left. He steps to the line. First attempt is in the air. Swish. Down by just one. Second attempt is in the air. Money. Tie game.
Burke Catholic chucks a desperation heave from halfcourt as the buzzer echoes throughout the Glens Falls Civic Center, home of the Adirondack Phantoms (AHL). No good. Overtime.
Later, Morris gets a tip-in to fall with 48 seconds left and the Macks lead 71-68. 48 seconds tick off the clock and the buzzer echoes once again in the 4,794 seat arena. This time, it's over. McKinley is victorious. The Macks are state champions.
"I was about to cry," Jordan said. "But, I was too happy. I walked away from everybody, and then my team jumped on me. That's what made me cry because I knew I was loved."
"I was so happy, the whole team was happy," Lovell Smith said. "Everybody ran onto the court, everyone was falling on the court. It was amazing."
Players and cheerleaders rushed towards center court to embrace. They screamed, they yelled, they chanted "Mack High" over and over and over again. The celebration carried over to McKinley's locker room. They sang with one another and savored the moment. It was a moment that never happened in McKinley's 103 year history. So, why not enjoy it?
After all, they were state champions.
Head coach Zaire Dorsey stepped into the room clapping. Jordan, grinning, grabbed a cooler that was conveniently next to him and drenched Dorsey in water and ice, sending the room into a frenzy. Dorsey screamed just as loud and jumped just as his high as his players. He's spent 13 years as a shop teacher at McKinley, but he turned into a little kid again. He was a state champion, too.
Things started to calm down. After 32 minutes of heart wrenching, epic basketball and a jubilant celebration it was time to reflect. Dorsey, a McKinley graduate and a coach in the basketball program for the past 13 years knew what his team had accomplished. He spoke to his team:
"It took a lot of hard work to get here. Four years of hard work. Four years of running. Four years of I don't want to hear your excuse. Four years of I don't care what's going on at your house. I don't care about your girlfriend, all that other stuff. We have practice six days a week."
Dorsey is interrupted by a player, "Four years of cross country."
Dorsey agrees.
"Four years of being on the cross country team during basketball season. It was for a reason. They gave us everything they had. We made some mistakes. What I like about this team is we don't quit. We don't quit, 'til the final whistle. Thank you for allowing me to be a part of your family. We state champs. You can say something now that nobody else can say… Congratulations."
As freshman, Smith knew they had something special. Dorsey always told them they could be State Champions. As freshman on junior varsity, they didn't back down to the varsity team.
"We looked at the team we had, and we always challenged the varsity team," Smith said. "We'd say we were better than them and all that. We scrimmaged them one time; we came close to beating them."
The talented group had been pushed by Dorsey since day one. All five starters were seniors. Smith, Jordan, Morris, Samuel Smith and Daequan Warren rounded out their starting lineup. Morris went on to make All-WNY as a senior and is now the starting point guard at Erie Community College.
With a banner hanging in McKinley's gym today, they still stay in touch and hang out. This year's McKinley team made the short two-minute drive down Elmwood Ave. to Buffalo State for the Section VI Championships. Sitting courtside was that state championship starting five.
"I talked to them every day," Jordan said. "We hang out a lot. I see Daequan [Warren] here and there because he goes to Niagara County Community College, but he comes to Buffalo a lot. We're all still close."
Jordan originally came to Buffalo State to play football. He ended up redshirting during the fall and reached out to Ansari about playing basketball. Jordan became a defensive specialist for a Bengals squad sorely in need of one.
"When I get in games, I just think I'm 'The Defender'," Jordan said. "I have to make this stop because coach is counting on me. He's counting on the whole team but he's counting on me to make the stop on the other teams' best player. I just think of it as being a hard worker."
Jordan saw little playing time early in the season, but began to see more minutes later in the year and even started the final six games.
"He's a competitor," Ansari said. "He visualizes being in places he wants to be in. He wants to meet the challenge and is not afraid defensively to guard the other teams' best player. That more than anything earned him a position. This year, we were in need of much better defense and down the stretch in games I had to put a premium on defense. He rose to that challenge."
Lovell Smith was a role player as well for the Bengals, being called upon to score off the bench. Early in the season, Smith scored double-figures in three-straight games off the bench.
The 6-foot-3 slasher has shown an ability to get to the rim.
"He's very athletic," Ansari said. "He brings a lot of energy. He's quick; he can get to the basket and finish. He's more of wing or a guard, and he played more forward in high school. His potential is really there. Like all of our freshman, the speed adjustment to the college level is tough and even the adjust to the half court is an adjustment for freshman as well."
Jordan and Smith remain close, with their dorm rooms across from one another. They're teammates on the court and friends off of it. A new chapter is just beginning for the two, yet results of a previous chapter titled "State Champions" will indeed live on.
"I look at my ring every day. I look at my ring before every game," Jordan said. "I think to myself this is what you're made of. This is what you can do if you work hard. This is what you can do if put your mind to something."
Email: [email protected]
Leave a Comment