Play games for your health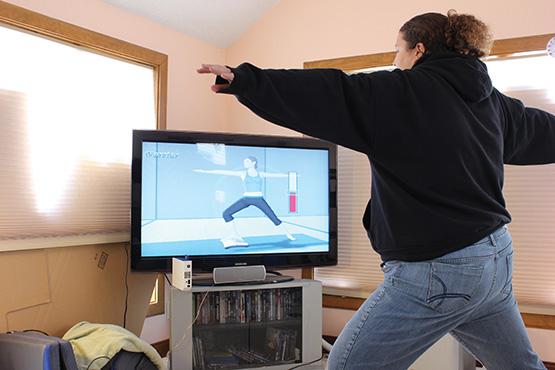 Back in 2009, the world's largest video game company, Nintendo, launched a new feature to the Wii system that would forever impact the fitness community. Wii Fit incorporates a unique platform that players use to stand on while engaging in exercise games.
Ashleigh 'Ann Sutherland, a junior and USG speaker pro tempore, enjoys engaging in boxing and tennis with her younger brother.
"At first we were doing it just for fun, but with the boxing my arms started hurting so I knew my muscles were working," she said.
Hiroshi Matsunaga designed the Wii Fit with the intensions of it bringing families closer together and healthier. According to Forbes.com, there are several ways this system helps with losing weight:
Wii Fit offers a variety of activities to help players lose weight and gain muscle strength such as snowboarding, tennis, running, pushups and yoga.
The use of the "balance board," which is a slab that measures the player's movement, allows Wii Fit to function as an all-in-one instructional tool, weight tracker and fitness coach.
It appeals to people who don't normally play video games.
Using the Wii remote like a tennis racket, a golf club or even a boxing glove, you'll find yourself moving around your living room just like you would out on the court.
"Dance Dance Revolution" uses the rhythm of dance club beats to get gamers moving.
Junior Victoria Horecki is a Wii Fit fanatic and enjoys the game Dance Dance Revolution. Although she was just doing it for fun, she did notice changes in her body.
"I would play with my friends for an hour or two hours, not even realizing that we were dripped in sweat and (we'd) burned a lot of calories," Horecki said.
Players can burn anywhere from 100-500 calories. The longer and harder you play, the more calories you will burn.
For example, according to fitnessblender.com, "Wii Zumba Fitness burns roughly 200-250 calories in 30 minutes. That's 400-500 calories burned playing the Zumba video game in an hour — roughly 25 percent higher than most people expend after an hour on an elliptical machine."
The top Wii Fit games include "Zumba Fitness," "Just Dance," "EA Sports Active," "Gold's Gym Dance Workout" and "The Biggest Loser."
Fitness gaming wasn't designed to cut out all other physical activities, like jogging or bike riding. It provides an alternative to sitting on the couch and just working out your thumbs.
Wii Fit is ideal for people who have busy schedules and can't make it to the gym, or for those who enjoy working out in the privacy of their home. A disadvantage of the game system is that it's intended to build muscle, not lose weight.
In addition, although effective, it can't replace the impact a more vigorous workout will have. To see impacting results, one would need to also incorporate a healthy diet.
Whether you use the Wii for fun or fitness, there are options for you to enjoy yourself and still get in a solid workout.
Email: [email protected]
Leave a Comment