Women's basketball loses No. 1 seed on season's final weekend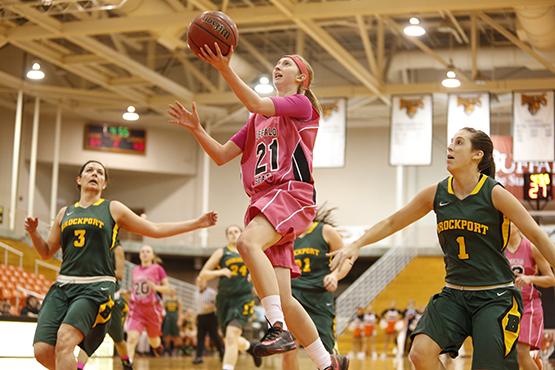 After defeating Potsdam, 91-84, Friday and losing to Plattsburgh, 94-68, on Saturday, the Buffalo State women's basketball team will head into the SUNYAC playoffs as the No. 2 seed, which means a first-round bye for the Bengals.
The 91 points the Bengals scored on Friday tied a season-high, while the 94 they gave up on Saturday was a season-worst.
It was a close game throughout against Potsdam. The largest leads were an eight-point edge for the Bengals early in the first half, then a seven-point lead early in the second. The Bears eventually tied the game at 62 with 8:54 left to play, and the score was 81-79 with 1:41 remaining. But Buffalo State held onto and extended that lead in the final minutes to secure the win.
Staci McElroy led the Bengals with 25 points. Bianca Smiley added 16 points and eight rebounds, while Olivia Luciani had 15 points. Ashley Wallace, who played a team-high 37 minutes, scored 13 points.
Buffalo State shot 46 percent from the field compared to Potsdam's 51 percent, and shot 26 of 29 on free throws. Potsdam held a seven to three advantage in made 3-pointers, but Buffalo State outrebounded the Bears 44 to 26.
"We executed well when it really mattered at the end of the game," said Buffalo State coach Sue Roarke. "We needed to get that win to get the matchup on Saturday for first place."
"We really got out in transition," said Luciani. "Whenever we get out in transition, we're usually able to beat teams."
On Saturday, Buffalo State trailed 48-33 at the half after a 15-point Plattsburgh run late in the first. The Bengals were plagued by foul trouble, racking up 25 total fouls for the game compared to just ten committed by The Cardinals. Plattsburgh netted 15 points from the foul line in the first half alone, and finished with a 28-10 advantage at the charity stripe. The Cardinals also held an advantage shooting from the field, hitting 49 percent of their shots compared to The Bengals' 39 percent.
While the Bengals are confident in their ability to put up enough points to win, they feel that they need to play better defensively to maintain continued success.
"Our post defense wasn't too good," said Kell. "We need to move our feet better instead of using our hands. There was a lot of disconnect as far as the team defense goes."
"Defense was definitely a problem," said Roarke. "We didn't move our feet particularly well defensively, and it got us into foul trouble."
"We've been playing really poor defense lately," McElroy said. "We need to work harder defensively. I don't think the offensive part of our game is an issue for us. I think we need to be more aggressive, we need to be tough, we need to not foul so much."
The Bengals will ride their first-round bye into the SUNYAC semi finals, where they will take on the winner of No. 3 Geneseo and No. 6 Brockport on Friday at Plattsburgh at 6 p.m.
Despite dropping the game against Plattsburgh, and, with it, home-court advantage throughout the playoffs, the Luciani said the Bengals are more hungry and determined than ever to cap their impressive season off with a SUNYAC championship.
"We're ready to play," said Luciani. "We know it sucks to lose. For a lot of our returning players, we know what it's like to lose a championship. I think we've got this."
"We're starting fresh and regrouping ourselves," said Kell. "We're going to focus on basketball this whole week, and focus on our goal to win the whole thing."
Email: [email protected]
Leave a Comment