Turgeon lends size, skill to Bengals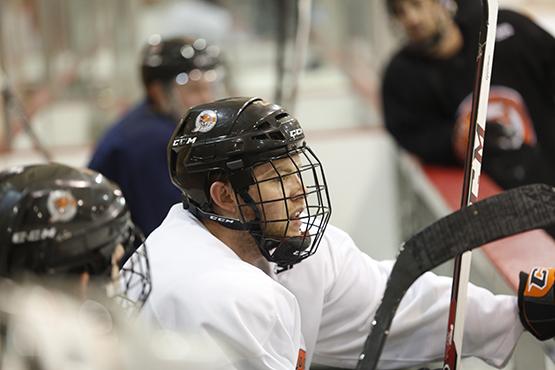 Growing up in Centennial, Colo., Dan Turgeon would always eat, sleep and breathe hockey.
He fell in love with the sport playing street hockey with his brother. He started playing roller hockey and then transferred to the ice when he was seven.
Turgeon said a big inspiration to his hockey career was his role model and favorite NHL player, Donald Brashear.
Brashear was an enforcer type player. His role was to protect his fellow teammates if the opponent was getting out of hand with its physical play. Brashear was a momentum changer.
"Even though he lacked in skill, he always found a way to make his way into an important role whatever team he was on. He was my hero," said Turgeon.
Turgeon has similar size to his childhood idol, standing at 6-foot-3. He not only has enforcing skill that can change the course of a game, but he has the skill of an elite goal scorer, too.
"He's had a very good and productive season," assistant coach Jeremiah Crowe said. "He is a big guy that can skate, handle the puck and can score goals. Dan has been a great addition to this team and I think his stick is one of his best assets. Once he has that puck on his stick, you can't get it away from him. He has a nice set of tools and he is only going to get better."
The junior forward put up great numbers in his first year with the Bengals, finishing the regular season with 10 goals and 15 assists to lead the team with 25 points. He was also a great asset on the Bengals' struggling power play, leading the team with six goals.
"Personally, points don't matter to me," Turgeon said. "As long as I can positively contribute to our team on a consistent basis, that's what matters to me."
Not only is he impressive on the ice, Turgeon is an asset in the locker room. Players say he is a great leader that young players tend to look up to for advice and tips, and he brings a calm demeanor to the locker room.
Sophomore forward Brett Hope said playing with Turgeon made the game really simple for him and the other players around him.
"Dan is one of the most important players to our team," Hope said. "He is our leading scorer. He is never too high or too low. We always know what we're going to get from him game in and game out. He is a very skilled forward that brings size to the table as well."
Veterans like senior goaltender Kevin Carr see Turgeon as someone who will be a valuable leader in the near future. Carr says he is excited about what Turgeon can do for the rest or season
"Dan is a great teammate, player and friend," Carr said. "He was a huge asset to our team this season. I wish he joined our team sooner. He's a quiet guy that just goes about his business everyday with heart and integrity and has great talent."
Prior to playing for Buffalo State, Turgeon played in junior leagues in Montana, Colorado and Alaska. He wanted to find a program that best suited his skill set.
After aging out of juniors, Turgeon moved on to college.  He started his collegiate career playing for Monroe Community College.  He recorded 47 points in two seasons with the Tribunes. He had 24 goals and 23 assists in 26 games played.
After playing there for two years he had to transfer out of MCC to Buffalo State due to the school omitting its hockey program because of the lack of competition.
Turgeon couldn't move back home to Colorado to play because there aren't many
Division III hockey programs in the western United States. If he wanted to keep playing he would have had to move north to Minnesota, Wisconsin or out east. Turgeon said that MCC paved his way to Buffalo State.
Even though Turgeon has only one year of eligibility he still wants to further his hockey career after he graduates.
"I would definitely like to try out semi-pro hockey if I can get the opportunity," Turgeon said. "I still have something to accomplish here at Buffalo State."
Email: [email protected]
Leave a Comment