Fleet takes first place at SUNYAC's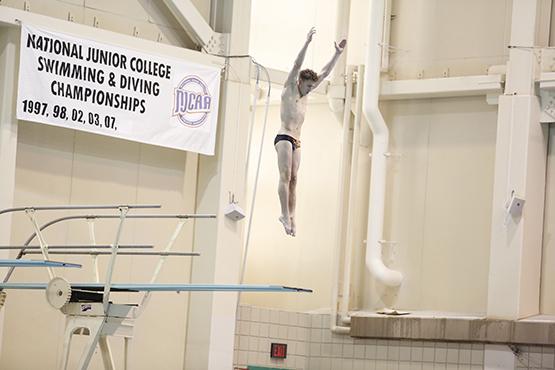 The Buffalo State men's and women's swimming and diving teams participated in the SUNYAC championships at the Flickinger Aquatic Center from Feb. 19-22, where men's diver Alec Fleet captured the program's first SUNYAC title in any event since 2001.
Fleet, a freshman, finished in first place in the 1-meter dive, finished third in the 3-meter dive and earned All-SUNYAC honors. He came into the week treating it as a regular meet and didn't prepare any differently, but had high expectations.
Fleet said finishing first in the 1-meter was exciting for him, but he expressed disappointment in not finishing first in the 3-meter as well.
"My expectation was to win both boards but I ended up getting third in the 3-meter," he said.
Fleet now heads to the NCAA Division III regionals, where his focus will be on placing in the top two so he can make it to the NCAA championships.
If he ends up heading to nationals, Fleet said he believes in his chances against top competition.
"If I dive really well I could possibly do good and even win nationals," he said. "Especially in the 1-meter because right now I'm ranked second in the nation in the 1-meter."
Buffalo State swimming and diving coach Dan Allen said he also believes in Fleet's abilities.
"Alec, I think, he's always had the tools to be successful and he put together a pretty solid meet," Allen said. "He's got diving regionals next week and I think he's ready to take the next step and qualify for nationals."
Head diving coach Randall Kozlowski also expressed his support for Fleet.
"I think he did a great job, I think there is room for improvement and moving into next week for the regional competition he looks like he's in a good spot," Kozlowski said.
As a team, the men finished last out of nine teams. The women finished seventh, with Charlotte Archdeacon leading the way.
Archdeacon, an exchange student from England, earned second team All-SUNYAC by placing second in the 200-backstroke with a school-record time of 2:07.89.
All together, she was a part of setting five new school records: three individual and two in relays.
"I was pretty pleased with how I swam," Archdeacon said. "I mean, I got my personal best in three of my races, so I was really happy."
Allen showed his support for Archdeacon as well.
"Outstanding meet, (Archdeacon) just swam well in every event and every relay we put her in. She's a real gamer," Allen said.
Some of the other top performers on the women's side were: Briggs Sgaglio, who finished twelfth in the 200-breast; Sarah Exposito, who finished eleventh in the 200-fly; and Alison Kolczynskil, who finished fifteenth in the 1,650 free.
On the men's side, Samuel Miner finished eleventh in the 1,650 free, Vinzenz Stadler finished thirteenth in the 200-breast, and Trevor Wilder took thirteenth in the 200-back.
Although Fleet and Archdeacon were the only ones who earned SUNYAC honors, Allen was still very pleased with how the rest of the team performed.
"My team exceeded my expectations, and that's a good thing," he said. "I expected us to do well but I didn't expect us, to be honest with you, to do as well as we did. I was kind of blown away."
Leave a Comment