New management, fresh renovations bring North Park Theatre back to former glory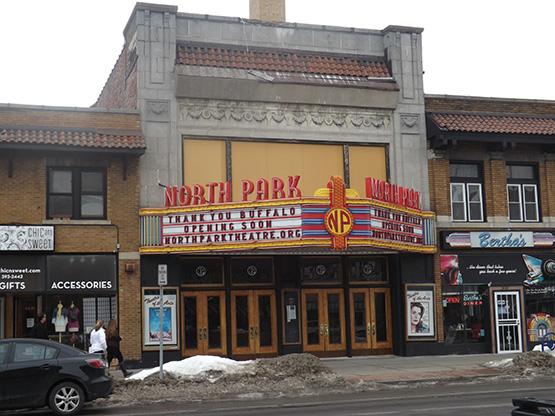 The North Park Theatre has been a historical piece of Buffalo since the cinema first opened Nov. 21, 1920. Set on the Hertel Avenue strip in North Buffalo, it has been at the center of a local movement to restore it to its former glory, and is one of the many places film-loving Buffalonians have come to appreciate.
"I like how [North Park Theatre] is," said Casey Sussman, a junior communication studies major at Buffalo State. "I love the feel of old theaters and their ambiance."
The North Park Theatre was once known as "Shea's North Park." It was part of a chain created in the early 20th century by businessman Michael Shea. The theatre, designed by Henry Spann, was heavily influenced by the neoclassical movement. The architecture is truly something to be admired, with beautiful wooden doors and a marble entryway.
"The thing [my husband and I] liked about the big old theatre was the huge stage," Buffalo State photography professor Jordan Dusel said. "Oh, and the comfortable seats!"
Inside the single screen movie theater is a proscenium auditorium with a dome arch ceiling covered in murals by Raphael Beck. Back in the early days, North Park Theatre seated 1,222 people. Now, it seats 730.
In 1998, North Park Theatre held the premiere of Buffalo '66, the first major film to premiere in Buffalo for many years. Celebrities Christina Ricci, Vincent Gallo, and Asia Argento were among those in attendance.
In May 2013, Dipson Theatres quit operating North Park, and film and art fans of all ages around Buffalo were devastated. However, since 2013, the theater has been independently managed and is now being renovated to open up again.
"I'm really interested to see what it will look like," Sussman said. "I hope they will keep some of the old aspects of the antique theatre."
The theatre's website, which allows members to donate, read news about the renovation and view pictures of the theatre through the years, also has a place for interested people to type in and submit which movies they would like to see played at the theatre once it opens back up.
Sussman says she "happens to love old films, including those from the silent film era."  The North Park shows such videos, as well as artistic and classical films.
"They would have films that other theaters wouldn't have and that community movie houses wouldn't show," Dusel said. "North Park [Theatre] had a lot of French films with subtitles that my husband and I would go see- but that was probably like 25 years ago."
In December, the theatre hosted a gala to help raise money to renovate and to give the community of Buffalo a sneak peek at what North Park Theatre will have to offer.The event was catered by Left Bank and Globe Market, according to the theatre's website, www.northparktheatre.org, and was a huge success. Tickets for the gala were $75 each and included an open bar and live music.
Thomas Eoanna, a Buffalo Attorney, told The Buffalo News that he was "glad to have invested money in the theatre." At the gala, he recalled a lady telling him that in 1939, she bought a ticket at North Park for only 17 cents. Another elderly gentleman told him that he paid 25 cents to "watch cartoons all day long."
There were great reviews about the event on the theatre's facebook page and the website. People reminiscing spoke highly of the popcorn.
The theatre has brand new light bulbs across the outside of it and is getting new, more modern and "high-tech" equipment on the inside.  It is said to be finished very soon.
"I believe that a lot of the old architecture in Buffalo is not only beautiful, but sturdy," Sussman said. "Buffalo used to be the place to be and has so much history behind it. It would be a shame to wipe any of that away."
Email: [email protected]
Leave a Comment