Lou Rera: associate professor, writer, director, musician and more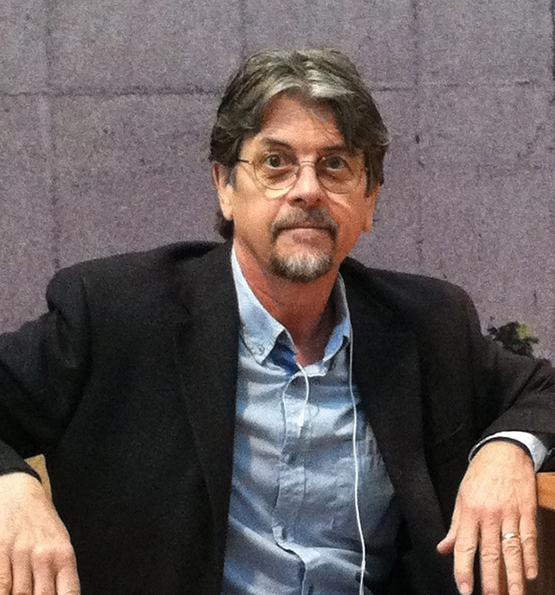 If the life of associate professor Lou Rera were a movie, the director would need much more than just a classroom for the set.
Rera, who has been working in the SUNY Buffalo State communication department for 14 years, has over 30 years of experience in the television and film industry. He calls himself a practitioner and works to let his students know he doesn't just teach the material — he does it too. He's been a producer, director, graphic designer, musician and creative consultant throughout his career.
Rera has worked with all aspects of media, including film, graphics, animation, original music, original short stories, multimedia and web-based projects. He is also a recording musician and an active writer who just finished a novel he's worked on for five years.
"I'm always working in the fields that I'm teaching students about," Rera said.
Well aware that he and his students chose an industry that's heavily technology based, Rera spends school breaks teaching himself the newest software so that he's able to teach it to his students. He's currently examining the effects of social media on education and how to work in the classroom through the integration of social media tools.
Rera said one change in the industry has already begun. Technologies can now be integrated and they're merging from one platform to another. Therefore, he teaches his students to produce for "device independence" so that their work can function on any device.
Rera's varying career, which began in the 80's, has moved him all across the country over the past three decades. He started out working with computer graphics and did special effects for TV. Then, he worked in advertising and went on to become the art director for over 10 years at WKBW, Buffalo's local ABC affiliate. There, Rera worked on TV production, commercials, news and branding for the station.
Buffalo State then offered him a position at the college, and Rera left the station. As he worked to become an associate professor, Rera helped develop a TV and film arts program for the students. He now is in his 14th year at the college and teaches students about the technical side of the industry.
He also tries to prepare students for the real world, by telling them that it's a brutal business and they have to be aggressive.
"You can't sit back and wait for things to come to you," Rera said.
Though Rera says the department is battling with a tough budget, they need to keep up with the new equipment in the field. He said they continue to search for private funding to help the college.
He also teaches students all about the industry standards, including production, distribution, post production, editing, audio and techniques for selling themselves when looking for a job. Rera said he teaches students how to have an edge.
"Students need to have everything ready to go after graduation," Rera said.
Rera treats each of his students' assignments as if it were a real project done in the field. He also prepares his students to have their two-minute reel ready to show prospective employers their work after graduation.
He also encourages students to have experience outside the classroom. One project TFA students have been working on is a student-based production of a short film based on a short story by Steven King. The film is titled "BIG DRIVER" and is based on King's 2011 book titled "Full Dark, No Stars."
Student volunteers began working on it a year ago and during that time, they raised money from the public, hired actors and rented equipment.
The film will be completed in mid-2014 and will be shown at a local theater in Buffalo.
Rera said most of his students graduate from Buffalo State and go on to bigger cities, such as New York City or Los Angeles, where there are more available jobs in their field. Though Rera has lived in both cities, he returned back to Buffalo, where he and his family now call home.
Rera said his life and 30-year career have… "come full circle," adding, "Everything I've learned, I'm trying to give back to the students."
Email: [email protected]
Twitter: @LiveWithColly
Leave a Comment