Hallwalls showcases local art, literature and cinema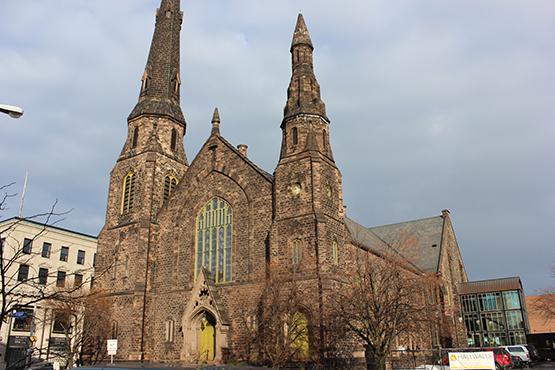 Students at SUNY Buffalo State interested in film or media arts may be happy to know that there is an inexpensive, convenient gallery they can go to see some interesting films. Hallwalls Contemporary Art Center is bringing some interesting and unique art and film ideas to Buffalo.
Established in 1974 by a group of young artists, Hallwalls was built in a church that has stood in Buffalo since the 1870s. The center shares the building with Righteous Babe Records, which also owns the building itself. There is an art gallery, a small cinema and even a bar; all of which are used for different events hosted by Hallwalls.
The center brings together local artists to showcase art, share literature and show films. Hallwalls is proud of their unique events, ability to cater to multiple different audiences and as their mission statement states, ability to bring contemporary pieces of art to Buffalo. Whether it is a jazz concert, art gallery opening or film series, Hallwalls offers something for everyone. The art and films that Hallwalls brings in are usually experimental or alternative documentaries, and sometimes even underrated films. Hallwalls offers a look at movies and art in a different perspective, bringing in movies and shot films that would otherwise not be seen at major venues or on websites like Netflix.
Hallwalls' latest film series, entitled "Long Nights, Bring Paranoia," featured four different films during the month of February, all of which held a theme of paranoia and fear of the people surrounding the main characters.
Hallwalls focuses on experimental and unique programs, but it also celebrates local, regional and international filmmakers. Working alongside the Albright-Knox Art Museum and the Burchfield Penney Art Center, Hallwalls has brought multiple artists from the Buffalo area, Syracuse, Canada and even from Southeast Asia.
Meg Knowles, an associate professor of media production, has been a longtime member of the Hallwalls team since about the 1990s. Knowles is now the vice president of the board of directors at Hallwalls and has been on the board since 2009.
"Over the last 39 years, Hallwalls has had hundreds of successful shows, featuring major international artists," Knowles said, "but has also celebrated local and regional artists."
John Massier, who has been working as a Visual Arts curator for 40 years and joined Hallwalls in 2000, spoke highly about their cinema, located in the basement of the building.
"It seats about 85 people," he said. "You can hear things really well. It is one of my favorite places to watch a movie."
Hallwalls is currently offering a bi-monthly film series known as "The Reel Party," which showcases well-known and underground LGBT films. One of the films shown was William Fredkin's 1970 film: "Boys in the Band," which depicted the first openly gay characters in a fiction film.
"The audience was packed," Knowles said of the night the film was shown.
Massier and Knowles are equally passionate about Hallwalls and share the same sentiment about students coming to check out shows: They love it.
Students who are interested in Hallwalls and what they have to offer should check out their website, Hallwalls.org, for more information on media arts for films.
Email: [email protected]
Leave a Comment