Creativity among the oldest degree programs at Buffalo State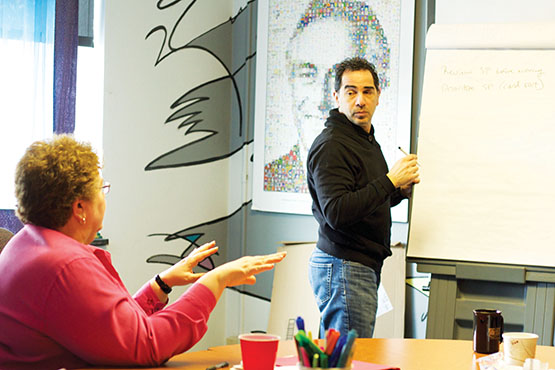 SUNY Buffalo State has the world's first and oldest Master of Science degree program in the study of creativity. The program was established in 1967 based on the visionary work of Alex Osborn, the developer of brainstorming and the inventor of the Creative Problem Solving Process.
Gerald Puccio, chair and professor at the International Center for Studies in Creativity at Buffalo State, said that Osborn saw how education provided more tools for narrow thinking and put more focus on single right answers rather then possibilities and thinking in original ways.
"He believed education, in the worst case, did more to undermine creative thinking then to promote it," said Puccio.
The program originally started at the University of Buffalo, but it was then moved to Buffalo State permanently after showing great potential. The college offers a master's degree in creative studies, a graduate certificate program in creativity and change leadership and a minor both in creative studies and leadership.
The mission of the International Center for Studies in Creativity (ICSC) is, "To ignite creativity around the world," said John Cabra, an associate professor at Buffalo State.
From a manager at Disney to a priest from Nigeria, the master's degree program has appealed to people in different areas of the world. The program has also had lawyers, medical doctors, and CIA managers and officials.
"From every field of endeavor we've had people come through our program, it's that diverse," Cabra said.
Students studying at the undergraduate level can consider minoring in creative studies or leadership. A minor in any field of study can help a student stand out.
"The advantage of a minor is that it creates a specialized curriculum that can complement, extend, and potentially differentiate a student in the marketplace," Puccio said.
The minor is designed to supply students with creative problem solving skills. Students learn to internalize the principles of becoming curious, being open and taking risks.
"The creative tools that we provide in our courses give students a sense of confidence and a sense of empowerment. It's about taking these principles and applying it to your personal life as well as your professional life," Cabra said.
Applying creative thinking, brainstorming, and problem solving skills outside of the classroom is exactly what Jennifer Miller, a junior at Buffalo State majoring in fashion textile and technology, does. Miller uses the skills she's learned in CRS 205, Introduction to Creative Studies, and CRS 302, Creative Approaches to Problem Solving, to help her design clothes for the Buffalo State fashion show.
"Being creative is not only having artistic skills or knowing how to draw. That's a part of it, but also a part of it is thinking critically," Miller said. "Coming up with new ideas when working in a team and helping with different problem solving issues."
The International Center for Studies in Creativity at Buffalo State has instilled critical life skills in their students for over 40 years and will continue to do so.
Email: [email protected]
Leave a Comment