British Bengals make big splash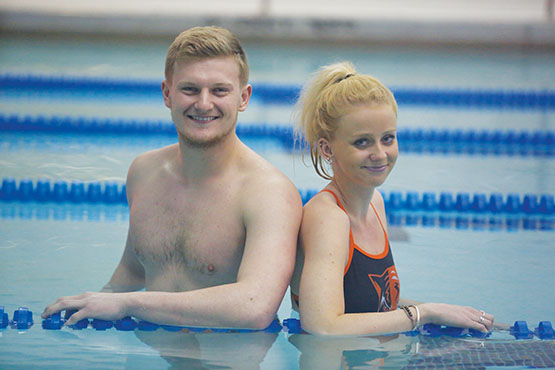 British exchange student and swimmer Charlotte Archdeacon broke three Buffalo State school records after taking a year off from swimming last year at Manchester Metropolitan University.
Her times of 2:14.45 in the 200 Backstroke, 2:17.46 in the 200 IM and 4:48.00 in the 400 IM are all school records, and were all accomplished on the same day at the Monroe Community College Invitational on Dec. 8.
What's even more impressive is that none of those times are personal bests for Archdeacon. When asked if they were, she responded, laughing, "No."
"They're like, I think about 10 seconds off my personal bests," she said. "I've still got a bit to go. Hopefully I can break them again."
"I think (Archdeacon) has extraordinary ability," said head coach Dan Allen. "She's the type of athlete who can do anything in the water. She can swim any stroke and do it at a high level. Her event is individual medley, and for individual medley, you've got to be proficient in all four strokes. She's proficient in all four strokes. I have full faith that she's going to do really well at the championships, and hopefully place top-three in her events."
Archdeacon and fellow British exchange student Tom Mermagen are here through a program called Worldwide Exchange. Swimming for Buffalo State wasn't the main reason they came here, but rather a way of getting the most out of their experience by living the life of a student-athlete at an American college.
Allen has been the head coach of the swim team for four years, and said it was the first time he's had exchange students swimming for him. Mermagen briefly contacted Allen before coming to Buffalo, but Archdeacon didn't talk to him or decide to swim here until arriving and meeting with him personally.
"We're not here just for swimming or studying," said Mermagen. "For me personally, it was just to go to America. I wanted to study at America for a year and see what it's like, and when I found out they had a swim program, I thought I might try and give it a shot again."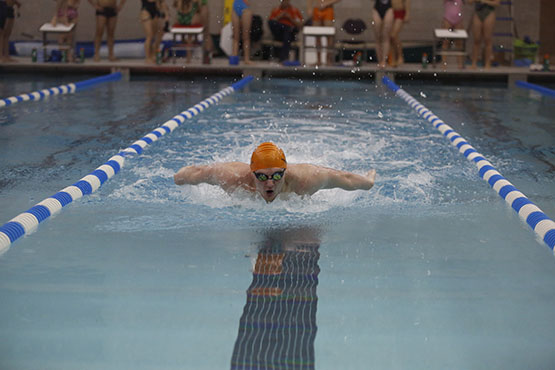 When choosing Buffalo State over many other colleges, the proximity to other cities he wanted to visit influenced Mermagen.
"It was close to Canada and New York City," he said. "I wanted to travel a bit when I had some time off. I haven't been to New York City yet, but I've gone to Toronto and Chicago."
One of the main differences between college swimming in America and England is that there are no divisions in England. Every college in England competes against each other. Also, the pools are 25 meters in the United Kingdom as opposed to 25 yards in America. A yard is .9144 meters, meaning that in the UK, the pool length is 2.14 meters longer.
Sports programs are a much bigger part of a school's identity in America than in the UK. This is partly because in America, the admissions and merchandise sales generate a percentage of a school's income. This is not the case in England, and scholarships based on athletic achievements and abilities are unheard of at most universities.
"We don't have school records in England," said Archdeacon.
"They don't even keep track of that kind of stuff," added Mermagen. "University sport in England isn't very big. Rugby and soccer are our biggest university sports."
"I've never even gone to watch a game," said Archdeacon.
"Neither have I," added Mermagen.
"Here we've watched loads of them," said Archdeacon.
Both Mermagen and Archdeacon agreed that college swimming is more competitive in America, even in Division III.
"We only have one national championship at home, and there's no qualifying time," said Mermagen. "Any swimmer of any ability can go, as long as you're registered."
Allen said he didn't notice any differences in their swimming styles.
"I didn't really notice any big differences to be honest with you," he said. "I think the only difference is that they're used to training in short-course meters. Here in America, most pools are short-course yards. I think that's really the only difference, is that they're used to training in a little bit longer pools."
The training schedule for the swimming team here at Buffalo State, which included a full week over winter break at an aquatic center in Clearwater Beach, Fla., was more intense than what Archdeacon and Mermagen were used to. At Manchester, Archdeacon said she only swam about two hours a week.
"The first couple of weeks training were kind of brutal for both of them," said Allen. "We had to get them back into swimming shape."
From an academic standpoint, Archdeacon and Mermagen agreed that the classes and testing methods are easier here at Buffalo State than at MMU.
"I find it easier here" said Archdeacon. "All of my exams have been mostly multiple choice, and in England it's a lot of essays and the exams are longer."
Archdeacon and Mermagen enjoyed the variety of classes and curriculum offered at Buffalo State in comparison to the limited choices at MMU.
"There's more of a variety here," said Archdeacon.
"Our degree back home is also only three years," added Mermagen. "We only have one subject we study, whereas here you have a major then you can also have a minor. You've got gen. eds., whereas we just have, like, four courses per year."
The only thing about Buffalo that surprised Archdeacon and Mermagen was, unsurprisingly, the snow. Of course it snows in England, too, but nothing like it does here in Buffalo.
"If it snows even a little bit, everything will be shut down at home," said Archdeacon.
Tom and Charlotte are done at Buffalo State after this semester, but plan to travel across America for about a month with a group of friends who are also studying in America through Worldwide Exchange before going back home.
As far as their swimming careers go, Archdeacon and Mermagen both plan to retire as Bengals.
"Probably not," said Archdeacon when asked if she was going to continue swimming.
"I think this might be it for me as well," said Mermagen.
Allen is aware that neither Mermagen nor Archdeacon plan to continue swimming after this year, but plans to do what he can to convince them otherwise, whether it's swimming for him again next year or keeping with it back home.
"Obviously, I'm trying to convince them to stay here, but they have to do what's best for them academically, and I understand that," Allen said. "Hopefully I can convince (Charlotte) and Tom to stay here another year, or at least to keep training over there."
Email: [email protected]
Leave a Comment