Jumpers lead long list of strong performers in New York City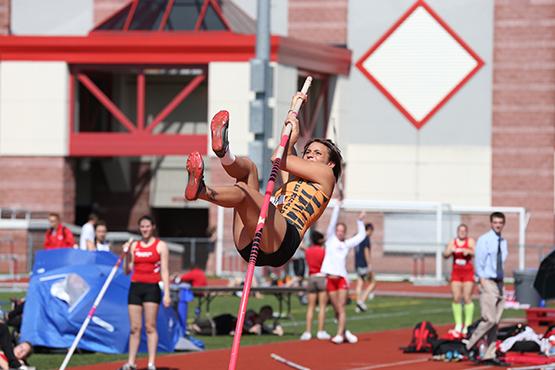 The Buffalo State men's and women's indoor track and field team traveled to New York City last weekend to participate in the Lafayette/Rider Winter games at the New Balance Track and Field Center at the Armory, where numerous Bengals registered both nationally ranked and school record breaking performances.
The meet provided a SUNYAC-level test for the Bengals, and head coach Dustin Dimit said he is pleased with the results.
"Overall as a team I thought we did great," Dimit said. "I am especially pleased with our men's jumpers, who posted season-best results this past weekend."
Leading the way for the men's team yet again was junior sprinter Corey Cox, who finished first in the 200m (22.14) and the long jump, with a jump of 7.15 meters, the fourth best jump in Division III this season.
"I haven't done long jump in the past two weeks, and when I have I haven't jumped my best," Cox said. "It was a nice relief to get a decent jump and to place, but I am nowhere near my personal best yet, that's what I am going for."
Buffalo State's Rich Pete won the triple jump with a jump that measured sixth best nationally (14.58 meters), edging out teammate Ray Richardson by .02 meters, who took second.
"Rich (Pete) did real well in the triple jump in my opinion," Cox said. "For him to come off of an injury and to jump a nationally ranked time is great. Ray (Richardson) also did great."
On the ladies side the headliner this week was yet another broken school record by freshman Sharae Smith, this time in the 3,000 meter run (10:39.61), adding to the school record she already holds in the mile event.
"I was pleased, but I know I can run the race a lot better—this was one of the few times I have ever run the race," Smith said. "I think it can go down for sure, I wasn't sure how to run the race at first, pacing was an issue, and it took until the fourth lap for me to finally get the pace right."
Another notable performance for the women's team came from senior pole-vaulter Heather Becker, who for the third consecutive week added to her own school record in the event (3.20m).
With the SUNYAC championships less than two weeks away, the Bengals know they need to keep improving their marks. For Smith, it is all about the preparation.
"SUNYACS make me nervous," Smith said. "I want my times to be the best that they have been all season. I am just going to practice hard. Track is a sport that is all about mentally preparing yourself and not psyching yourself out."
The Bengals travel to the Rochester Institute of Technology on Feb. 21for a meet that acts as a primer for the SUNYAC championships.
"We shoot for end of the season meets like these ones," Dimit said.  "It's encouraging to see the athletes keep getting better as the weeks go on."
Leave a Comment