SUNYAC's top teams topple men's basketball over weekend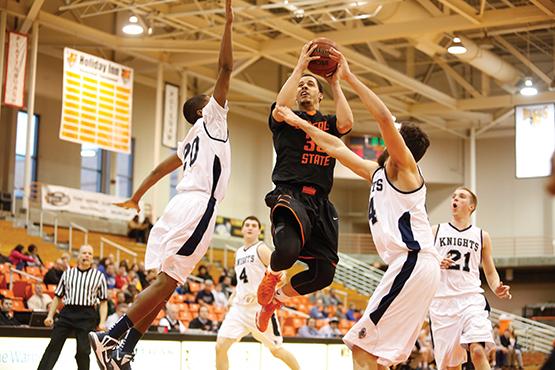 The Buffalo State men's basketball team picked the wrong time to go on a losing streak. After falling to Brockport, 94-74, on Friday and Geneseo, 81-67, on Saturday, the Bengals have now lost three in a row to slip to 11-12 overall, 7-9 in league play.
The consecutive losses have pushed Buffalo State down to seventh place in the SUNYAC, one game back from sixth place and a playoff spot.
"I've felt for a long (time) that there isn't anybody we can't beat and sometimes we play like we can lose to anybody," Buffalo State coach Fajri Ansari said. "It's a very tough conference. With new players, they don't have the experience that obviously I have in the league, to know that every single game counts. One game, one possession, one missed box-out can be the difference in making the playoffs or not."
On Friday, No. 15 Brockport used balanced scoring to upend Buffalo State.
The Bengals had a 13-6 edge to start the game with all of their points coming in the paint. Then Brockport subbed in 6-foot-11 Pat Coyle, who was able assert himself on the defensive end, blocking five shots in the first half and finishing with seven for the game.
Coyle is Brockport's all-time leader in career blocks and blocks per game.
"We just didn't challenge him with a body," Ansari said. "He's long but he's not too physical. We didn't get a body on him. That really helped them pick up some momentum."
Coyle's presence in the paint sparked a 14-4 Brockport run to take a 20-17 lead with 8:40 left in the half. Later in the half, Justin Mitchell hit a 3-pointer to bring the Bengals within 38-36. But Brockport answered by scoring nine-straight points and going on an 11-2 spurt in the final 1:50 of the half.
Brockport didn't step off the gas from that point on, leading by as many as 22 points in the second half. Buffalo State brought it within 12 late in the half, but that's the closest they would get.
"Every time we made a run, even when we cut it down to 12, we started to rush and took some bad shots," Ansari said. "You can't do that against Brockport."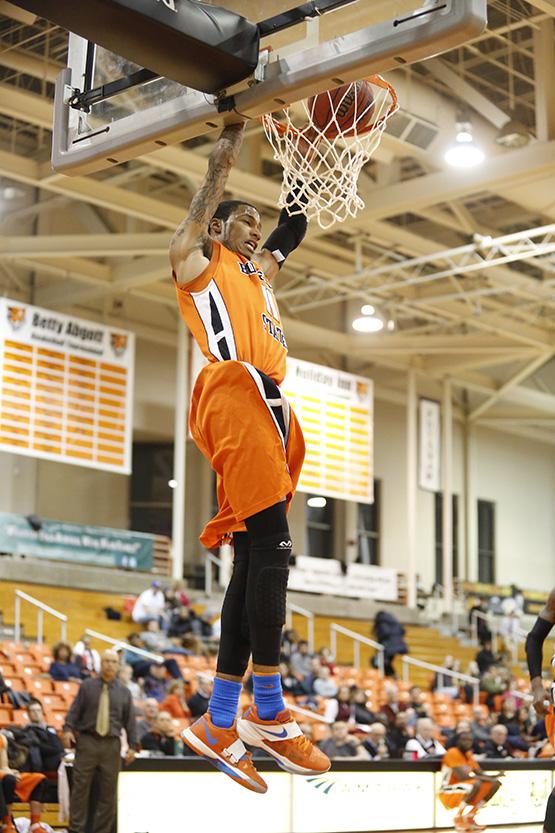 Mitchell led Buffalo State with 28 points, shooting 11-for-20 from the field and connecting on four 3-point field goals. Rod Epps had 19 points and freshman Lovell Smith had 11 for the Bengals.
Outside of the Mitchell-Epps-Smith trio, Buffalo State scored a combined 16 points. Smith came off the bench to score 11 of the Bengals' 16 bench points.
"We have to do better," Ansari said, in reference to getting more contribution from his entire team. "We have to be more aggressive and share the ball. We have a little inexperience in pressure situations like this. We're just going to have to get better."
Brockport had four players in double figures. Brandon Caruthers had 22 points, Clifton Lyerly had 18, SUNYAC leading scorer John Ivy had 16 and Olusola Adeniran had 10. The Golden Eagles also scored 42 bench points.
On Saturday against Geneseo, the Knights were able to score the ball inside at will, working the ball through 6-foot-5 Gordon Lyons and 6-foot-6 James McKenna. Geneseo shot just four 3-pointers, making one. Instead, they focused on establishing their bigs, scoring 50 points in the paint.
"It just felt like we didn't want it bad enough," Buffalo State's Legree Kirkland said. "Size was never a factor. We just weren't in the right position to start the possession. We couldn't stop them in the paint because we were behind them."
Lyons led all scorers with 28 points (19 in the first half) and had 16 rebounds.
"He had a game in the first half alone," Ansari said of Lyons. "We slowed him down scoring wise in the second half. He picked up a couple baskets late when it was out of reach. We didn't do a good job of boxing him out. He's a hard worker and plays within himself. If you let him, he's going to execute."
McKenna finished with 11 points and six-foot-six Devon Anderson had nine points on four-for-four shooting. Six-foot-5 Matt Curry finished with eight points.
"They are big and we don't have true big guys," Ansari said. "We have guys posing as centers but they're really wing players. If you park behind them, it's going to be difficult because you have a size disadvantage and they were finishing well around the basket."
Bengals starters Chris Thompson and Mitchell were limited due to foul trouble. Buffalo State didn't have anyone play more than 27 minutes. The Bengals endured one of their worst shooting games of the season, shooting 25-for-70 (35.7 percent), and went nine-for-28 (32.1 percent) on 3-pointers. Epps shot two-for-15 from the field and went one-for-seven on three-point field goals.
"I think we're taking too many three-point shots," guard Bradley Doyley said. "We're playing too fast on offense; we're playing too slow on defense. We're not getting back enough. After we take the shot, we're putting our heads down but we have realized that pays in the past. After we shoot we have to get back on defense. We're putting up way too many three-point shots."
With Mitchell limited because of foul trouble, the Bengals had no one else to feed the ball into the post.
"We never established an inside presence," Ansari said. "We knew the three-point shot would be open against them. We're capable of making those shots but you have to have balance and when you're down you have to go to the hole."
Buffalo State will hit the road this weekend with Potsdam (4-18 overall, 2-13 SUNYAC) slated for Friday and Plattsburgh (18-4 overall, 12-3 SUNYAC) on tap for Saturday. Buffalo State is one game back of the sixth and final playoff spot. Cortland (8-8 SUNYAC) and Oswego (8-8 SUNYAC) sit ahead of the Bengals.
"I definitely still have faith," said Doyle. "We're here. We're going to take every game as we take it. We're going to take one step at a time. We're going to have to work hard and we're going to have to do what we got to do. We're going to have to come to practice this whole week ready to work. Everything counts."
Email: [email protected]
Leave a Comment