Local art studios promote artistic expression among children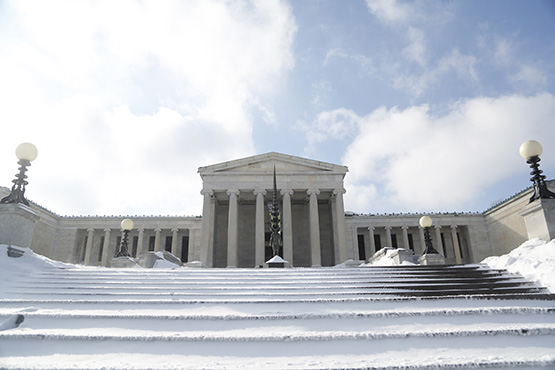 Leonardo da Vinci, Claude Monet, Steven Spielberg and Pablo Picasso are all transcendent art makers who have left a substantial mark on history. And they all started out as children, eager to learn and release the creative genius inside of them. Imagine a world where da Vinci wasn't allowed to paint as a child, or if Spielberg wasn't allowed to touch a camera.
Buffalo is home to several art studios, many of which encourage the idea of allowing children to express themselves artistically. The Albright-Knox Art Gallery, just across from Rockwell Hall, is one of many art facilities throughout the city that provides art classes and programs for children and teens to participate in.
According to Jessica DiPalma, the curator of education at the Albright-Knox, the gallery offers a wide variety of art classes for children of all ages. The museum's Art with Artists program is held in the fall, winter, spring, and summer and caters to children from ages four to about 14 years old.
DiPalma also noted that the Albright Knox hosts an M&T First Fridays at the Gallery program where they offer art classes for homeschooled children (ages 4-17), a toddler art class for children (ages 3 and 4) and an evening drop-in art activity for families.
"
Accessibility to all forms of art and to making art is fundamental to the development of who we are and who we become as human beings, making valuable contributions to the societies we live and work in.
— Ginny O'Brien
The gallery offers a variety of programs for high school students as well, as part of the AK Teens program, which includes a two-week summer art class, called "Building a Portfolio."
All classes offered include work in various styles of art such as painting, sculpting and drawing. Each class focuses on making connections with the works in the museum's collection as well.
DiPalma said the goal of the classes and programs is to provide children with exposure to art and to grant them the necessary tools to bring their imaginations to life.
"The arts are vital to a child's development," DiPalma said. "It provides a child with an outlet for expression, creativity, and mental stimulation."
The gallery also hosts activities for children with various disabilities. The museum runs the Access AK program, which offers a variety of programs including hands-on art projects and tours that provide access to art and the museum for individuals with a wide variety of special needs.
Much like the Albright-Knox, the University at Buffalo knows how essential the arts are to children.
According to Ginny O'Brien, the curator of education at the UB Anderson Gallery, art activity sessions are developed for UB Liberty Partnerships Program and local community summer art camps and afterschool programs.
O'Brien said the gallery holds classes in their second floor arts education classroom, which accommodates children in grades K through 12, which is primarily set up through field trips customized by the requirements outlined by teachers scheduling tours and special projects for their students.
Featured in the classes are hands-on art activities that are designed to reference the art and artists represented in the gallery's temporary exhibitions and permanent collections. These activities include painting, print making, drawing, hand-built clay sculpture and collage.
O'Brien, who enjoys working at the gallery, said they have hosted "Paint, Prose and Poetry" sessions in the past for families, children and teens, and they proved to be extremely well-received. Due to the success of the program, the Anderson Gallery looks to host more in the near future.
O'Brien firmly believes that art making triggers access to one's own creative nature that in turn enhances basic and higher order observational and critical thinking skills.
"Accessibility to all forms of art and to making art is fundamental to the development of who we are and who we become as human beings, making valuable contributions to the societies we live and work in," O'Brien said.
Squeaky Wheel, at 712 Main St., a block over from Shea's Performing Art Center, is also a strong supporter of the arts for children of all ages. The studio provides several programs that allow children and teens the ability to enhance their media and film making skills in a creative space.
According to Frank Napolski, the program coordinator, a big event going on right now is the TechArts for Girls Workshops, a year-round series of month-long art and technology workshops for girls. Projects in these workshops include the creation of short animations, music videos, digital zines, new media installations and much more. The workshops take place over a six week period at Squeaky Wheel every Saturday morning.
Squeaky Wheel also has a program called the Buffalo Youth Media Institute that focuses on documentary film making, allowing for middle school and high school aged kids the opportunity to shoot, direct, edit, and create their own short films and documentaries.
On top of that, the studio offers summer camp programs where kids create their own digital media projects, and learn to use creative software like Photoshop, Brushes, GarageBand and Flash.
Napolski enjoys his job and sees art as a means to freely express one's thoughts and perceptions, which he thinks is an essential skill to have as an impressionable child.
"(Art is) another lens to view the world, and it gives kids the freedom to explore their feelings and ideas in a way that isn't structured," Napolski said. "It's a different type of learning."
He is pleased with the growing arts programs in the area, and thinks that just about every arts organization caters to kids and learning, but thinks that there is always room for more programs.
"I don't think there's enough, period," he said.
Overall, Napolski feels optimistic about the art community in this town and only sees the arts expanding over time.
"It's a small community in Buffalo," he said. "But the impact of the arts organization here is great."
Email: [email protected]
Leave a Comment