A later startup for Start-up New York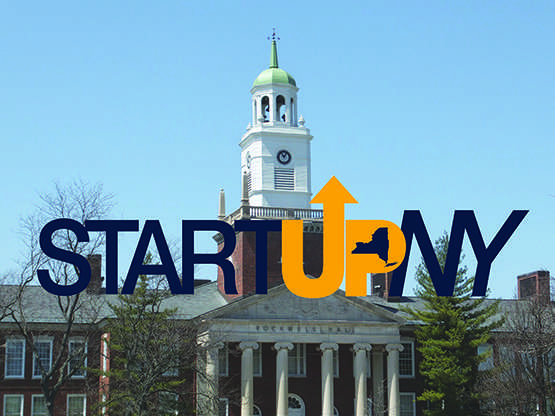 Empire State Development has delayed the Start-Up NY program, which was supposed to start up officially Jan. 1. The agency has not yet accepted applications by business owners to be considered for the tax-relief program.
According to the Economic Research and Development Office, businesses admitted to the Start-Up NY program will be able to operate 100 percent tax-free for 10 years. It also exempts them from paying franchise fees. It's part of Governor Andrew Cuomo's goal of transforming SUNY campuses into tax-free communities for appropriate businesses that are new or expanding.
Susan McCartney, director of the Small Business Development Office and member of the Start-Up NY Oversight Committee, said that the initiative was supposed to officially begin the first day of the year, but its delay is not the fault of Buffalo State.
"It's not Buffalo State, it's the state," McCartney said.
Before Empire State Development will accept applications from businesses interested in participating in Start-Up NY, it must approve the campus general plan.
Interim President Howard Cohen said the agency still has a few questions regarding the campus plan.
"We're responding to their inquiries," Cohen said. "It's ultimately up to them."
Cohen said there aren't problems with the plan, per se, but the language has to be changed to be clearer on a few specific points.
Cohen said that the statement in the plan that concerns the use of facilities has to be reworded to better fit ESD's requirements.
The Start-Up NY Oversight Committee is working to change the language and add statements that will satisfy the agency.
ESD also wants to know how the Start-Up NY Oversight Committee characterizes prospective businesses for the program, Cohen said.
McCartney said Buffalo State's goal is to admit businesses that align with student's academic needs. She said that businesses would offer learning experiences and internships to students.
"We think it's a wonderful opportunity for our students and faculty to work together with these entrepreneurs creatively," McCartney said.
McCartney said that for the sake of academic alignment, businesses will have to fit under a specific department.
"There has to be an agreement with which department [the new businesses] will fit best with," McCartney said.
"For example," Cohen said, "a data analytics company on campus could align with the applied math program."
Even though it is ultimately up to Empire State Development which businesses will get to be on the Buffalo State campus, the Start-Up NY Oversight Committee decides which businesses will be eligible to apply.
Though it is unclear to the committee exactly when businesses will be able to apply to ESD for Start-Up NY, Buffalo State is expecting that it will definitely happen.
"It's happening," McCartney said. "We're doing prep work."
McCartney said that in spite of businesses not being officially admitted into the program, Buffalo State is very excited to work with these businesses soon.
She said that she remains optimistic that the program will launch very soon, and that it will be a large success.
Email: [email protected]
Leave a Comment