Track and field rolls to record-setting performances in Boston
Four individual athletes, one relay team set school marks over weekend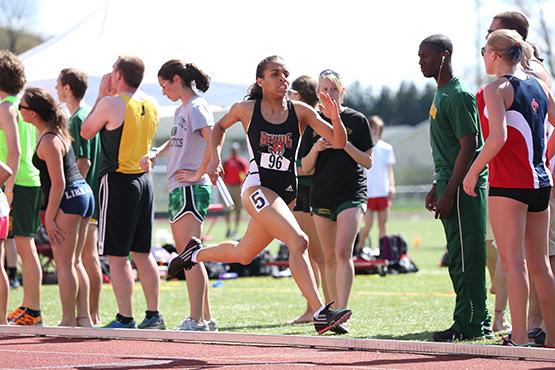 The Buffalo State men's and women's track and field teams competed against 60 schools — including Division I opponents and Olympic representatives — at Boston University this past weekend, breaking school records in four individual events and one relay.
Bengals head coach Dustin Dimit was especially pleased with the ladies' performance.
"In general, it was a very successful meet for us as a team, especially for our ladies, who broke five schools records on the day," Dimit said. "Over sixty schools attended this meet ranging from Division I to Division III. To perform the way we did was great for us."
Sophomore Sasa Vann spearheaded the Bengal charge, breaking her own school record in the 400m dash by nearly two seconds (56.82), taking 19th out of 168 runners and 2nd out of DIII runners, edging out fellow teammate and sophomore Jazyln Porter (58.15) who finished 35th. Vann is now sitting in 4th place nationally in the event.
"That was amazing, I crossed the finish line and on my right hand side my coach looked at me and said 'look at that time, look at that time'," Vann said. "I looked up and saw it was a 56 and I had to hold myself back from crying, it was an amazing feeling."
Other record breaking performances that capped the weekend off for the Bengals were senior Tara Murphy, who set the mark in the 800m run (2:17.31), senior pole-vaulter Heather Becker, who for the third consecutive week broke her own school record (3.2m), freshman Sharae Smith in the mile (5:18.75) and the distance medley relay team of Vann, Murphy, Smith and Porter (12.31.30)
Junior sprinter Cory Cox placed the highest of the men in the 200m dash (21.97) finishing 23rd out of 234 competitors, while registering a sixth-best time nationally for all Division III athletes in the event.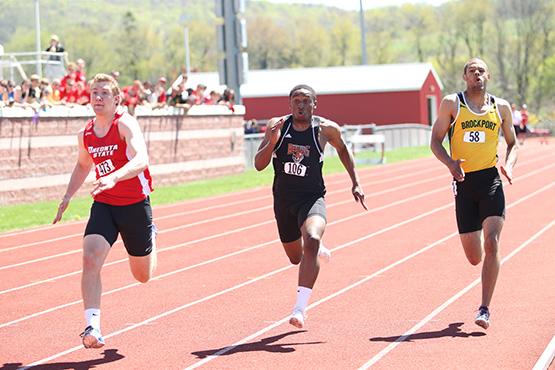 "I went in a little bit nervous, they were telling me there was an Olympic athlete there running my event and coach had put my best time from last year in there so I knew I'd be up against great competition," Cox said. "I had to come to perform and fortunately I was able to perform."
Teammate Alex Ngabo also garnered a 35th place finish out of a possible 235 competitors in the 800m run, 11th best nationally among Division-III athletes.
Coach Dimit is proud of what his teams have accomplished so far, but feels they can go even farther in an attempt to get it all together before SUNYACs and nationals.
"I feel great about what is to come," Dimit said. "The way we set up our training, we aim to hit our peak performances during SUNYACs and nationals, my goal for the women is to finish in the top four for yet another year, while having the men place in the top four teams as well, getting one large trophy for each team."
The Bengals head to The Armory in New York City (NY) on February 14 to participate in an invitational hosted by D-I school Lafayette.
Email: [email protected]
Leave a Comment