Deleting the misconceptions of online dating
a college student's personal journey through the facts and myths of internet relationships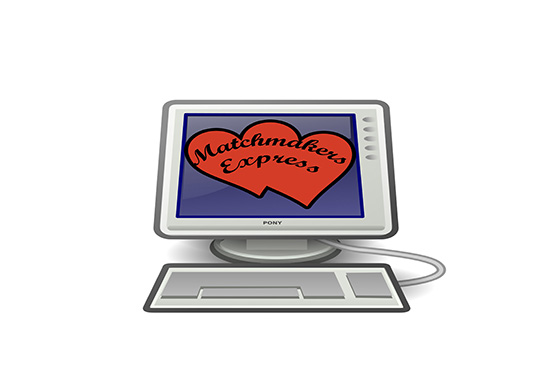 I swore I would never make an online dating profile.
The only other time I'd had one was when I was 17, for a quiz my friend had taken. I figured I'd create the account and work my way through the quizzes whenever I was bored. Within the first day, I began getting messages from (admittedly handsome, but still sketchy) 29-year-old men asking me if I was single, telling me I was beautiful and fascinating, and that ended my accidental foray into the cyber-dating world.
And now, here I am, six years later, with an OKCupid account.
I keep telling myself it's for journalism. And of course, it started that way.
"
We still associate people who spend the greater majority of their lives on the Internet with the image of a basement-dwelling nerd who has one hand down his pants and the other on his mouse."
— Anna Zagerson
It's 2014. We're smack in the middle of the Internet age. Social media has been around for at least a decade now, and there's more information available at your fingertips than ever before — so it follows that people would take their dating exploits to cyberspace, right?
Well, maybe.
According to match.com statistics, about 41 million people — 40 percent of the entire American single adult dating pool — use, or have used, online dating services. According to the Pew Internet and American Life Project, which released a study on online dating in October 2013, 59 percent of Internet users thought these sites were a good way to meet new people, and only 21 percent (down from 29 percent in 2005) felt negatively about them.
Yet, after creating my account and looking through a few profiles, I noticed there was a section on each profile titled, "The most private thing I'm willing to admit." Underneath it, many of the answers were, "I have an OKCupid account."
Why all of the secrecy?
My friend Anna has used both OKCupid and JDate, a dating site for the Jewish community. In a recent conversation with her about the services, she probably put it more succinctly — and bluntly — than I ever could, with regard to the stereotype of the typical online dater.
"We still associate people who spend the greater majority of their lives on the Internet with the image of a basement-dwelling nerd who has one hand down his pants and the other on his mouse," she said.
All humor and explicit imagery aside, the truth is that online dating takes all sorts of people — those who aren't as desirable, and those who are. Page through profile after profile on OKCupid, and you see men and women whom society would indeed deem "conventionally attractive" and "reasonably well-adjusted." Yet they're here, looking for love through an LCD monitor.
Dr. Jennifer S. Hunt, an associate professor of psychology and coordinator of the women and gender studies program at Buffalo State, says some of the stigma against dating sites might stem from the idea that dating through technology defies convention.
"I think one thing that's changed in our society as a whole is that there used to be formal mechanisms, like parents introducing you to the children of their friends, and other ways to meet potential partners," she explained. "A lot of those have gone away over time and we kind of view those as archaic traditions, and so it's not surprising that something has emerged in its place."
However, this "something" might be viewed by parents as abnormal or misleading. Shows like "Catfish," that depict situations in which people dating online have found that their partners have been lying to them about who they are, don't help dispel the myths. And a University of Wisconsin-Madison and Cornell University study points to height, weight, physique, income and age as five of the ten most common things people lie about on their profiles.
Matt Williams**, a Fordham University graduate, said that of all the potential arguments against online dating — lies, potentially dangerous situations, even a "Catfish" or two — the biggest one his father had was that it wasn't "organic." Because of that, he's kept secret the fact that he and his girlfriend met online.
"I think the stigma with our parents' generation stems from, well, parents — people who are already married or in committed relationships and have no need of it themselves," he said. "I know plenty of single middle-aged people who either have used or are using online dating services."
I can see where this comes in. I have a bit of a track record when it comes to dating people I've met through social media (not dating sites), and I don't tend to tell my parents that's where I've met them. I feel like they'll think I'm somehow not well-adjusted to what we think of as "real-life," even though I have plenty of friends and acquaintances outside of the technology box. They don't even know I've made a dating profile, and for the first couple of days after creating one I'm a little apprehensive, wondering if I've left my account logged in on our shared computer, or tilting my Kindle toward myself as I do a quick scan through others' profiles. Something tells me my mom's initial reaction toward people who online date would be more attuned to Anna's stereotype.
After the first 24 hours, I've already gotten messages from two guys OKCupid deems around a 30 percent match apiece, and I've seen a photo on my activity feed that… isn't of a face. Okay, so I'm pretty much batting a zero.
Over the next few days, however, I start noticing profiles I actually like. People are… engaging. Funny. They use correct spelling and grammar. They have photos of their faces. I've messaged back and forth with a couple of people who seem pretty cool. It's a far cry from the weirdos you usually see highlighted on Tumblr blogs or Cracked articles…
Oh, wait.
"I die laughing when I message a girl whos (sic) profile says we have a lot in common and doesnt message back … its (sic)… HILARIOUS when they say on their profile they want something real but dont (sic) respond when a real man who genuinely wants a real relationship comes along."
Okay, then, "redneckhippie541." I'm not sure how or why you visited my profile, even less so why you messaged me, but have a nice day.
The reason this guy's an issue for me, besides his issues with women, is mainly because there are questions each OKCupid user has to answer in order to get potential matches. These questions range from the silly — "In a certain light, wouldn't nuclear war be exciting?" — to the serious.
"Would you strongly prefer to date someone of the same race?" or "Are there any circumstances in which you think a person is obligated to have sex with you?" are pretty decent red flags for potentially racist or abusive behavior, though OKCupid has at times matched me up with people who have answered completely opposite from what I was looking for in a potential match.
"I would have hoped they'd have weeded them out," Dr. Hunt said of the people who seem to think sex is owed to them, adding that they seem more apt to be "problematic relationship-wise."
She said she doesn't know if social scientists have much data on this aspect of online dating, but — at least when it comes to the questions of race — there could be more complex reasons for the answer.
"I think it's so hard to interpret exactly what that means," she said. "Whether it's personal racism, concern about familial relations, whether people are using that as a code for something else… I don't think (they) have an answer to that right now."
Personally speaking, I don't think I'd be willing to date someone who was scared of their family's reaction to me, either. (And for the record, "redneckhippie541" said he was "right-wing" — I'm liberal — and that he'd date someone who vocalized a strong bias against a certain race, but "it depends on which race." Have fun with that, dude.)
Even if the science is a bit faulty, I can appreciate the honesty of those who can admit their biases, and click off of their pages just as easily.
One week and about 200 profiles later, I can honestly say that online dating isn't all that much weirder than sitting down in a crowded place, like a bar, and looking around. You get your weird come-ons, your clueless folk, and the odd exhibitionist. But for the most part, if you have enough patience, I'm sure you can find someone willing to go through all the silliness for.
I'm just not so sure if I've got that much patience. But we'll see.
Email: [email protected]
Twitter: @A_Rodriguez39
** Source's name has been changed.
Leave a Comment