Lloyd Taco Truck to make base in campus lot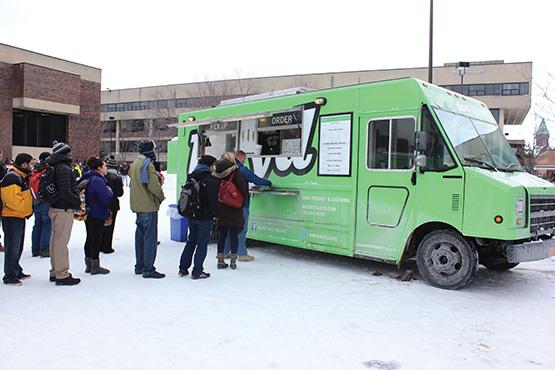 There's a new kid on campus.
Locally acclaimed Lloyd Taco Truck will be parked on the SUNY Buffalo State campus for lunch and dinner during weekdays to provide fresh tacos, burritos and nachos to the campus community.
The invitation from Chartwells to Lloyd proposing a regular schedule here came after a few successful appearances at campus events and from student feedback.
"Students were asking for Lloyd," Peter Cimino, Lloyd Taco Truck general manager, said. "Buffalo State is a centrally-located campus of city dwellers. They are hip to our brand. They understand what we're trying to do and they have responded with real excitement."
The actual process, though, took longer than expected, with paperwork in Albany taking up to six months of processing and filing an application with SUNY.
"
Where have I had Lloyd's before? Where haven't I had Lloyd's?
— Kelly Carpenter
As a campus with a large commuter population, Manny Lezama, senior director of food services, decided the truck would be best situated for the largest parking lot, Lot M, just across Grant Street.
"Commuters can just grab and go now on their way in and out," Lezama said. The location gives those living on campus another off-campus solution.
Lloyd is working to accept Bengal Bucks and credit cards, and the process is estimated to be complete in about three months.
Lloyd's "army" of trucks gathered in the Quad Tuesday to celebrate the opening with all three trucks present. Free samples and local radio personality Shy-Guy Shawn hosted a prize wheel that gave out prizes like hoodies, hot sauce and jars of pickled vegetables.
They also hosted an Instagram contest where the most creative Instagram selfie featuring a Lloyd burrito would win free burritos for the rest of the semester.
It gave the opportunity for veterans and rookies alike to enjoy something aside from the typical options.
Freshman Kelsi Smith, a speech pathology major, waited for her first Lloyd experience, planning out her order from the back of the line.
"I'm getting a Beeferito and a Mexican soda," Smith said. "I've lived in Clarence all my life, but I've never seemed to catch the truck at the right time. The guys at work talk about it a lot so I'm ready to finally try it."
Some Lloyd veterans were present, too.
Kelly Carpenter, digital media manager at the Albright-Knox Art Gallery, made the short walk across Elmwood Avenue Tuesday afternoon to join the crowd.
"Where have I had Lloyd's before?" she said. "Where haven't I had Lloyd's?"
Carpenter enjoys food from the traveling taco truck about once every week or so, and describes herself as a "Lloyd's devotee." She has already been to Lot M to grab a pork burrito, despite the cold weather.
In its first two weeks, the truck began with a rough start because of the weather, said driver and burrito roller, Dan Fisher. Business slows down when the weather is bad, mainly due to the traveling food truck not having any shelter nearby where patrons could warmly sit.
The truck parks in its own designated spot in Lot M not too far from the sidewalk, as to not complicate the already hectic on-campus parking situation. It serves its regular menu, including a new Chipotle Mac & Cheese featuring spicy Panko on top.
The truck will be parked in Lot M from 11 a.m. to 2 p.m. for lunch and 5 to 8 p.m. for dinner Monday through Friday.
Email: [email protected]
Leave a Comment