Bengals grab first hockey win over Oswego in 21 years
Kevin Carr makes 33 saves in 4-0 shutout victory on Senior Night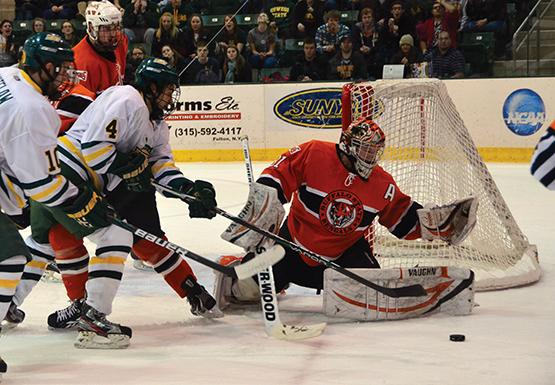 For the nine seniors on Buffalo State men's hockey team, the last regular season home game of their careers couldn't have been more perfect.
The Bengals celebrated Senior Night at the Ice Arena Saturday with one of the biggest wins in program history, a 4-0 handling of No. 10 Oswego. The win was Buffalo State's first ever against the Lakers in the team's 21-year history.
"It's special. Special night for us," a beaming Kevin Carr said after the game. "Four years have gone by really fast, and to beat a team like that on your senior night is just a fairytale ending. It's awesome."
Carr, a senior goaltender who was named the game's first star, finished with 33 saves to earn the ninth shutout of his career.
Buffalo State opened the scoring in the second period with a goal from senior Kyle Whipple on a partial breakaway down the left wing. Whipple took the feed from senior Shane Avery in the slot and deked the goaltender, slipping it just inside the far post.
Four minutes later, however, Buffalo State found itself shorthanded for five minutes when Charles Lapierre got a major penalty for elbowing. A tripping penalty then gave Oswego an extended 5-on-3, but Carr shined, stopping six shots during the penalty kill.
"(Carr) won the hard hat tonight in the locker room for kind of the unsung hero and they guy that was the difference maker in the game," head coach Nick Carriere said. "That 5-on-3 he made a couple of big square saves.
"Honestly, I didn't see him making any saves that looked like highlight-reel saves tonight, which in goaltender talk means that he was in position for everything tonight, so hats off to Carsy. He's a leader for us and when he plays like that he makes me look like a smart coach."
Buffalo State capitalized on the momentum gained from the successful kill and controlled the rest of the period. Goals by seniors Mike Zannella and Taylor McGraw, as well as junior Dan Turgeon gave the Bengals the 4-0 lead and all the momentum going into the final frame.
Carr stopped all 12 shots he faced in the third, and as the buzzer sounded, the players on the ice erupted and swarmed Carr behind the Bengals' net.
"To do this is just so special," Carr said. "I can't even describe it because it's been so awesome, and tonight was so special to share with my family, my friends and the guys too, who are my second family."
In the hallway after the game, Zannella couldn't contain his excitement. The usually mild-mannered captain was grinning from ear to ear, and full of energy after the victory.
This program has been building, and we're just trying to get better and better and better, and tonight everything came together," Zanella said. "Hopefully we just keep building on it. … Man, it was fun tonight. A lot of fun."
Leave a Comment