Strong defensive play keys weekend tournament win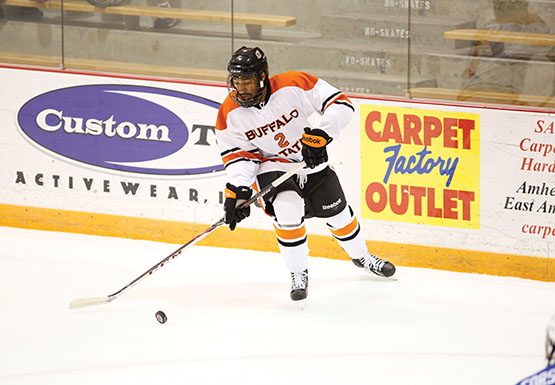 The Buffalo State men's hockey team has been talking about playing championship hockey all season, and on Sunday it got its first taste of a championship game.
After winning their first game of the Skidmore Invitational, 3-0, against Elmira on Saturday, the Bengals took on Skidmore in the championship game on Sunday.
The game was tied, 2-2, after regulation and overtime, so it went to a shootout to determine the tournament's champion.
After goalie Kevin Carr stopped eight Thoroughbred shooters and seven straight Bengals missed on their chances, Buffalo State forward Taylor Pryce buried his opportunity to secure the win.
"It was nice to walk away with some hardware," senior captain Mike Zannella said. "It's not every day you get to play for an actual championship, so it's definitely good for our mindset."
Against Elmira on Saturday, Buffalo State opened the scoring with a Ryan Salkeld power-play goal just under eight minutes into the second period.
Zannella pushed the lead to two with another power-play goal five minutes later. Zannella sat out last week's contest against Fredonia for what coach Nick Carriere called a lack of discipline, but he responded with a goal and two assists Friday, and he didn't take a penalty all weekend.
"It was good to be back," Zannella said. "I just wanted to come back and contribute in any way possible. Offensively or defensively, whatever it was, I just wanted to be the hardest working guy on the ice and make sure I outworked the opponents."
Dan Turgeon capped the scoring with his team-leading seventh goal of the season with five minutes to play in the third period. Carr made 34 saves to record his first shutout of the season.
Zannella said it was nice to see Buffalo State come out and play well against a strong opponent in Elmira.
"I don't think I've seen our team turn an opponent out like that before," he said. "We really shut them down, and really they had no life the whole game. They came out with guns blazing, but we answered right back, and it was fun to watch a good team kind of tuck their tail between their legs against us."
The following night against Skidmore, Buffalo State once again struck first.
Just 2:25 into the first period, Taylor McGraw scored his second goal of the season to give the Bengals an early lead.
In the second period, Shane Avery scored just over halfway through the frame to push the lead to two. Skidmore responded with a goal of its own five minutes later to cut the lead in half going into the third period.
Buffalo State held the lead until late in the third, when Skidmore defenseman Phil Buonocore netted a power-play goal to knot the game at 2.
"In our defensive zone, we were getting a little ahead of it, and all of the sudden there's a turnover and now you're exposed," Carriere said. "It was the same thing on the penalty kill and it bit us in the butt and that was the difference in the game."
The game was officially recorded as a tie, moving Buffalo State's record to 4-2-3 on the season.
Still, Buffalo State and Skidmore went to a shootout to determine the winner of the tournament, and Carriere said he was on edge behind the bench.
"Even though it's just a tournament and there weren't any big points on the line or anything like that, it's still nerve-racking," he said.
Carr received tournament MVP honors for his performance, and he was also named SUNYAC Men's Hockey Goalie of the Week.
Despite making 61 saves on 63 shots over the weekend, as well as stopping eight shootout attempts, Carr said his success was due in large part to the work of the rest of the team.
"I think our communication was better the whole weekend from myself to the defense to the forwards," Carr said. "I think when you have better communication, it makes their play easier and it makes my play easier, so it's something we've been working on a lot and it's starting to click now."
With a win and a tie last weekend, Buffalo State has pushed its undefeated streak to five games. The last time the Bengals lost was on Nov. 9, when they fell to Morrisville State, 5-3, on the road.
Zannella said that it's important for the Bengals to keep their momentum going with an important pair of SUNYAC home games coming up this weekend.
"We have the ball rolling, (but) we have to keep going," he said. "We have a great opponent coming in this weekend and I think everybody is excited to see how we match up and how we can do."
Buffalo State will take on No. 13 Geneseo on Friday before playing Brockport on Saturday. Both games are scheduled for 7 p.m. at the Ice Arena.
Email: [email protected]
Twitter: @cdierken
Leave a Comment