Game of Hard Knocks: Athletic departments alone in concussion prevention
Training staffs tasked with educating players and coaches about dangers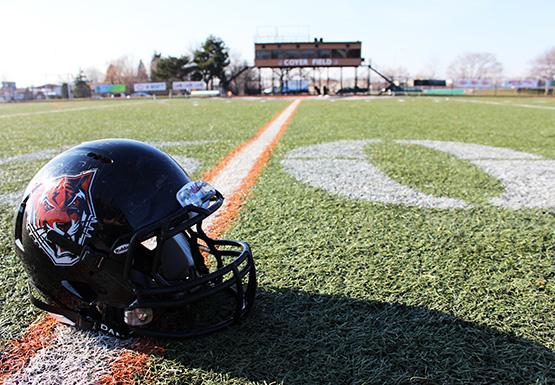 Casey Kacz remembers the date but not much else. He manages to recall the play he ran and the feeling of his pursuant dragging him down from behind to the turf beneath them both. But he does not recall what happened next.
Today it is something he will never forget.
In 2006, during his sophomore season as quarterback of Sweet Home High School's football team, Kacz sustained what he considers to be the most serious of what likely amounts to at least a half a dozen concussions since he began playing the game at age 6.
He blacked out when his helmet slammed to the ground. When he regained consciousness on the sideline several plays later, everything was fuzzy. All he wanted was a chance to go back into the game.
The migraines arrived soon after, inducing a mind-numbing pain that would last for hours, even days. He laid restless in bed at night, frustrated at his unsuccessful attempts at sleep. When he did fall asleep, family members were required to wake him every couple of hours to ensure there were no setbacks.
He vomited daily for a week straight. Couldn't run, lift weights or practice without throbbing pain inside his head.
Kacz resumed play three weeks later and enjoyed, to his knowledge, a relatively concussion-free playing career as he moved on to three successful seasons as the starting quarterback at Buffalo State.
But it is that early October game in high school that will always stick in the back of his mind. Football or not, the helpless distress Kacz felt those weeks opened his eyes to the severity of the negative consequences that came with playing the sport he loved.
"It's the one thing that does scare me about football," said Kacz, now a senior here. "I remember thinking, 'Man, if it's going to be like this, I don't ever want to get hit again. It's scary because all you're able to do is sit and wonder when is this going to go away."
At least seven Buffalo State football players missed more than one week this past season after reporting they had experienced a concussion, according to the athletic department. For two players, the symptoms and circumstances were severe enough to end their seasons.
Concussions affect student-athletes across all sports and all collegiate division levels, although they are more prevalent in the three main collision sports: football, men's ice hockey and men's lacrosse.
Buffalo State features two of those teams — football and men's ice hockey.
According to data collected by the National Collegiate Athletic Association, of all major varsity sports, concussions occur most frequently in football.
Three student-athletes will suffer a concussion for every 1,000 opportunities while playing football, according to the data, compared to two-and-a-half in men's lacrosse and two in men's ice hockey.
Still, head athletic trainer Sean Roberts estimates between 10 to 20 concussions go unreported by football players each season, which equates to as many as two per game.
Roberts, who has worked on the training staff at Buffalo State since 1998, said the culture of not reporting head injuries could be attributed to a multitude of reasons — some far more troubling than others.
COACHES TO DEAD FROSTBURG PLAYER: 'YOU'RE A PUSSY'
On Aug. 28, 2011, Frostburg State senior Derek Sheely died in a Baltimore hospital six days after he collapsed and lost consciousness during an afternoon football practice on the suburban campus tucked into Maryland's northwestern-most corner.
For more than a year, Sheely's parents believed the death of their otherwise healthy son to have been a tragic and inexplicable incident.
But the case recently made headlines when the family sued the NCAA, Frostburg State and three members of its coaching staff, alleging that what happened on the practice field that day was not incidental but instead the result of negligence at the hands of Sheely's coaches.
As reported in the Washington Times last month, the Sheelys received an anonymous letter from one of their son's former teammates accusing Frostburg State head coach Tom Rogish, running backs coach Jamie Schumacher and trainer Michael Sweitzer Jr. of failing to treat Sheely's concussion symptoms from a head injury he sustained three days earlier.
According to the letter, instead of providing Sheely with appropriate medical attention when he began to complain of head pain and nausea, his coaches mitigated the claims, called him a "pussy" and forced him to continue practicing.
The initial Washington Times report continues on to detail the lawsuit against Rogish, who has since retired in the wake of the charges after 35 years on the job. There are no palpable records of an investigation into the death by Frostburg State or the NCAA, according to the report.
The news of a once proud program succumbing to the harsh misconceptions that overshadow the good of the game was especially difficult for Buffalo State head coach and athletics director Jerry Boyes to digest.
Boyes, who has coached at Buffalo State since 1986, has two sons of his own, and, as he puts it, "125 more during football season."
Buffalo State hosted Frostburg State, a conference rival, on Oct. 18 at Coyer Field for the annual meeting between the two schools, which the Bengals won, 60-28.
Boyes had not heard of the unfortunate circumstances surrounding Frostburg State at the time of the game. He sat back in his Buckham office chair last week and pondered the likelihood Buffalo State student-athletes could find themselves in a situation similar to Sheely's.
"We have an old mantra here," Boyes said. "Know what's right, do what's right. … There's a right way to do things. And when people don't do that, that disappoints me. And sometimes people get away with it, too, which (ticks) me off even more.
"But we choose not to do it that way. We're in the education business here and I'm not going to look the other way if things are being done wrong. We're going to do it the right way."
Boyes paused to search for the right words to explain how the dark, don't-ask-don't-tell culture he hoped had long left the game since his playing days in the 1970s somehow manages to linger in other locker rooms still today.
"What is concerning to me is, if a coach uses that type of adjective to describe a player in an effort to guilt him into playing, I would have hoped that that was gone from the game a long time ago," Boyes said. "Because, yeah, that was a bit of the culture back when I played.
"I look back on my career and I can think of only a couple times I think I was maybe knocked out. Everything's gotten better, that's why it's just so unbelievable for an incident like that to take place."
COMBATING THE CULTURE OF NOT REPORTING
Kacz sat alongside former Buffalo State offensive lineman Josh Jesonowski on the field at St. John Fisher College following the Bengals' final game of the 2012 season when his friend said something that caught him off guard.
Kacz vividly recalls the conversation.
"He said, 'My brain feels like mush, man. I can't think, can't sleep. It's always hurting,'" Kacz remembered.
"That was the first time he said anything. It was obviously something that he wanted to say for a long time, but maybe never did because he didn't want to lose playing time or something."
Jesonowski, now on the verge of landing a job as a New York State Trooper after graduating last spring, recalls the conversation, too. He said he experienced four known concussions during the three seasons he played here.
"I never reported one," he said. "Every play as an offensive lineman you're getting hit in the head no matter what. It just wasn't that big of a deal. … Especially being a proud player, you hide some stuff."
Whether playing in the National Football League or on a Division III football team, athletes are stuck choosing between preserving their well being or "sucking it up" to satisfy coaches, teammates, or, most commonly, their own sense of pride.
It has been that way for decades. Kacz and Jesonowski said it's how they learned to play the game — put in the work, no complaining.
Roberts, the head athletic trainer, said he sees it every day from athletes on all of Buffalo State's sports teams, not just football.
But the non-reporting of head injuries is a widespread problem most commonly associated with the sport. And the concern is not specific to Buffalo State.
Roberts said not reporting a concussion becomes most serious during a game situation when an athlete sustains an injury and continues playing. The successive blows to the head, however small, accumulate over time and can often be more damaging than one large concussion.
"What is sad is that a lot of these things could have been avoided," Roberts said. "How do you avoid these things? By reporting everything. That's the least amount you could do, but it's also the hardest, because you're overcoming an old cultural normative of not reporting.
"The culture of football is deep and rooted in the notion of being 'tough,'" Roberts continued. "Being 'tough' means you don't talk about the fact that you may be in pain."
Instead of worrying about their head, it's the nature of a student-athlete to focus only on the next play and preserving their spot on the team, even if coaches do not encourage this mindset.
Said Jesonowski: "Every year there's someone new trying to take your spot. If you have a guy on the fence and the coach told you the week before that you're one bad play away from being benched, there's no way you're coming out of the game no matter what. These players know they're one play away no matter what.
"As offensive linemen, we joked about it. You can only do so much."
MORE TO BE DONE
Buffalo State is doing all it can. At least, Boyes and Roberts hope that is the case.
The athletic department follows the standard protocol set by the NCAA for student-athletes who sustain sports-related concussions.
When an athlete reports they are suffering from concussion symptoms, training staff administers a series of what Roberts calls subjective and objective testing.
If a concussion is diagnosed, student-athletes must pass all tests and remain symptom-free for at least seven days before returning to the playing field.
As outlined in rule 3.2.4.17, the NCAA handbook places the onus on student-athletes to report their concussions.
The NCAA does not mandate specific procedures for member institutions. Rather, it provides loose recommendations for schools to follow in situations related to all injuries.
This leaves crafting protocol up to interpretation by individual institutions. Some say more could be done by the NCAA to implement a black-and-white system to assist athletic departments in providing better protection for student-athletes.
At Buffalo State, Roberts and his staff work closely with coaches and players to teach the inherent dangers of concussions, the importance of being forthcoming about concussions and a sensitivity to encourage a supportive atmosphere for those who sustain head injuries.
All players and coaches are given a presentation before the beginning of every sports season for those reasons. As a campus located in a metropolitan setting, injured student-athletes at Buffalo State have access to highly regarded medical professionals.
The athletic department here works hand-in-hand with UBMD Orthopaedics and Sports Medicine, the same medical staff that cares for the Bills, Sabres and Bandits.
Still, Roberts and his staff can only see so much. They walk the sidelines during games looking as many players directly in the eyes as a four-person team can. But if players are not talking, the best they can do is educate them on the implications of not doing so.
Roberts said he sometimes feels that more could be done to protect the futures of student-athletes who, at the Division III level, play for few incentives beyond the enjoyment they receive from the sport.
LONG-TERM RAMIFICATIONS
Traumatic brain injuries sustained over a period of time are believed to be a cause of many serious degenerative conditions, such as Post-Concussion Syndrome, early-onset Alzheimer's, depression, and Chronic Traumatic Encephalopathy, or CTE, which has famously affected hundreds of former NFL players.
These injuries are consistently linked to football and its athletes.
"There are hundreds of different things you could end up with from traumatic brain injury," Roberts said.
In August, the NFL settled a $765 million lawsuit brought on by more than 4,500 former players claiming that the league knowingly hid information that playing football would potentially lead to any number of the aforementioned life-threatening conditions.
Although the headlines are grim and much is still to be learned about the proper methods to protect athletes of all sports against head injuries, Roberts said he has begun to notice a slight shift in the outlook of the openness of talking and reporting about concussions.
That in itself, he said, is a promising sign, and runs parallel with continued education and increased attention toward the issue.
"It used to be that concussions were only a concern for trainers, but now you'll see more players and coaches coming around asking questions," Roberts said. "The head coach walking away from a conversation between a trainer and student-athlete rolling his eyes because he thinks he's a soft kid, that doesn't happen anymore.
"I think we're doing a good job of getting the word out there that a concussion is serious, they are accumulative in nature, and they could be life-threatening."
Kacz, who suffered through much of this past season from a shoulder injury, admitted he likely sustained at least one or two minor concussions while at Buffalo State that went unreported.
He shrugs when asked why he did not report.
And while Kacz will be able to look back fondly on his playing days as four of the greatest years of his life, he can't help but think of what his injuries will mean 30, 40, 50 years from now.
"It's something you try not to think too much about," Kacz said. "But you see everything in the news now and you see what head injuries have done to players, and it makes you wonder. But you still don't regret a thing."
Email: [email protected].
Twitter: @b_schlag
Leave a Comment