Rosen comes full circle to find roots
Men's hockey freshman receives renewal of Jewish pride in Israel over summer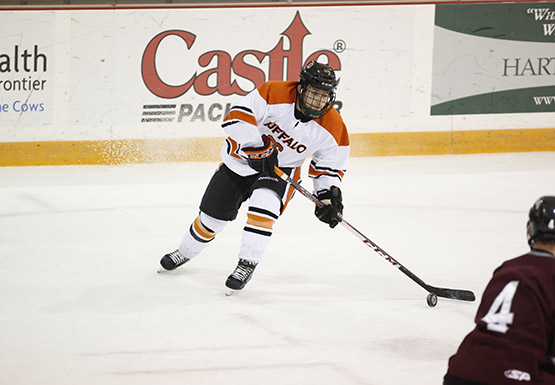 Growing up practicing Judaism, Jake Rosen heard it all.
He was taught the age-old tales, the essential principles that form the foundation of his religion. The values learned, however, were always a bit unclear to Rosen until this summer, when he had an eye-opening experience.
Walking into Teddy Stadium on July 18, Rosen's heart dropped. Before him were 50,000 screaming fans warmly greeting him and over 7,500 others into the Jerusalem, Israel, football stadium at the Opening Ceremony of the 19th Maccabiah Games, informally known as the Jewish Olympics.
Rosen, an East Amherst native, was a member of the United States ice hockey team that took silver at the latest quadrennial Games, which is held in Israel each time and is the third-largest sporting event in the world.
While a high level of competition was present — there were Division I college players and current and past professionals representing five participating nations — the thrill of playing on the international level was secondary to the journey as a whole for Rosen, now a freshman on the Buffalo State hockey team.
The utmost honor for Rosen was absorbing the rich cultural and religious history of the homeland and epicenter for Jewish people as the first in his family to make the pilgrimage. Even his grandparents and great grandparents, whom were devout Jews, were never able to visit Israel.
"For them to never go to Israel, I felt like I had this responsibility for them to go over there and get to see it," Rosen said. "I hope I made them proud and I think I did."
Although Rosen was raised Jewish, something was missing. Much of the religious teachings of his childhood needed rounding. That happened during his three-week stay nearly 6,000 miles away from home.
"You just see things and you've heard the stories when you were little, but you never had the place to put it and you almost don't think it's real," Rosen said. "You learn about it, but it just makes little sense because you haven't been there. To see it, to see the desert, to see the kind of land you about just made everything click, and it was pretty exciting."
A tour guide aided in the process of educating Rosen and the rest of his teammates about the holy ground they roamed in July. Ten nine-hour days were dedicated to sightseeing all over the country — travelling by bus to celebrated places like the Dead Sea — to receive a crash course history lesson.
"It was better than any history class that I've ever been in," Rosen said.
•••
Rosen had a connection to the Games prior to being recruited by Team USA for his play in the Eastern Junior Hockey League — now the EHL — from 2011-13.
In 2001, Jake's father Bob Rosen qualified for the 16th Maccabiah Games for golf. But, concerned with the high volume of violence in the area, he opted to forego the opportunity. More than a decade after, with Jake Rosen of the understanding that Israel was undergoing one of its safest times in a while, he didn't want anything to withhold him from competing.
"It was the best decision we ever made," Bob Rosen said of his son going over.
"I think it'll allow you to see a different way of life," Bob Rosen added. "But I think the biggest thing is the culture that you get and the friendships. Hockey to me has always been about friendships. And there he got to meet 19 new people, and you form a bond that lasts forever."
Jake Rosen admitted his team in Israel was cliquey as a result of the disparity in ages. In the Games, there are three divisions: Juniors for the 18-and-under competitors; Masters for the older participants; and Open, which Jake Rosen competed in, for those aged in between the other two.
He was able to develop a particularly strong relationship with three teammates because of the age gap, two of which also play Division III — Dalton Weinstein (Skidmore) and Ben Chwick (Colby) — and another plays Division I — Steve Weinstein (Bentley). The 19-year-old has stayed in constant contact with all three, evidenced by an ongoing text message group where each friend updates how their team's respective weekends went.
"I think they'll be friends for my life," Jake Rosen said. "Three weeks, that was a close experience. We were teammates. I'd consider us teammates forever."
That was a small portion of the overall fusion of many nationalities — over 70 countries were accounted for in the Games — assembling together for a common celebration. The tag line of the Games is "Building Jewish Pride Through Sports."
"It did that perfectly," Jake Rosen said. "It was more about meeting Jewish people and having more pride in being Jewish than playing hockey games because you can play hockey games here (in the U.S.)."
•••
Hockey runs through the Rosens' veins like an inflatable tube going down a slick waterslide.
Between the Amherst Youth Hockey organization and Williamsville North High School, Bob Rosen has coached Jake Rosen for the bulk of his playing career.
"He was a different guy at home than he was at the rink," Jake Rosen said. "We'd get onto the ice and he was my coach. I didn't call him dad, it was coach. It was a good separation to have."
When it was time for coach, Jake Rosen had proficient guidance.
Bob Rosen has been coaching in some capacity since 1982, and enters his 24th season behind the bench for Will. North. During that time, the Spartans have become the standard for high school hockey in Western New York.
Under Bob Rosen's tutelage, Will. North has become a talent factory, routinely churning out college and junior players and even a pair of NHLers — Chris Hajt and Shane Sims. As if that weren't enough decoration, since Will. North became eligible for them in 2001, Bob Rosen has won four state titles, including his last in 2011, when Jake was a junior, his final season before leaving for junior hockey.
One of the pioneers of the storied program is Buffalo State men's hockey coach Nick Carriere, who played for Bob Rosen at Will. North in the mid-1990s. Carriere credits Bob Rosen as one who helped get his playing career in motion.
Moving from Montreal to Buffalo for his sophomore year of high school, Carriere, despite being the son of 367-game NHL veteran Larry Carriere, hadn't had much organized hockey experience.
"I had a lot of things to work on," Carriere said.
Carriere was able to progress to a point in his three years playing for Bob Rosen where it not only benefitted the Spartans moving forward, but doors opened personally for him, too. Standing over 6-foot as a power forward, he went on to play for Niagara University, where he was part of two NCAA Tournament Elite Eight teams.
"It was a credit to his work ethic," Bob Rosen said of Carriere making the jump to Division I. "Starting late in hockey is very difficult because of the skating."
"Bob had respect," Carriere said. "He was a good hockey mind and was a hard-working, detail-oriented coach."
Years later, the two shared the ice in a different way, one they could each relate to.
In his first few seasons with the Bengals, Carriere, now in his ninth year, would invite hockey contacts from his past for a holiday skate at Buffalo State. One year in particular, Carriere recalls, Bob Rosen brought Jake Rosen, who was playing for Will. North at the time.
"You could tell he had some ability to him," Carriere said. "And I remember that being kind of the first time I looked at him and said 'Wouldn't that kind of be funny if Bobby's kid came here?'"
The seed was planted.
•••
Jake Rosen didn't want to miss out.
This year's Maccabiah saw a revival of ice hockey. The sport previously had a cup of coffee at the Games, debuting in 1997, only to be absent until last summer.
"I knew they might not do it again, so I had to jump on the chance when they asked me," Jake Rosen said. "It was a great experience to represent my country and get a renewed sense of Jewish pride going over to Israel. That's something I never thought I'd do."
He does hope to return to Israel in four years, should the Games continue with hockey. But, if he doesn't, Jake Rosen had a memorable on-ice performance over a week and a half en route to the team's second-place finish.
The U.S. lost to Canada and defeated Israel, 13-0, and Ukraine, 5-2, before advancing to the semifinals, where it squared off against Ukraine again. Jake Rosen led the team into the finals by recording a hat trick in a 5-1 victory in the semis. Canada would take the gold over the U.S., though, winning the championship game, 7-1.
Fans from all over Israel attended the hockey games, even if it meant a four-hour bus ride to the main playing site in Metula. They were the ones who loved the sport, but rarely, if ever, had the chance to watch it live.
And they recognized the athletes.
People would ask players for their sticks after games, and youngsters were especially star struck, asking for and receiving autographs. Following Jake Rosen's three-goal effort, a local kid asked a U.S. teammate "Is 26 (Rosen) going to the NHL?"
"We got treated like we were pros," Jake Rosen said.
•••
They still talk.
In fact, Carriere and Bob Rosen spoke on the phone just last week, swapping coaching strategies during the brief interaction. The two keep in regular contact, and for the most part, have since Carriere took over at Buffalo State. The only bend to the communication line was when, in November 2012, Jake Rosen committed to Buffalo State to play for Carriere.
The subsequent months were marked with Bob Rosen, cautious of creating a conflict of interest since he was no longer his son's coach, abstaining from talking to Carriere.
"I finally had to pick up the phone and call Bob and say 'Hey, Bobby, just so you know, we can still talk,'" Carriere said. "We're probably not going to spend a whole lot of time talking about Jake, because I'm going to talk to Jake about what Jake needs to do, but I still value our relationship and his role as a mentor."
Bob Rosen does feel that because of his history coaching Carriere, Jake Rosen had an increased challenge of someday making the Bengals.
"He had to really prove to (Carriere) that he could play," Bob Rosen said. "I don't think he had any margin for 'Well, I'll see if we can work this out.' He wanted to be sure that he could help his program."
Carriere and his coaching staff were sold on Jake Rosen making an impact for the Bengals once they saw him play a few games in junior for City Selects (Albany) and the Connecticut Oilers. And, for Jake Rosen, he knew Carriere demanded the same hard-nosed effort, discipline and accountability that are at the core of any Bob Rosen-coached team.
It was a seamless fit. Perhaps it's due to the influence Bob Rosen had on Carriere in the coaching realm.
"You try to take from everybody you've played with and been around," Carriere said. "Bob's a pretty straightforward, hard-working coach, and if you do good things, you'll be rewarded. I've always operated the same way."
Nine games into his freshman campaign, Jake Rosen hasn't given anyone reason to think he is playing for the Bengals merely due to the link between his father and Carriere. The center has settled nicely into a checking line role, and has dressed for each of Buffalo State's games while registering a goal and an assist.
At 5-feet, 6-inches, he's not overwhelming, but is receptive and coachable, traits that made him an appealing recruit. Carriere notes that an astute ability to shield the puck using body position, along with an endless motor, has allowed Jake Rosen to blend right in.
The seed has budded.
"It's great to see things come full circle, and it does a lot in hockey," Bob Rosen said. "That's one of many things I love about the game."
Email: [email protected]
Twitter: @AA_Garland
Leave a Comment