Shop small on 'peace' of Grant Street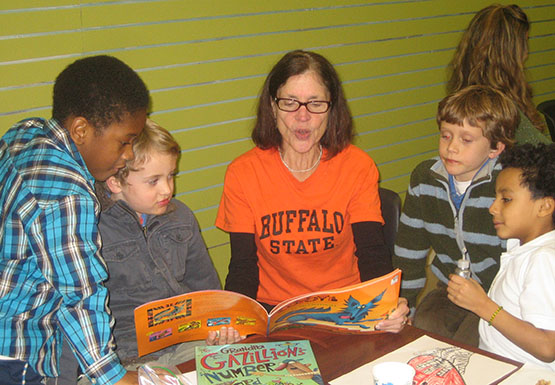 Buffalonians are taking on the "Shop Small" initiative in holiday fashion.
The third annual Peace, Love and Grant Street is taking place from 4-8 p.m. on Dec. 5 at various businesses along Grant Street, bordering SUNY Buffalo State's campus.
This year's event will be taking place on the last day of classes for Buffalo State students.
"It will be a lot like last year, hopefully bigger," said Meg Dee, director of the Buffalo State Community Academic Center.
The event will feature various shops, restaurants and services in the Grant Street neighborhood and is sponsored by Niagara District Common Council Member David Rivera's office.
"This event shows the support we have from the leaders here," said Louise Sano, owner of Global Villages and Global Chic, both located on Grant Street.
In addition to acknowledging Mayor Byron Brown and Rivera for their help, Sano also said that it's "nice" for the business people to get together for the upcoming event.
"When you do things collectively, you get benefits," Sano said.
Event attendees will experience free activities, including a trolley transporting shoppers up and down Grant Street, starting at the Student Apartment Complex and ending at the West Side Bazaar, located at 25 Grant St.
Buffalo State's art education department will host the 100's Contemporary Tea Ceremony, led by Michelle Bayes. It will be taking place at the Buffalo State Community Academic Center.
"The event brings interest and traffic to Grant Street, so we definitely like to continue it," said Benjamin Bissell, West Side Bazaar manager and economic development director.
There will also be food trucks; holiday arts and crafts; holiday movies at the Grant Street Neighborhood Center, live outdoor music and an appearance by Santa.
"It's an opportunity for people to get to know everything on Grant Street," Sano said. "When people get to know Grant Street, it gets talked about, more and more people want to come to it.
"It helps out everybody. We need events like this."
Thursday is forecasted to be cloudy and in the 40s, but shoppers will have the chance to warm up at 7-Eleven, which will be offering free small coffees or hot chocolates. They will also provide chances for attendees to enter to win a RC Toys remote control helicopter.
There will be an after party at Gypsy Parlor, with free hors d'oeuvres, fortune telling, handcrafted gifts by local vendors and seasonal local brews.
Thursday's events will also kickoff Thursdays on Grant Street, featuring extended shopping hours and pop-up craft stores within selected locations.
"We hope to see you there," the event's Facebook page stated. "Remember to shop small and shop local!"
Email: [email protected]
Twitter: @LiveWithColly
Leave a Comment