Student entrepreneur takes experience, uses it to help others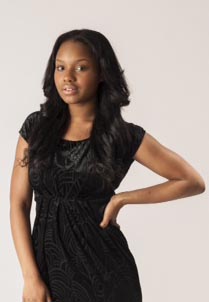 Imagine your friend being cast alongside the Jonas Brothers in a Disney Channel movie while you and he are both still in high school. He then entrusts you to manage his website and social media platforms, while helping coordinate his events and dance workshops. Would the pressure be too much?
Senior public communication major Fatoumata Barry thrived under the pressure of taking on these roles when her friend Jordan Francis played Barron James in the musical "Camp Rock." However, when she came to Buffalo State as a fashion merchandising major, Barry began focusing on her own academic pursuits. But she soon realized that she wasn't pursuing her purpose.
"I was just observing people on campus and I realized that we have a lot of talent here at Buff State," Barry said. "I think that we have a lot of talented individuals who people don't know about, because they aren't able to communicate what it is that they do to everybody. So I started helping people out here and there."
Once Barry realized that she had a knack for helping people with logos, coordinating events and creating their personal brands, she changed her major to Public Relations and began to merge everything into a single package.
Understanding that college students need resources to become entrepreneurs was the first step in founding Barry's first company, Collegiate Crown, during the summer of 2011. Collegiate Crown is a free guiding resource for students that redefines the college entrepreneur and creates awareness of young entrepreneurs.
"(It's) a business development agency for college entrepreneurs who are looking to start their own business but don't know the steps to take or how important a business plan is," Barry said. "We provide programs and workshops that help connect students and budding entrepreneurs with the resources and knowledge that they need to navigate their way through the world of business."
Collegiate Crown is branching out in 2014 to Hampton University, Ohio University and other institutions in the tri-state area that have reached out to Barry, interested in starting a student organization on campus for public relations, hospitality and marketing students.
"The biggest fault in a university is that we learn, and we learn, and we learn, but we never have the opportunity to apply what we learn," Barry said. "What you know will, of course, give you leverage, but what you've done is even more important."
Barry created her second company, The Barry Co. soon after Collegiate Crown. The Barry Co. is a brand development company which offers paid services such as event planning and public relations. Unlike Collegiate Crown, the services of The Barry Co. are geared more toward individuals who have already gained a certain amount of business savvy.
Along with founding two companies, Barry is a full time college student, a Resident Assistant and a member of USG.
"I am blessed that I am able to do all these things so I feel like it would be a huge discredit to myself if I were to give up," she said. "It's easy to feel like 'I don't want to do this anymore,' but then I feel like when you know what your passion is and you know what your purpose is, you fight through the roadblocks."
By collaborating with USG, Barry was able to host a "Mogul Mixer" which local business owners and a student entrepreneur came to talk about their own journeys. They talked about what they wished they would have known prior to starting their business to help the next generation of entrepreneurs.
Barry recently started the initiative Girl Up! in honor of the National Day of the Girl, facilitated through The Barry Co. They create events and opportunities for mentoring young girls in Buffalo high schools and elementary schools.
Barry said that being in student organizations really helps her understand her peers because she is able to see what they are doing and make connections. It also gives her an idea as to what is needed, which will help her facilitate her companies in a way that is more marketable to students.
One of the next project Barry is looking to tackle is to build a team of PR, hospitality and marketing students to help carry on her legacy after she graduates in May.
"I didn't just start this with the intent of it going when I leave," she said. "I want it to stay. I want it to still be a resource to everyone."
Who would have thought that by helping other people reach their goals and market themselves, someone else could figure out their own purpose and passion in this world?
Well, Fatoumata Barry certainly found her niche and is ready to leave her legacy at Buffalo State and pursue her own dream of being on Forbes' "20 Under 25."
"Real success, in my personal opinion, comes from being able to take what you've learned and help other people," Barry said. "I think it's very easy to help yourself and a lot of people do it because it's easy, but there is a certain responsibility that I feel like I owe…to individuals who are just starting out, because we've been there."
Email: [email protected]
Leave a Comment