COM dept. professor's roots in filmmaking run deep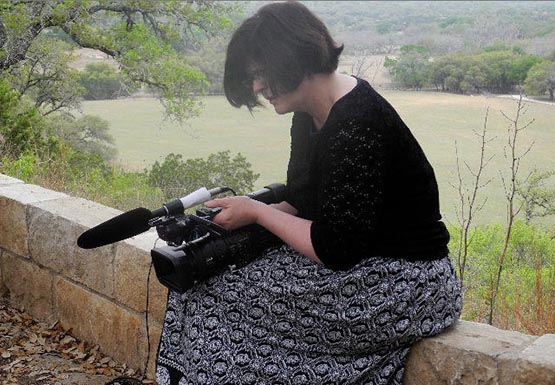 They just keep coming back.
Meg Knowles, an associate professor in the communication department, advises her media production students to be prepared to leave Buffalo to get experience. However, like Knowles, these students may find themselves returning to the Queen City to live in the "artistic world" that the professor has spent her life involved in. I asked the professor to elaborate on her life and career, which includes producing over 40 films.
As an associate professor of media production, how did your interest in the field begin?
I started making documentary films in 1990, as an outgrowth of my interest in the depiction of everyday life in art, and also to advocate around social issues like AIDS awareness, by bringing out personal stories that highlighted larger issues. I studied Art History as an undergraduate, and had focused on 17th Century Dutch and Flemish artists like Rembrandt, Vermeer and Hals. I was fascinated by their ability to convey the lives of ordinary people. My first two films were about my family and ACT-UP, the AIDS advocacy group.
How do you see the field of media production changing today? What's in store for the future?
Media production has been changing consistently throughout my career, which is one of the challenges of the field. Lately, there has been a transition to fully digital, tapeless cameras, and also there have been major changes in film distribution methods and venues, perhaps exemplified by digital theater projection systems, the recent expansion of channels on YouTube and HTML5 interactive websites.
Your mother taught music and worked at the University at Buffalo, where you later graduated from with a M.A. in Media Study. What's it like to teach in higher education like your mother did, in the city where you received some of your higher education?
I didn't plan to return to Buffalo after college in Poughkeepsie (at Vassar), and I lived and worked in New York for a number of years in the entertainment industry. But when I returned to Buffalo in my late 20's and attended graduate school at UB, I found the town very welcoming and my studies in the Dept. of Media Study challenging and exciting. I got the distinct pleasure of coming to know my mother professionally when I started graduate school, where she was the Assistant Chair, and tried to live up to her legacy of mentorship when I later worked at Media Study as the Technical Director. At the start of my career, I did not expect to become a teacher, but it turned out that the pleasure of teaching was one of the discoveries I made in Buffalo. I returned to Buffalo a second time after I finished my MFA at Temple in Philadelphia, largely because I enjoyed this region and its students so much.
Growing up with a father who was an interior designer, how did he impact your artistic side?
My father was driven from a very early age to be an interior designer and never considered any other profession. His first professional job was when he was 11 and decorated a neighbor's living room. I found his example somewhat intimidating when I was younger and was still casting about for a career that was the right fit for me, but of course I was deeply influenced by his passionate interest in art, decoration, history and theater, and knew I would spend my life involved somehow in the artistic world. My home is still filled with many wonderful books, paintings and furnishings from my dad, who died over 25 years ago now. And he also had the amazing ability to create a magical setting for any occasion — I hope I have carried some of this artistic vision and ability into my filmmaking. Even though I make documentaries, there is a lot of creativity that goes into finding new ways to present real situations.
As the producer of more than 40 short documentary films, which was your favorite to film?
Oh, that's an interesting question that no one has asked me before! A number of my films are autobiographical, and I think my favorite film is an early one I made about great aunts, called "Other Summers." I had three great aunts who we spent a lot of time with growing up, on holidays, and vacationing at our summer place on Georgian Bay in Canada, so I made a little film about their summer memories at the cottage, in 1992. It was my third film, so it isn't technically the best, but it has real heart. The last of these amazing women died around 2002, and this film really shows their wildly different personalities and gives me a sense of the history of my family, so I'm really glad I have it.
Which topics do your films usually focus on?
The largest body of work I continue to build on is autobiographical films, which are about different members of my family or family memories. I'm very interested in how we tell and preserve our past, through history, memoir and story. Many of these are quite short. I also have a number of films that focus on social/historical issues, like AIDS, women in prison, or the First Women's Rights Convention in Seneca Falls, NY. Sometimes I have made documentaries for non-profit organizations like The Massachusetts Avenue Project. I recently made a film about MAP's urban garden and work with West Side youth, just a few blocks from Buffalo State.
7. Your films have been screened right here in Buffalo, throughout the nation, and beyond. How does it feel to see your hard work up on the big screen?
I generally don't enjoy actually sitting through my films in a screening, because I just see all the flaws, but I'm happy to have them screened, and it's always great to have an audience. There is no point in making a film if no one sees it, so it's important to get them out to an audience, and you just hope they make some kind of impact, or touch the audience in some way.
How has the Buffalo art scene affected your work?
The avant-garde Buffalo media community, including wonderful organizations like Media Study, Squeaky Wheel and Hallwalls, really formed me as a filmmaker. I showed my first films at Squeaky Wheel and was encouraged by local film and video makers like Sarah Elder, Julie Zando and Tony Conrad at the very start of my career. I worked collaboratively with other Buffalo media artists and activists in the 8mm News Collective in the early '90s and made many lifelong friends in this community. My DIY and collaborative filmmaking style is a signature of the Buffalo media world.
What's your next big project?
I'm editing a feature-length documentary called "Runaway," which tells the story of my sister disappearing from camp in the summer of 1973, and its impact on my family.  I've been working on this project for four years, so I'm excited to complete it.
What's something that most of your students don't know about you?
In my first career, I was a New York-based talent agent for child actors like Macaulay Culkin, Seth Green and Keisha Knight Pulliam (from the Cosby Show) in the 1980s.
Lastly, what's your advice for students who want to go into the competitive media production field?
My advice is to prepare yourself to be as flexible as possible, to learn many skills and to prepare a portfolio of original, visionary work you can show at a moment's notice if an opportunity arises. There are many lucrative jobs in media, but not necessarily in Buffalo. You may need to be prepared to get out of Buffalo, at least to get experience, and it's important to try to find opportunities to meet and work with people in the field as much as you possibly can. So, I definitely recommend internships, but it's important to find one that is well-matched to your area of interest in media.
Email: [email protected]
Twitter: @LiveWithColly
Leave a Comment